People on the Move: Hugh Jones Solicitors: NSM; YFM Private Equity Partners; DBLX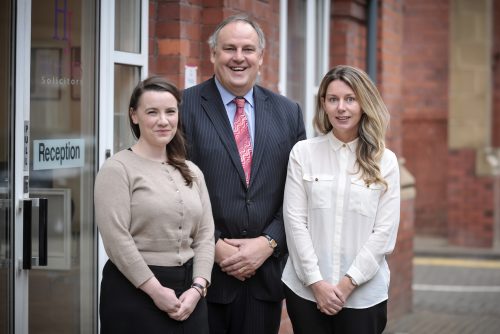 Boutique law firm, Hugh Jones Solicitors, has announced a key senior promotion and the appointment of two new team members at its Manchester-based office.
Court of Protection specialist and nationally-recognised expert witness, Rebecca Brown, has been promoted to firm director after seven years with the firm.
Rebecca acts as a specialist Court of Protection Deputy, managing complex property and affairs for the elderly, children and adults who have suffered maximum severity brain injury or brain damage due to medical negligence or catastrophic injury, and is assisted by a growing team.
She also manages the expert witness department and receives instructions from personal injury and clinical negligence firms across the country to assist with the valuation and claims of costs of deputyship as part of compensation settlements.
She said: "I am very proud to be joining the board of directors who have shaped the firm into one that always puts the professional, dignified support of society's most vulnerable before anything else.
"We've built a first class team and an impressive reputation and that comes down to a combination of genuine care for clients' best interests and unrivalled expertise. I look forward to playing my part in the firm's continued success."
The private client team has been bolstered with the appointment of wills and probate expert, Paul Baker, who joins the firm having previously worked at Latimer Lee and Price Slater Gawne. Paul brings with him a wealth of experience in acting on behalf of clients with capacity and disability issues.
Elsewhere in the business, Anna Tonkinson joins as a senior HR manager and will be working alongside existing HR manager, and her sister, Lucy Law. The pair have been tasked with developing the firm's services for support workers employed to care for clients at home.
Chairman, Hugh Jones, said: "I've worked with Rebecca since she was a trainee and was thrilled when she joined us just one month after setting up Hugh Jones Solicitors.
"She's a hugely talented individual and the promotion is entirely deserved. Having Rebecca's input as a director is invaluable and she will be instrumental in helping to materialise our exciting plans for the future."
::
Industrial asset management specialist NSM has appointed Sandy Ratcliffe as property and asset manager, with immediate effect, to be based in its North West office in Warrington, once COVID-19 social distancing guidelines are lifted/relaxed.
Sandy joins the fast-growing company which has secured a number of new assets to manage across Yorkshire and the North West, bringing its national portfolio under management up to £237.5m, so far this year.
The 25-year-old was previously with Legat Owen focusing on commercial lettings and sales, before that working as a graduate surveyor for Liverpool-based Matthews & Goodman.
NSM says it is in a uniquely strong position, in addition to managing more than 4.3 million sq ft of industrial property across the North, the company also markets many of the properties, handles lettings and is overseeing the delivery of new-builds which will, ultimately, come into the management portfolio.
It currently looks after 669 units nationally with a rent roll in excess of £14m.
NSM managing director, Nicky Jones, said: "Sandy is a great addition to the team and has settled in very quickly, despite the current turbulent climate. His knowledge of the North West property market is sure to be a great asset for us."
Sandy, who graduated from Reading University with a BSc Hons in Real Estate, said: "I'm thrilled to have joined NSM at a time when its client base is growing strongly alongside the interesting property portfolio it holds."
::
YFM Equity Partners, which has offices in Manchester, Birmingham, Leeds and London, has appointed David Wrench as an investment director as it continues to expand its investment team.
David is joining the team to invest in growth capital and buyout opportunities, and his appointment follows the recent raising of a new £80m YFM buyout fund.
He joins YFM from BDO where he was managing director in the firm's Reading office and focused on advising growing businesses in the UK lower mid-market. He led various transactions while at BDO, including the buyout of Capital Economics, a growth capital fundraise for Assuria and the sale of SecurEnvoy.
"We know David from working with BDO on previous transactions and we are confident that, with his hands-on, supportive and collegiate approach to businesses, he'd be a great fit for the growing investment team at YFM," said partner Jamie Roberts.
"Having recently closed the fundraising on our new fund, and with significant cash on the balance sheet of our VCTs for growth capital investments, we are keen to continue to increase our capacity to invest in, and support growing businesses in the UK."
David said: "Having known YFM for a long time, I was aware of their impressive track record helping boards grow businesses, and their continued focus on regional investing.
"I am excited to join a team that has a reputation within its portfolio of being a trusted and supportive business partner rather than simply an investor.
"With the recent successful close of a new £80m buyout fund, it's a very good time to join YFM as they continue to explore opportunities to invest in growing businesses nationwide."
YFM typically invests between £3m and £10m per transaction into businesses with strong growth potential located across the UK regions through its network of offices.
::
HR-tech company DBLX, part of the My Clever Group (MCG) which has a Didsbury office, has recruited former Amazon and bet365 head, Dan Macklin, as chief technical officer.
Macklin was part of the senior team at Amazon Web Services and before that he was head of applied innovation at Lloyds Bank and head of R&D at Bet365.
DBLX has hired him to accelerate its innovation and delivery strategy.
He will report directly to CEO Gareth Mobley and will sit on the organisation's executive board where he will lead the MCG/DBLX tech strategy with a particular focus on innovation.
Gareth Mobley said: "Dan has a track record of technology leadership gained from his work in the technology innovation teams at some of the world's biggest consumer and technology brands.
"Dan will be a huge asset to add to our highly-talented board at MCG. He will head up our development teams overseeing the design and build of our cloud-based technology solutions. He'll play an integral role in ensuring our award-winning LXP's become even more cutting edge and impactful."
Dan Macklin said: "I'm absolutely delighted to be joining MCG and DBLX, a company that really wants to do things differently and disrupt the HR-tech industry.
"I have a passion for building products that help people and teams grow, so am looking forward to bringing some large-tech capabilities to a smaller company that is a pioneer in this space."