Diagnostics firm's COVID-19 testing kit now ready for use after receiving validation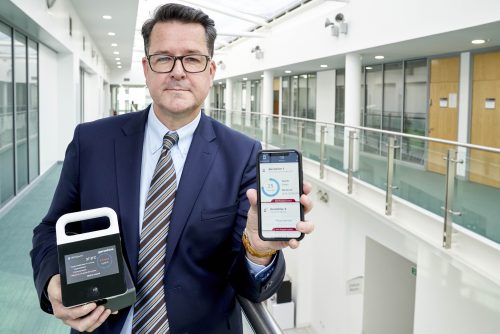 Genedrive, the Manchester-based molecular testing business, said its COVID-19 testing kit is now available for sale across the European Union, and UK.
It said it is accelerating market access to countries that accept the CE-IVD approval mark.
The Genedrive 96 SARS-CoV-2 Kit is a novel polymerase chain reaction (PCR) assay designed to detect active infection in COVID-19 patients.
Genedrive said its PCR bead format eliminates the need for the time-consuming and error-prone reagent preparation required in all other open-platform test kits.
The format streamlines laboratory workflow, allowing more tests to be performed in a day.
Patient samples are simply mixed with the PCR beads, and are then analysed on a variety of existing third-party real time PCR platforms.
During CE-IVD evaluations on 180 randomised specimens, the Genedrive 96 SARS-CoV-2 Kit achieved 100% sensitivity and 98.2% specificity, placing it in a top tier performance table for COVID-19 PCR tests.
The test has been co-developed with Cytiva, formerly GE Healthcare Life Sciences.
The scalable manufacturing process uses Cytiva's Lyo-Stable-validated manufacturing method, capable of producing 10,000 PCR beads per hour.
Following CE-IVD marking, the company can start commercial sales in the UK and across the EU immediately.
Genedrive will now begin distribution to potential customers for initial clinical evaluations, and aims to record first commercial sales in June.
The company continues to develop a point-of care version of the SARS-CoV-2 test for use with its Genedrive platform, which will enable decentralised testing.
Chief executive, David Budd, said: "The development teams at genedrive and at Cytiva have worked tirelessly over the past two months to develop our unique product that has the potential to streamline lab testing, improve quality, and ultimately allow more people to be tested.
"CE marking was achieved with performance studies and validations that will also support regulatory applications in other jurisdictions, such as Emergency Use Authorisation with the USA FDA and Emergency Use Assessment and Listing with the WHO.
"The temperature-stable nature of the Genedrive 96 SARS-CoV-2 kit means we have the potential to easily access these global markets, which are in urgent need of testing efficiency and volume."