Glass giant plunges into the red after coronavirus cataclysm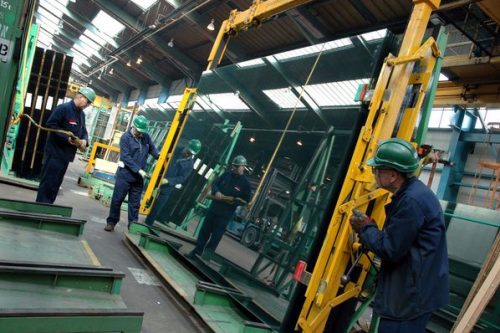 The Japanese parent group of St Helens glassmaker Pilkington revealed lower revenues and losses for the year to March 31, today.
Nippon Sheet Glass (NSG) warned a year ago, even before the coronavirus pandemic hit the world economy, that it expected lower profits for the 2019/20 period.
However, production has almost halted since the pandemic, and the group revealed the ongoing cost in its latest annual results today.
Revenues fell 9.2% to £4.25bn, while last year's pre-tax profit of £159m was transformed into a pre-tax loss of £100m. This was impacted by exceptional costs totalling £180m.
NSG said, at constant exchange rates, its revenues would have fallen five per cent, anyway, even before taking COVID-19 into account.
No dividend payment has been proposed, given the dire market conditions.
NSG bought St Helens-based Pilkington in 2006, making it one of the four biggest glass companies in the world.
The group's business lines cover three core product sectors – architectural, automotive, and technical glass.
Architectural, representing 42% of cumulative group sales, includes the manufacture and sale of flat glass and various interior and exterior glazing products within the commercial and residential markets. It also includes glass for the solar energy sector.
Automotive, with 51% of group sales, supplies a wide range of automotive glazing for new vehicles and for replacement markets.
Technical glass, representing seven per cent of group sales, comprises several discrete businesses, including the manufacture and sale of very thin glass used as cover glass for displays, lenses and light guides for printers, as well as glass fibre products, such as battery separators and glass components for engine timing belts.
Today's results announcement said the group experienced increasingly difficult trading conditions in its core markets during the year with underlying market conditions deteriorating from the third quarter.
COVID-19 impacted the group's technical glass business from January 2020 and severely impacted the group's automotive and architectural businesses from March 2020.
In some regions, vehicle production fell to near-zero levels towards the end of the year, as the group's main automotive customers temporarily ceased production, particularly at plants in Europe and the Americas.
Vehicle production continued at customers in Asia, albeit at much reduced levels.
In architectural, construction activity also weakened significantly towards the end of the year in response to COVID-19 lockdown restrictions, particularly in Europe and South America, but also in other regions.
However, demand for solar energy glass remains robust, it said.
Conditions facing the group's technical glass business were also negatively impacted by COVID-19, although they began to stabilise, somewhat, by the end of the year.
Looking forward, the group has not published a forecast for fiscal year 2021 due to the exceptional circumstances.
It has taken appropriate action to suspend or reduce production at various plants and is focused on saving cash costs in a variety of areas.
It is also actively seeking government assistance where such programmes are available.
The group said it intends to continue its programme of disposing of non-core assets and improving the efficiency of working capital.
It said it expects a gradual recovery of demand during fiscal year 2021, but it is not clear what the timing and extent of this recovery is likely to be.
And while noting the robust liquidity position as at March 31, NSG said it is mindful of its liquidity needs going forwards in the current distressed market conditions, so is in discussions with its providers of finance to ensure that sufficient liquidity will continue to be available.
In the medium term, the group expects a gradual recovery of markets to more normal levels as experienced prior to the COVID-19 pandemic, although it will vary in different industrial sectors.
It said when the current coronavirus pandemic has subsided, the society and economy might be changed drastically forever. With a view to such changes, the group will redefine the businesses to develop further or to defocus and transform its business structure.
NSG believes it can gain value in the future from certain fields, such as the environment (glass for solar panels and energy saving glass), health and safety (PCR test device and antivirus glass) and telecommunication, where demand associated with new working styles would increase (optical telecom devices).