Coronavirus business update: Latest news across the North West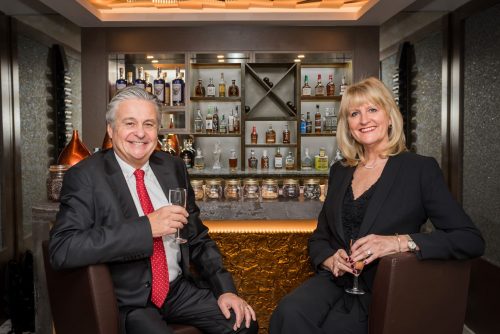 An Altrincham company that makes bespoke fitted furniture says a six-figure funding package from Lloyds Bank means it will return from lockdown ready to capitalise on customers' growing desire to work and socialise at home.
Bluebell Fitted Furniture was founded by directors Mike and Alison Reuben in 1992 and specialises in the design, manufacture and installation of made-to-measure furniture.
It was heading for a record year in 2020, until it was forced to close down operations, including its showroom in Sale and factory in Altrincham, and furlough its 24 staff.
The £1.6m-turnover business had been on course to achieve revenues of more than £2m this year.
Alison said: "We were looking to have one of the best years since we started our business 29 years ago but, like just about everyone else in business, we literally had to 'shut up shop'."
Now Lloyds Bank has provided Bluebell with a £150,000 loan through the Coronavirus Business Interruption Loan Scheme (CBILS) to support its working capital, though the firm has continued to receive new enquiries from customers during the shutdown.
Bluebell hopes to benefit from a boom in home working, which Mike and Alison anticipate will drive demand from households to have offices installed in their homes.
And they predict more people will want to have bars fitted so they can socialise with friends without having to visit busy pubs and bars.
Mike said: "Working from home is going to be the way forward, so we anticipate that after lockdown people will have new ideas of how they would like to improve their home and instead of travelling abroad in 2020 they will be keen to spend their hard-earned money improving their environment."
Michael Downes, relationship manager at Lloyds Bank, said: "Bluebell is a business with a fantastic reputation for quality and a strong pipeline of work that has been interrupted by the coronavirus lockdown. This funding will help it bridge this period of uncertainty so it can return as strong as ever."
::
Wirral-based specialist in IP-based CCTV and integrated security systems, NW Security Group, has secured a £200,000 loan from Barclays through the Government backed Coronavirus Business Interruption Loan Scheme (CBILS) to support it through the current coronavirus crisis.
Established in 2004, the firm also provides security consultancy and training services.
However, with the effective shut down of a number of industries, many of the clients they serve were unable to continue with planned projects, presenting significant challenges on the business until normal trading resumes.
But the six-figure sum will enable the business to maintain jobs during this uncertain period and provide and maintain ongoing surveillance of client assets and premises.
Frank Crouwel, NW Security Group managing director, said: "A couple of months ago nobody could have predicted the challenges we were about to face. We are thankful to be serving clients who still need their premises, assets, people and data protecting despite the lockdown restrictions."
Barclays relationship director, Helen Hutchison, said: "Frank and the team have built a cutting-edge business who have really led the way helping to create a technology business hub in this area, so when coronavirus impacted them, we moved quickly to discuss how Barclays could help."
::
The Medicash Foundation, the charitable arm of Liverpool-based health insurer Medicash, has donated £100,000 of Personal Protective Equipment (PPE) for the region's frontline workers.
The foundation teamed up with local business Inovus Medical to produce the much-needed visors, with the first being delivered to the North West Ambulance Service (NWAS).
It is also sourcing additional supplies of face masks and hand sanitisers for local key workers in care homes.
Sue Weir, chief executive of Medicash and trustee of The Medicash Foundation, said: "NHS and frontline workers are doing an outstanding and vital job to protect people right across the UK.
"Everyone at Medicash would like to thank them for the incredible work that they are carrying out. In our 150-year history, Medicash has endured several significant historic events, including a worldwide flu pandemic and two world wars, and felt that it was only right that we play our part through our charitable foundation to buy and donate essential PPE.
"We will continue to do all we can to provide support to those who need it most."
The foundation has also donated a further £75,000 to a range of charities impacted by the coronavirus crisis and who are still determined to support their local communities during these unprecedented times.
::
Cheshire Community Foundation, which raises funds to support hundreds of small charities and voluntary groups across Cheshire and Warrington, has received a donation of nearly £8,000 to Warrington Foodbank through its Covid-19 Response Appeal.
The donation was made by Flex, the global technology innovation, supply chain and manufacturing solutions company which has a site in Warrington.
It comes at a time when, according to the latest survey by the Food Foundation, five million people in the UK living in households with children under 18 have experienced food insecurity since lockdown started, double the level reported by the Food Standards Agency in 2018.
Warrington Food Bank would normally support 120 to 140 individuals and families per week, but requests for help are flooding in and by the end of April the charity was supporting more than 300 people, many of whom had never accessed charitable support before.
Zoe Sheppard, Cheshire Community Foundation chief executive, said: "We couldn't be more grateful to Flex for this very generous donation. We have received reports of families going hungry for days, many of whom have never had to access government or charitable support before.
"In addition to providing food and essentials, many of the charities we help to fund offer support and advice and are reaching out to the most vulnerable and isolated members of our community."
Mike Meades, general manager at Flex in Warrington, said: "As an organisation we believe that Flex can and should play a vital role in helping our local communities."
::
Lancashire school students are continuing to take part in university visit days, despite campuses being in lockdown.
Future U, along with Edge Hill University and the Lancashire Enterprise Adviser Network, have teamed up to allow more than 130 schools across the county to access the visit, which was arranged prior to the lockdown.
The visit, which was due to take place at Edge Hill University in Ormskirk, would have allowed students to understand more about campus life, as well as the courses and careers available to them. However, because the university is closed to visitors the event was instead streamed online.
The virtual visit included introductions to life at university including information on students, staff, courses available and what it is like to live on campus.
In addition, students learnt about the different jobs available at the university by hearing from current employees. They were also set a virtual task to explore more about a career in social media.
Elenid Steffan, education liaison officer at Edge Hill University, said: "This is an innovative alternative which allows these young adults to speak to students, and staff, about their university experiences. It is valuable in raising aspirations and helps them to form their choices and understanding of higher education."
James Clegg, delivery officer at Future U, added: "The session delivered by Future U looked at a real job and broke down the application form in easy to follow steps. It also helped to strengthen pupils' knowledge of the social media sector, looking at the best ways to get into a social media career."