Coronavirus business update: Latest news across the North West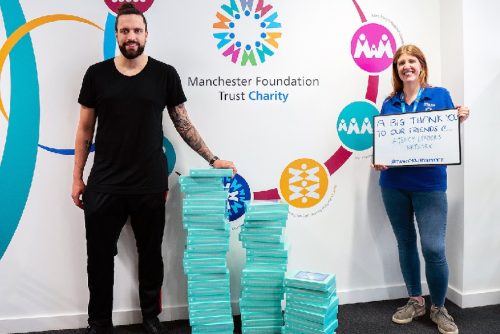 More than 40 creative, marketing and digital agencies from Manchester and the North West teamed up to raise £17,000 for two Greater Manchester charities that are supporting vulnerable people during the COVID-19 crisis.
The agencies smashed their original target by taking part in a marathon relay, running a full race between each business on May 7, completing a total of 1,101 miles between them.
People from the region have supported the cause by donating the notable amount of money that will be split between Forever Manchester, and Manchester Foundation Trust Charity.
Five thousand pounds has been donated to the NHS Trust, and the money has been used to buy 50 tablets.
The tablets will be distributed to hospitals in the city which are part of the Manchester University NHS Foundation Trust – the largest NHS hospitals trust in the country.
Manchester Foundation Trust Charity received the tablets last week, and they will be used by patients to connect with loved ones who they are unable to see during this difficult time.
Forever Manchester has been presented with the rest of the donated funds, which will be used to help the city's most vulnerable during the COVID-19 outbreak with food banks, mental health initiatives and check-ins for older people or anyone who needs a helping hand.
Elizabeth Coulson, senior development manager at Manchester Foundation Trust Charity, said: "We're incredibly grateful to everyone at the Agency Leaders Network. It is testament to all the network members that these wonderful donations were possible. We want them to know that the tablets have been very gratefully received by our patients."
Jean Mills, head of business development at Forever Manchester, said: "It's fantastic that so many people wanted to take up the challenge, have some fun, and support Forever Manchester at a time when we are inundated with requests for funding from community projects who are going out of their way to help those who are struggling in different ways as a result of coronavirus. We'd like to say a massive thanks to everyone involved."
The initiative was spearheaded by Oli Hopkinson, joint founder of digital marketing agency, Bind, and supported by the Agency Leaders Network.
The initiative initially set out to raise £10,000 in total – £5,000 via Just Giving, with The Hoppy Trust matching the amount with a further £5,000 donation.
Oli said: "This kind of social impact is not something I can say I have been a part of before, and I feel honoured and privileged to have been involved.
"The people of Manchester are very special, and when the going gets tough we unite and strive to make a difference. "
Steve Thompson, founder of the Agency Leaders Network, said: "Handing over the tablets to the Manchester NHS Trust was incredible. Some of the stories we heard around the isolation from loved ones that all patients have had to face because of Covid really brought to life just how uplifting these devices are going to be for patients across the North West."
People can still donate to the cause via the Just Giving page: https://www.justgiving. com/fundraising/agency-leaders-network
::
Health and care professionals from Greater Manchester have worked with Liverpool-based tech company Safe Steps to develop a UK-first digital innovation that will help care homes to track COVID-19 and coordinate care with GP practices, social care and hospitals to support vulnerable residents.
The tool will allow care homes staff to input information about a resident's COVID-19-related symptoms into a tracker, which can be shared directly with the resident's GP and NHS community response team to ensure that a swift assessment and response can be put in place.
It also means that the NHS can more closely monitor how care homes are doing across the locality more easily thanks to a visual dashboard that displays the information at an aggregate level.
Further developments are also planned as part of the wider digital care homes package, such as enabling staff to monitor and flag signs of deterioration early on, based on the national RESTORE2 clinical assessment (Recognise early soft-signs, Take observations, Respond, Escalate).
Tameside and Glossop is the first locality to roll out the care homes COVID-19 tracker. Health and care teams are now able to proactively support the health and wellbeing of more than 700 residents across 25 care homes in the locality, looking out for signs of COVID-19 and taking swift action.
The solution has been developed as part of a partnership formed by Health Innovation Manchester (HInM), including the Greater Manchester Health and Social Care Partnership, Tameside and Glossop Integrated Care NHS Foundation Trust, Tameside Council, local GPs and Safe Steps.
Sir Richard Leese, chair of Greater Manchester Health and Social Care Partnership, said: "We know that older people are susceptible to some of the worst consequences of coronavirus, so it's vital that care homes and their residents receive the support they need as quickly as possible."
Safe Steps managing director, James Chapman, said: "When the current pandemic really started to accelerate we decided to use our technology and experience in this sector to rapidly build a new app – not because we had to, but because the team here are passionate about doing everything we can to help our ageing loved ones, relatives, neighbours stay safe.
"Being able to play a small part in the NHS response to the current crisis is both humbling and motivating at the same time. I'm really proud of my team for stepping up to the challenge, but we also know the real heroes are the NHS workers on the frontline – we are just trying to support them."
::
LFC Foundation has launched a new employability support service for people across the Liverpool City Region who have been made redundant or are at risk due to the impact of the coronavirus outbreak.
The Virtual Employability Programme will provide participants with constructive CV and cover letter support, mock interview practice and exclusive job role insight to enhance their employment prospects during this time of uncertainty.
Participants will receive 1-2-1 support courtesy of LFC Foundation's employability team or from an LFC volunteer who has registered to lend their support and career expertise to the programme.
The support sessions, which are free of charge, will be delivered virtually through video service Zoom and last for approximately 30 minutes. Local employment opportunities will also be sent to each participant and assistance with applications will be available.
Participants must be aged 18 or over and live within the boroughs of Liverpool, Wirral, Knowsley, Sefton, Halton or St. Helens to be eligible for the programme which has been designed to support local people during the lockdown period and will continue to do so as social isolation measures begin to ease and local communities begin to recover.
Matt Parish, LFC Foundation director, said: "The COVID-19 outbreak has, unfortunately, resulted in a dramatic loss of employment and will continue to do so as the economy tries to recover in the months to come.
"During this time of uncertainty we would like to provide those struggling to find a job or those who have recently been made redundant with professional support in order to enhance their chances of regaining employment."
Applications are now open, but are subject to availability and may close for short periods of time to allow LFC Foundation to provide a quality experience for all participants.