Coronavirus business update: Latest news across the North West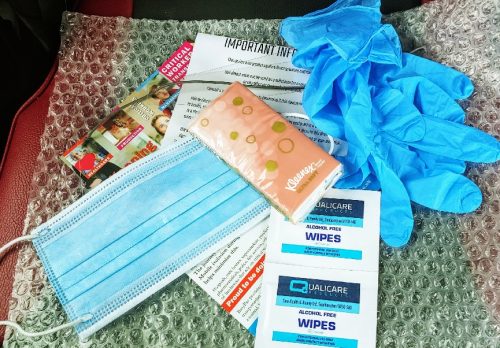 A North West coach company has unveiled a passenger safety pack which it hopes will enable it to overcome COVID-19 restrictions.
BusyBus, a small sightseeing day-tour coach company operating from Liverpool, Manchester and Chester has been forced to furlough its entire workforce and SORN its fleet due to COVID-19.
However, it has spent the past weeks developing what it hopes will become an integral part of getting footfall back onto its tour vehicles.
It says the two-metre social distancing rule would take a 49-seater coach down to a capacity of around 20 and require a sophisticated and disciplined boarding procedure relying on everyone's participation.
A 16-seater minibus could just about get six on board under such conditions, which, the firm says, is economically unsustainable.
So, it has launched TravSafe, a simple heat-sealed pack containing everything needed by each passenger to maximise their protection against airborne and surface-borne infection where social distancing is impractical or impossible.
The pack is designed for single-use, over a journey or perhaps a day, and contains hand wipes, gloves, face mask, face shield, tissues, COVID-aware statement, and full instructions.
The pack itself acts as a safe disposal 'bin' and the entire package is made from recyclable materials.
BusyBus has handed over its concept to a start-up trading brand 'TravSafe'. It is wholly-owned, utilising the same management team and operates from BusyBus's depot near Chester. It aims to redeploy the BusyBus workforce into production until they can resume their normal roles again.
Managing director Peter Rosenfeld said: "This is not something I envisaged 10 weeks ago and has tested every entrepreneurial skillset we had in our bottom drawers. From crisis through concept, creation, market research, procurement, infrastructure, production, legislation, packaging, website shop to delivery in under four weeks."
He added: "The product needed to be practical, sustainable, and commercially viable to high-usage coach and transport operators. So many are cashing-in on this crisis and selling individual items contained in this pack for over 25 times their value. We do not want to exploit the situation. We want to find an affordable solution and support our friends, colleagues, and peers in the industry. We think we have achieved this."
::
A collective of chefs, hospitality leaders and volunteers led by chef Mary-Ellen McTague of the Creameries and Cloudwater Brewery aim to support more than 2,000 key workers and vulnerable people with hot food and supplies each week.
Initially formed in response to the sudden worsening of the existing UK food crisis due to the rapid spread of COVID-19, Eat Well MCR is providing meals and access to fresh produce and supplies to families with children in local hospitals, those living with food poverty, women seeking refuge, homeless people, and frontline NHS workers.
Responding to a call to arms, Cloudwater Brewery, Elite Bistros, Honest Crust, Beehive Foods, Where the Light Gets in, Hawksmoor, Higher Ground, Isca, A Taste of Honey, The Eagle & Child, Baratxuri and many others have pooled resources, now providing upwards of 1,800 meals per week to those in need, responding to acute demand from hospitals, foodbanks, homelessness organisations and social care facilities.
Organisers say just £1 can provide a warm nutritious meal. Donations can be made via https://www.crowdfunder.co.uk/eat-well-mcr
We will still set a place at our table, we will still make dinner. #EatWellMCR 🧡 pic.twitter.com/mLskQtYcKc

— Eat Well MCR (@eatwellmcr) May 14, 2020
An auction and prize draw will also be hosted on United We Stream, on June 6, at 7pm hosted by Clint Boon and Hattie Pearson.
Sparked by a conversation with her sister, a palliative care specialist, Mary-Ellen McTague said 50 hot, nutritious meals delivered that day to the team at Wythenshawe A&E has become more than 1,800 weekly, thanks to a collective response from Manchester's hospitality community.
She said: "Feeding people is the best way of showing people that you care- that you wish to support them. Faced with an empty restaurant kitchen, and a load of donations of fresh food that had no other place to go, the obvious thing to do was to cook the food and take it to those who needed it.
"After a shout out on Twitter and Instagram for food donations, and help with cooking, the offers flooded in and we haven't stopped since.
"I'm so proud of our city and our industry. I've been seeing the absolute best in people since we started this thing, and it's a great privilege to be able to do what we're doing. Food inequality isn't new, and it isn't going away any time soon, but we feel like we've now found a way to be part of the solution to a very unfair problem."
::
Altrincham-based Mint Bridging, which specialises in short-term property finance, has released two new products specifically for the building development market, as it looks to help businesses continue building amid COVID-19.
Sinead Moynihan, head of sales at Mint Bridging, said: "We have, like others in the market, to this point offered solely new bridging loan products, with COVID-19 in mind. However, we noticed a gap in the market for development-specific products and knew that it was necessary to widen our product portfolio with development loans that measure up to the needs of our brokers and borrowers at this difficult time."
These products chime the Secretary of State for Housing, Communities and Local Government, Robert Jenrick's recent comments in which he said: "A vibrant housing market means more than just buying and selling homes. We need to get building again, and Britain needs that."
For those looking to drive ahead with their development, with workers operating safely back on site, Mint has a specific New Development Product, based on a maximum four-house scheme with a loan value of up to £750,000.
Alternatively, for those impacted by building delays or unable to offload their premises due to the ever-changing market, ie properties not selling in light of changes to personal circumstance and/or mortgage limitations etc, Mint is offering a specific Development Exit Loan, available to those seeking loans up to the value of £750,000, based on a maximum six-house scheme.
Sinead added: "The building development market is unique and it's for this reason we've had to carefully look at what products we could release that would be most beneficial to both brokers and borrowers.
"We hope that these two new loans will help many who've found themselves in a difficult situation amid the coronavirus crisis, yet are eager to keep Britain building."
::
Creative industry businesses in Greater Manchester can receive a timely boost to help their recovery from the impacts of COVID-19 with the return of an innovative programme that will help them to scale-up and grow.
With a vibrant community of more than 8,500 creative businesses, generating £1.4bn of economic growth annually, Greater Manchester boasts one of the country's leading creative clusters outside of London.
Some businesses that have already benefited from the programme include Engage Hub, Peoples History Museum, Creative Tourist, Buffalo 7, Prospect Games and Beatstream Media.
However, the COVID-19 lockdown has created many challenges for the local industry, meaning there has never been a better time to receive advice and support from the Creative Scale-Up programme, which was launched in January by the Growth Company and Greater Manchester Combined Authority (GMCA) and fully funded by DCMS.
The programme will be tackling gaps in investment and growth in the creative sector, while empowering creative businesses to realise their full growth potential, providing the training and tools necessary to take creative businesses to the next level.
One business to have benefited from this advice during the pandemic is Mustard Media, a festivals and events accelerator. Managing director Rob Masterson said: "It's been fantastic having a senior advisor available to update us individually and help us navigate the coronavirus crisis."
Sam Whitear, Creative Scale-Up programme project manager, said: "Creative Scale-Up adds further scale and depth to the services we are offering for the creative sector, including the relaunched Greater Connected programme, and crucially it supports Greater Manchester Mayor Andy Burnham's Build Back Better programme aimed at helping the region come back stronger after COVID-19."
In line with the Government's social distancing policies, all modules of the Creative Scale-Up programme will now be delivered virtually.