Waterfront development opens its doors to residents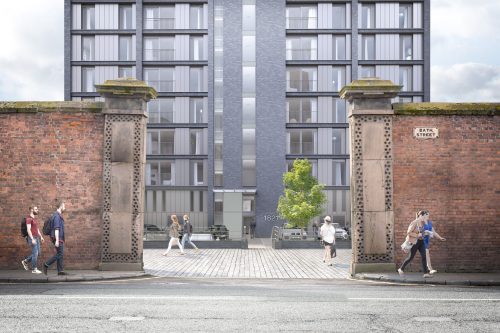 The next phase of residential development at Princes Dock, part of Peel L&P's £5.5bn Liverpool Waters proposals, has opened its doors to residents, as property company Redwing nears completion of its £21m residential development, Plaza 1821.
Plaza 1821 offers 105 one- and two-bedroom apartments along with dedicated amenity space on the ground floor.
The scheme is just a stone's throw away from the Three Graces – the Royal Liver Building, Cunard Building and Port of Liverpool Building – that give the city its iconic waterfront.
Plaza 1821 is named after the year Princes Dock opened and is a private rental sector (PRS) development, undertaken by Peel L&P.
The development is one of three additional planned residential schemes at Princes Dock alongside Moda Living's The Lexington, which is currently well under way, and Your Housing Group's Patagonia Place, for which a planning application has recently been submitted.
Darran Lawless, development director at Liverpool Waters, part of Peel L&P, said: "It's fantastic that the team at Redwing has been able to ensure residents are able to move into these brilliant apartments with incredible views of Liverpool's waterfront.
"It's a real milestone for people to begin moving in to these amazing homes at Princes Dock, demonstrating the significant progress happening across the wider Liverpool Waters scheme.
"We look forward to seeing this part of Princes Dock and the wider scheme progress even further over the coming months and years, helping us to create homes, jobs and a new community, breathing life back into our historic docklands."
Fiona Coventry, executive director of property at Redwing, said: "At Redwing we work with a range of partners to provide high-quality residential developments where people and communities thrive. Plaza 1821 is one of a number of new developments that we will bring to our customers in the near future.
"We are delighted to be part of the Liverpool Waters regeneration project with Plaza 1821. We will also be announcing an exciting restaurant partner for our ground floor space soon."
The development is managed by Redwing and built by contractors Vermont Construction Group.
As it continues to progress, Liverpool Waters will transform 60 hectares of historic docklands and is the biggest single regeneration project in the history of Liverpool.
In total, the development will offer 2,000,000 sq m of floorspace which will include 9,000 residential homes, 315,000 sq m of business space and 53,000 sq m of hotel and conference facilities.
The waterfront project will also be the home to a new cruise liner terminal and hotel as well as a new Isle of Man ferry terminal which is currently under construction, as well as the proposed location of the new Everton FC stadium.