Liverpool hotel group collapsed owing £113m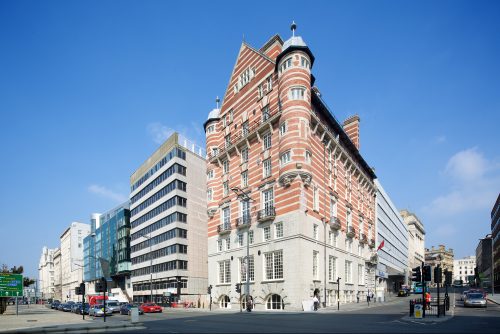 A Liverpool hotel group owed £113m to creditors when it collapsed into administration in April, TheBusinessDesk.com can reveal.

The parent company of Signature Living's labyrinthine network of 60 bar, hotel and development businesses collapsed into administration in April.

It is the largest of six group companies that is now in administration.

Administrators believe a going concern sale is unlikely because of insufficient funds and assets when weighed against "the level of secured and unsecured indebtedness".

The lockdown has hampered progress, slowing down investigations into the group's operations and making the sale process more difficult. The impact of Covid-19 on the tourism and leisure sectors is also reducing expectations on the potential value of the assets held.



Signature Living was founded by Lawrence and Katie Kenwright and had been responsible for a swathe of developments in Liverpool city centre in the past decade, including the Dixie Dean Hotel, 30 James Street, and Arthouse Hotel.

In recent years it had begun to spread its interests across the UK with developments in Manchester, Preston, Cardiff and Belfast.

But now the companies responsible for the Shankly Hotel in Liverpool, the Coal Exchange Hotel in Cardiff and the George Best Hotel in Belfast are among those in administration.

Administrators from Duff & Phelps, FRP and Wilson Field are trying to unpick the relationships between group companies, investors and funders.

Matthew Ingram and Michael Lennon, of Duff & Phelps, are joint administrators of the parent company, Signature Living Hotel, and two other group companies.

They have described arrangements as "complex" and already expect to have to extend the administration beyond the initial 12-month period.

The first public sign of Signature's problems were its plans to sell two Liverpool hotels – The Shankly and 30 James Street – to raise cash in May 2019.

However the touted price tag of £51m was originally positioned as being earmarked to "fuel major expansion plans", but the hotels remained unsold.

The first domino to fall in the Signature Living group was the Shankly Hotel, which fell into administration on April 9, less than three weeks after lockdown began.

Its development had been part-funded by investors who had bought bedrooms, encouraged by fixed returns and sell-back options.

But arrears and the failure to settle with investors who exercised their option to sell led to a bedroom investor seeking an administration order in the High Court.

Instead a secured lender, Henslow Trading, exercised its statutory right to appoint an administrator.

Henslow, which acted as a guarantor to a "substantial number of group liabilities", then appointed administrators to the parent company six days later.

"There is a complex inter-company loan position across the various group entities," said the joint administrators, who have estimated creditors are owed £113.3m.

That includes a £10m figure for retail investors, but Ingram and Lennon expect "the final figure will be much higher".



The corporate structure just on the Shankly Hotel gives an insight to the way the whole group was held together by linked arrangements.

The Shankly Hotel was owned by the parent company with long leaseholds in place with five different companies for the hotel, gym, car park, offices and bedrooms.

Signature Living has typically set up special purpose vehicles that own or lease buildings and raise funding from investors who bought hotel rooms or apartments with the promise of fixed returns.

There were guaranteed buy back and sell options over a period of up to 10 years.

137 bedroom investors from around the world had paid £13.8m for rooms in the Shankly Hotel. Administrators said the process of realising asssets "will be a complicated process".

The investments were made as part of a Business Premises Renovation Allowance scheme, a tax-friendly initiative designed to encourage investors to bring unused buildings in disadvantaged areas back to life.

Investors committed a minimum of £100,000, although 55% of that was raised as debt, which was provided by Signature Capital Investments and then guaranteed by Signature Living's parent company.

The Shankly Hotel reached practical completion in February 2016. But the three-year option to sell became live at the start of March last year, weeks before Signature put the hotel up for sale.

It was marketed alongside 30 James Street, the hotel built in the former headquarters of the shipping company White Star Line, owner of the ill-fated Titanic.

Failure to find a buyer for the properties put the group on a crash course with its creditors, which it could not avoid.

FRP partners Steve Williams and Philip Armstrong are joint administrators of Signature Living Residential – the vehicle for the redevelopment of 60 Old Hall Street in Liverpool – and Signature Victoria Mill, the part-conversion of Victoria Mill in Miles Platting, Manchester.

Kelly Burton and Lisa Jane Hogg of Wilson Field are the administrators of the Signature Living vehicle that controls its Coal Exchange hotel in Cardiff.