Mayfield developer expects Manchester to be 'major beneficiary' of economic response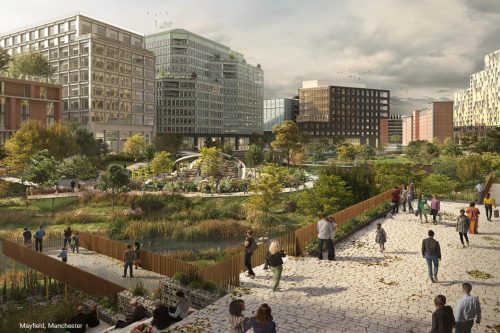 Mayfield developer U+I expects Manchester to be "a major beneficiary" of the demand for mixed-use regeneration as part of the economic recovery.
It is encouraged by political demands for shovel-ready projects that are flexible and "can meet demand for more agile environments and new behavioural needs".
Its chief executive Matthew Weiner anticipates U+I, and other developers with a portfolio of successful, completed projects, will be at the front of the queue.
"Those businesses, like ourselves, that have both the track record and planning consents for immediate development are set to be the greatest beneficiaries," he said.
U+I is focused on London City Region, Manchester and Dublin, and Weiner has reiterated his belief that "Manchester is the UK's Northern Powerhouse and the most economically important city outside London".
Its £1.5bn Mayfield scheme plans to transform a 24-acre brownfield site in Manchester city centre.
Consent for phase one of the scheme was granted weeks before lockdown began, for the creation of a 6.5-acre park, 320,000 sq ft of office space and a 581-space car park.
Construction is scheduled to begin later this year, with the first buildings due to be completed in 2022.
The overall development when completed is forecast to create 13,000 jobs, 1,500 homes and 2.3m sq ft of office space.
U+I chief executive Matthew Weiner said: "We are focused in the area of regeneration, increasingly classified as infrastructure. This will continue to secure significant grants as the recovery of our towns and cities to provide for growing communities continues to be a Government imperative.
"Our three core geographies of London City Region (within one hour's commute from Central London), Manchester and Dublin are all expected to be major beneficiaries."
Weiner also expects there to be more opportunities in the future with more land becoming available for regeneration.
"This presents opportunities to continue to strengthen our short and long-term pipeline as we proactively look for undervalued acquisitions," he added.
U+I has revealed disappointing financial figures for the year to March, blaming problems caused by "significant market uncertainty and third-party delays in decision-making, caused by Brexit, the General Election and, more recently, the Covid-19 pandemic".
It made development and trading gains of £11.0m, well below its target of £35m-45m.
Revaluations of its investment portfolio and provisions on historial projects were the dominant factors in a pre-tax loss of £58.6m.
Weiner said the company "responded quickly" to the changing economic circumstances, cutting costs and preserving cash. It has secured an additional £20m liquidity since March, reduced its development capex spend by £33m for this year, and suspended a £4.4m dividend.
U+I has a 15-year development pipeline vaued at £10.8bn and it remains confident of its ability to progress these opportunities.
Weiner said: "Our size, agility and distinctive approach, combined with our efficient capital structure, give us confidence that we will deliver on our future targets.
"We are excited about the opportunities ahead for our business and remain focused on our purpose – to unlock potential for all through regeneration."