People on the Move: EY; Meadow Foods; TLT; Degree 53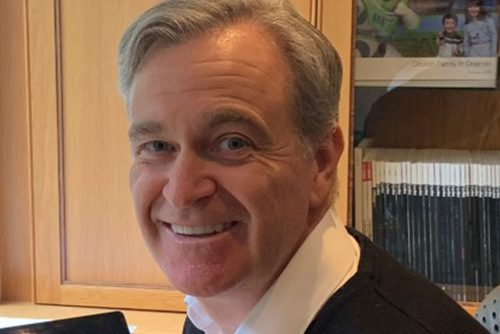 EY has announced the appointment of Stephen Church as the new office managing partner for Manchester and markets leader for the North of England.
Stephen is taking over from Bob Ward who has been in role for nearly four years and will be relocating back to London to focus on turnaround and restructuring client work as a strategy and transactions partner.
A partner in the firm's consulting business, Stephen will now lead EY's multi-disciplinary team in the North of England, comprising tax, consulting, assurance, people advisory services and strategy and transaction professionals in providing services to both the public and private sectors.
EY works with large corporates to entrepreneurial businesses, across all sectors in the region.
Stephen joined EY in Manchester as a partner in 2009 and has more than 25 years' consulting experience, supporting clients in understanding the impacts of regulatory change, capital programme delivery, operating model change and delivering growth through the adoption of innovative and disruptive technologies.
He has led business transformation programmes across Europe and the Americas for several clients in the consumer products, life sciences, government and energy sectors.
More recently, he has worked with clients in the UK transport sector where he has led and delivered a number of transformation programmes. He also represents EY in its long-term involvement with the Northern Powerhouse Partnership.
Stephen said: "I'm really pleased to be taking on the role as office managing partner for EY's Manchester office and markets leader for the North. I'd like to thank Bob for his fantastic work in successfully growing the business over the last four years – he's done a fantastic job and I have big shoes to fill.
"I intend to build on this success and our commitment to Manchester, and the whole of the North region.
"We will continue to invest in local talent as well as recruit highly-skilled people to ensure that we can meet our clients' growing needs with people based in the North who know the market.
"We are committed to growing our North business and will continue to make the necessary investments to respond to market demand."
Bob Ward added: "I have been the Manchester office managing partner and North markets leader for nearly four years, it's been a great chapter of my career that I've really enjoyed.
"The time is right for me to focus on my turnaround and restructuring client work as part of the strategy and transactions team in London.
"I am delighted that my colleague and friend, Stephen, will take over both roles. I know that he will be a strong leader who will focus on growing the Manchester office and the business as a whole across the North."
::
Chester-based Meadow Foods, a supplier of value-added ingredients to the food industry, has appointed Neil Chivers as new director of specialty ingredients.
This will involve managing the portfolio of Meadow Foods' value-added ingredients such as soft cheese and custard, as well as the Nimbus Foods inclusions range.
Neil will have overall responsibility for the sales, NPD and marketing departments, with a strong focus on innovation and the development of new markets and opportunities for growth.
He joins the company with more than 30 years' experience of working with blue chip businesses internationally and in the UK.
An experienced commercial director, Neil has previously managed complex customer-based solutions in established and new business areas for FMCG and food ingredients businesses. He also has a wealth of experience across sectors including retail, B2B, foodservice and contract manufacturing.
He said: "I'm excited to be joining this ambitious and versatile business.
"Meadow Foods has a proven reputation as an innovative ingredients supplier and the role presents a fantastic opportunity to utilise this position, by extending into new and diverse markets.
"In particular, I am very much looking forward to leading the NPD team that devises and delivers exciting new value-added products to customers."
Jack Hancock, CCO of Meadow Foods, said: "We look forward to welcoming Neil to Meadow Foods. His vast experience will complement and add depth to the team, allowing us to further develop opportunities by continuing to create innovative products for our customers."
Meadow Foods is an award-winning company that operates from four sites in Chester, Peterborough, Holme-on-Spalding Moor and Dolgellau where it manufactures value-added ingredients seven days a week for some of the UK's best known food manufacturers.
It is also currently working on a new plant-based division for the Chester site. The company currently employs more than 430 people and handles in excess of 550 million litres of milk each year direct from its network of dedicated milk producers across the UK.
::
Chantal Peters, an associate in law firm TLT's financial services disputes and investigations team, has joined the committee of the Women in Banking & Finance (WIBF) organisation in Manchester.
WIBF is a non-profit membership organisation for financial services professionals, with branches in London, Bristol, Birmingham, Edinburgh, Glasgow and Manchester.
The WIBF network aims to bolster female contribution to the industry and foster members' ambitious spirit with networking events, development programmes and leadership opportunities.
Chantal was invited to join the recently-established Manchester branch to support the organisation with raising awareness, building relationships and developing opportunities for other women in the finance sector across the North West.
She said: "I am delighted to have been invited to join the WIBF committee. I believe that women have a key role to play in the development of the financial services sector and am keen to support this network as it strives to empower women in the North West to achieve their potential.
"I believe that the growth of this network will help both retain and attract key talent to the region, supporting the overall development of the financial services sector in the North West. I am excited and honoured to be playing a part in the development of this organisation in the region."
Jennie Koo, regional lead, head of regional branches at WIBF, said: "I am delighted to welcome Chantal to the Manchester committee and the support of TLT.
"Chantal joins a team of action-driven individuals who will lead on bringing WIBF's mission of Connect, Challenge and Inspire to life within the region, to drive a much-needed gender lens within the sector."
Chantal joins fellow associate Dawn Webber as a WIBF committee member, with Dawn representing the Bristol branch since 2016.
TLT is further represented at the forum by members at both the Bristol and London branches, including partner Deborah Sheldon, who has been an active member for a number of years.
::
Degree 53, specialists in UX, design and software development, has promoted two existing team members, Bav Patel and Peter Stringer, to directors.
The Manchester-based company has also made 12 new hires over the past three months, all while working remotely. This restructure adds more strength and extra support to the wider team.
Bav Patel has taken on the role of technical director-web and infrastructure, having been with the company for more than six years and playing a key role in its web development services.
With more than 13 years' experience, Bav will be driving the web and infrastructure offering for the business.
Peter Stringer has been promoted to technical director-mobile. He joined the business when the team at Degree 53 were still part of the Betfred mobile division in 2012.
Peter brings a wealth of app development experience across multiple platforms and will be leading the company's mobile services.
In addition, Degree 53 has brought in new recruits to increase capacity across the board.
They include web and app developers, quality assurance, project managers, UX designer and a business analyst.
All new starters have a great background in working with digital products and bring experience from a number of industries, whether from an agency or in-house.
This recruitment drive came from the need to provide additional support to client projects and expand the company's capacity, despite the lockdown.
Degree 53 has been continuously working on projects throughout the recent months thanks to existing clients increasing their demand for digital services and some exciting new business wins.
Managing director, Richard Wagstaff, said: "I'm delighted to recognise the great work both Bav and Peter have been doing.
"Their promotions are a testament to their expertise in their respective fields and delivering successful projects for our clients. I also want to welcome our new team members and look forward to meeting them face-to-face in the coming weeks.
"It's been a tough few months for many businesses, and I'm glad we've been able to grow our team during this period whilst retaining all our employees.
"As we're cementing our reputation in a number of industries, such as online gambling, lottery, finance and wellbeing, all of our new hires are a fantastic addition to the business.
"They have already shown great determination to learn and get stuck into projects working from home. These changes will, no doubt, strengthen our delivery capability and enhance our offering, too."