People on the Move: Drynks Unlimited; OBI; Napthens; Ainsco Fire & Security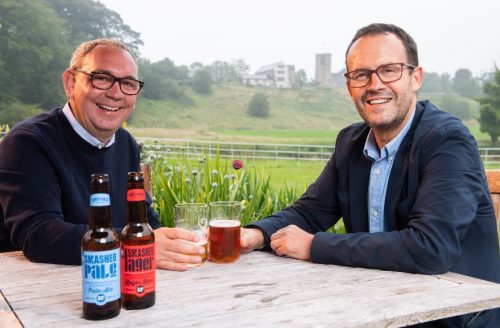 Creative brand expert Mark Harrison, former MD of Cheetham Bell Manchester and global business lead at Mother London, has joined Manchester alcohol-free brewer, Drynks Unlimited as brand partner to spearhead an acceleration of its alcohol-free brand Smashed.
The independent British alcohol-free drinks business launched its Smashed range of 0% beers and ciders in 2019 after the founder, Richard Clark, spotted an opportunity to create a business 100% focused on producing the best quality alcohol free drinks. He previously worked on major drinks brands including Pepsi, Crabbies and Whitley Neil gin.
Mark Harrison has held senior positions at Cheetham Bell, M&C Saatchi, Karmarama and Mother and brings with him a wealth of experience and insight from working on some of the UK's leading FMCG and retail brands, including Morrisons, Boots, Costa, Iceland, John West and Stella Artois.
He will support Richard and the Drynks marketing and sales team to develop a strategic brand narrative, brand plans and creative executions for the Smashed and Drynks Unlimited brands.
Drynks is growing at pace with the purchase of the UK's only cool vacuum distillation kit, a range of listings across on and off trade, a raft of NPD launches and plans for international growth.
The team had a successful stint on Dragons' Den in March 2020 where they wowed the panel with the quality of their 0% beers and ciders.
Richard Clark said: "Mark joins us at a key moment as we accelerate the growth of our Smashed brand in the UK and globally.
"He is perfectly positioned to help us align our creative brand focus and drive awareness with consumers who are increasingly looking for a quality great-tasting alternative to alcohol. Mark will be joining a brilliantly passionate team who are all focused on driving growth for the brand. We're really excited to have Mark on the team."
Mark Harrison said: "Drynks Unlimited is an incredibly exciting and ambitious business which has positioned itself as a leader in the alcohol-free category with its innovative dealcoholisation process.
"The Smashed brand stands out like a beacon on shelf and has immense potential and I want to help Richard and his team develop a creative brand ambition to see them deliver real excitement to consumers."
::
Property firm OBI has appointed Scott Gemmell to head up its capital markets team, following a raft of new business wins.
Scott, who was previously a director and head of capital markets at LSH in Manchester, will be joining the newly-expanded transactions and asset management department, servicing OBI's extensive client base which boasts some of Manchester's most high-profile developments.
Previously he was a director in JLL's North West valuation team for 12 years, working on landmark schemes and developments such as St John's, Spinningfields, the NOMA estate, and Grosvenor's Liverpool One.
Scott's appointment brings Manchester-based OBI's headcount to 35 people, following five new hires across the second quarter of 2020.
He said: "OBI's reputation and client base is fantastic. There's an incredible energy running through the core of the business with an uncompromising client focus, and this presented me with the right move at the right time.
"The firm has achieved so much over the past decade and I'm looking forward to being part of OBI's future success."
OBI co-founder, Will Lewis, said: "Scott is the final piece in the puzzle to our service offering – his knowledge of the market, coupled with his depth and breadth of experience, will be a fantastic asset for our clients.
"The sustained period of growth we've experienced has meant that building our capital markets expertise has been a natural progression, and there's nobody better placed in the region to head up this growing division than Scott. We already have some exciting investment projects under way."
Prior to his tenure at JLL, Scott worked at M&G Real Estate in London. He has advised clients including Aberdeen Standard Investments on their purchase of The Ivy & Oast House in Manchester and Rochdale Council on Rochdale Riverside.
Founded in 2010 by Will Lewis and Dominic Horridge, OBI's landlord and occupier clients include Aviva Investors, Bruntwood, Schroders, Kinrise, Property Alliance Group, Booking.com, Morson Group, AO.com and The Hut Group (THG).
In both Manchester and Leeds, OBI provides advice to clients across its multi-disciplinary services, which include leasing and investment, capital markets, office acquisitions, building consultancy, business relocations, interior design, project management and dilapidations.
::
Regional law firm Napthens has strengthened its offer in employment law with the appointment of Emma Corrie as an associate legal executive in Liverpool.
With diverse experience of advising employers across the whole range of employment issues, Emma has dealt with day-to-day employment law and HR advice through to complex discrimination matters.
Emma also has extensive experience of representing clients throughout employment tribunal proceedings, including those with sensitive and complex issues, and has specialist knowledge in discrimination claims.
She said: "This is a great time to be part of the ambitious growth plans of Napthens in Liverpool as the firm grows the service and the team to provide a comprehensive offering to the business communities of Merseyside."
Gareth McIntegart, head of Napthens' Liverpool office, said: "Emma's appointment is another strong acquisition and will add a further skilled and talented individual to our growing team as part of our strategy to bring something fresh to the city."
She joins Napthens following several years at a large regional law firm.
In that role, Emma assisted with the supervision of the discrimination team, while managing a large caseload of complex civil and employment discrimination claims.
Emma obtained her law degree from Lancaster University, following which she commenced the Bar Professional Training Course and was called to the Bar of the Honourable Society of Inner Temple in 2014. Emma since qualified as a Fellow of the Chartered Institute of Legal Executives in 2019.
::
Birkenhead fire safety business AinsCo Fire & Security has seen a 40% rise in its staff during the past financial year, with the recent appointments of experienced operations manager, Iain Menzies, technical manager, Edward Arrowsmith, and project manager, Dean Broderick also joining James Conder and Tom Watson who are new engineers.
Previously group operations manager at self storage firm, MJC Developments, Menzies has worked in a diverse number of roles both in the UK and the Middle East. His new role will include working on the operational structure and processes to further optimise the team's performance.
Arrowsmith has worked in the industry both as an engineer and in managerial roles.
The ILM Level 3 certificate-holder boasts Formby-based Mercury Alarm Services and Mold-based Crime Prevention Services on his impressive CV. Arrowsmith's new role will be to provide technical assistance to the firm's engineering base, as well as working with staff in the office.
An ever-present in the industry since the late 1980's, Broderick has worked for many years as a senior installations engineer, before later embarking on a career in project management, earning his stripes at Modern Alarms, ADT and Tyco before spending time in Europe.
Iain Menzies said: "AinsCo has a great reputation in this sector and to be part of the business now is a fantastic opportunity."
Edward Arrowsmith said: "Having started out in the industry way back in the 1980s I have enjoyed a long and varied career so far, and seen my role and skills evolve dramatically over the years. I look forward to bringing these skills and experience to AinsCo, and the opportunity to mentor those coming through the ranks, which I know is a top priority for the company."
Dean Broderick said: "AinsCo are widely regarded as one of the best companies to work for in the North West and after working for some big companies throughout my long career, both in England and Europe, I'm really looking forward to now working with the company's host of local, regional and national clients, in what is an extremely exciting time for the firm both in and out of the office."