People on the Move: Brabners; Fig; Paddock Johnson; Fablr; DJS Research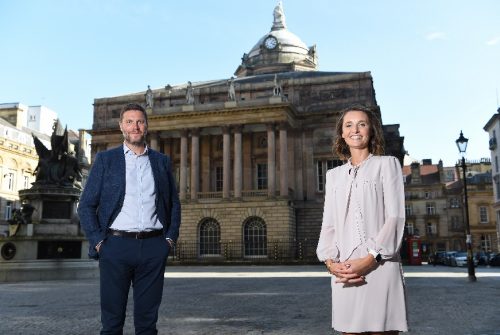 Independent law firm Brabners has appointed a new partner to its insolvency and restructuring practice.
Jennifer Lockhart, who is recognised by the Legal 500 as a 'next generation partner', joins from Hillyer McKeown.
She has 16 years' experience providing legal advice to businesses, individuals and insolvency industry professionals, with a client list comprising international, mid-market and boutique advisory firms including KPMG, Grant Thornton and Begbies Traynor.
Jennifer specialises in insolvency matters and has advised on several complex cases involving director misfeasance, fraudulent trading and payment of unlawful dividends. Her appointment further strengthens Brabners' insolvency and restructuring offering.
Nik White, managing partner at Brabners, said: "Jennifer is a hugely experienced lawyer and will bring crucial expertise and specialisms to our insolvency and restructuring team.
"COVID-19 has created major challenges for businesses to remain viable. With the Coronavirus Job Retention Scheme coming to a close this Autumn and government-backed emergency loans due for repayment next Spring, those challenges are only set to increase for many.
"Across a range of practice areas we're seeing the increased need for sound, commercially-minded legal advice and Jennifer's skills and experience will be invaluable in supporting our clients as they look to overcome these unique financial pressures."
Jennifer Lockhart said: "No company wants to think about insolvency or restructuring, but the harsh reality of the current economic situation means that more and more are having to consider which parts of their business are best placed to help them succeed in the future.
"An increase in insolvencies brings with it the greater exposure to company directors and it's important that we look to protect the directors, employees and creditors of those businesses struggling to remain afloat.
"The calibre of Brabners' insolvency team makes us well-placed to guide businesses through these choppy waters. My extensive insolvency experience will further improve that support."
Jennifer's appointment brings Brabners' growing insolvency and restructuring practice to seven members.
::
Glossop-based B2B marketing and communications agency, Fig, has boosted its team with the appointment of Lucy Burman to the role of account manager.
Lucy joins the team having relocated from Warwickshire to Derbyshire with more than seven years of PR and marketing experience earned in the automotive sector.
In her new role Lucy will be responsible for managing multiple technology and manufacturing client accounts to deliver effective B2B marketing strategy, including e-marketing, social media, creative design and PR.
Managing director, Helen Duncan, said: "Lucy joins us at a very busy and positive time following three recent new client wins.
"She brings a wealth of experience to Fig, particularly from her background in PR, and will be a great asset to the growing team."
Lucy said: "I'm really excited to be joining an award-winning agency with such a great deal of specialist knowledge and experience, as well as a really interesting mix of clients."
Earlier this year Fig was appointed by Middlewich-based SRL Traffic Systems, and has since been appointed by the inventors of flexible foam for equipment insulation and a leading provider of engineered foams, Armacell UK, and the new Buxton Crescent Ensana Health Spa Hotel.
Fig has also made changes to its client services team with the promotion of Nikita Pearson from account manager to senior account manager.
::
Wirral based architects Paddock Johnson celebrate a successful first year with new owners and directors Victoria Alderton and Simon Halliwell with a rebrand for the business, three new starters and a senior promotion.
Georgia Fenton joined the team in August as office administrator, Oliver Moran joined as part II architectural assistant following his graduation with a Masters in Architecture from Liverpool John Moores University, and Tom Jordan joined this month as an apprentice after being inspired during a week's work experience during his GCSE year.
Also, Maria Killick has been promoted to associate director.
Simon Halliwell said: "It's been a challenging first year with COVID-19 restrictions and initial worries about how this might impact our workflow and ability to run the business with a remote team, but our team have been outstanding and we are delighted to welcome Georgia, Tom and Oliver. Maria Killick joined Paddock Johnson last year and has been a huge asset. We are delighted to announce her promotion to associate director."
Victoria Alderton said: "Despite the challenges, the last year has also been filled with positives.
"In addition to welcoming our three new starters, and celebrating Maria's promotion, we have had 156 new enquiries, celebrated awards for our extra care and housing project at Westhead Avenue and published two thought leadership articles on topics we feel passionately about."
::
Northern digital agency Fablr has seen considerable growth in 2020, working with a number of high-profile clients across mobile development, web development, design and digital marketing.
To support the expanding business, Fablr, which has offices in Manchester and Leeds, has added talented digital product designer Aly Sébastien to the team.
Sébastien joins after six years at Cheshire-based digital agency, Venn Digital, where she worked on a range of high profile projects across recruitment, FMCG, manufacturing, and technology.
Geoff Bretherick, creative director at Fablr, said: "We are excited to welcome Aly to the Fablr family. This year, we've seen substantial growth in our workload and our service offering, so we're extremely pleased to be in the position to bring in another talented senior designer who is passionate about user-centric design.
"Aly has a great understanding of digital product development and a laser-sharp commercial focus. She is extremely creative and has an excellent knowledge of wider digital strategy, so she is a perfect fit for our team."
Aly will be working closely with the Fablr team across design, front-end development, UX, UI and ecommerce implementation.
She said: "The opportunity to work with a very talented and experienced team was what attracted me to join Fablr. Being able to solve business goals across many different sectors and platforms was a real driving force in this decision.
"Fablr believes in delivering a competitive advantage with their digital products, services, and marketing. They take pride in the services they offer and go the extra mile to make sure they meet and exceed client expectations. These values are aligned with my own standards and goals, and it has been a pleasure to come on board."
::
Stockport- and Leeds-based market research agency, DJS Research, has promoted Elliot Simmonds to research director, following his successes as associate director.
Simmonds has been with the company for more than a decade and has played a pivotal role in driving the business forward.
His capacity as a researcher has seen him work with many leading clients and organisations across many sectors, with particular expertise in education, culture and heritage, and software and technology.
Simmonds also plays a key role in developing and delivering a number of proprietary tools, including VoicED – the proprietary teacher offer – and Alumnus, alumni experience benchmarking and affinity tracking.
Describing Simmonds as "an exceptional researcher" who has been instrumental in "pushing DJS to the fore in a variety of different ways", director Sharon Nichols praised his successes in research and business development as well as his contribution to other areas of the organisation, including thought leadership, marketing and innovation.
Elliot Simmonds said: "Thirteen years is a long time to be associated with a business, but I'm really pleased to have continued in my role at DJS as we've grown and to have had the support and mentoring of the whole team, but particularly the board.
"DJS is an advert for the value of family-owned businesses, and I'm incredibly proud and thankful to have been able to contribute over the years in a few different ways."
Managing director, Danny Sims, said: "We are delighted to announce Elliot's promotion to research director. Since he first walked through our doors over a decade ago, we knew he had a great deal to offer the company and he has proven to be a huge asset.
"Not only is he an exceptionally talented researcher, he's been instrumental in driving the business forward. Elliot's promotion is incredibly well deserved – and we're excited to see what the future holds."