Plans for UK's largest indoor arena approved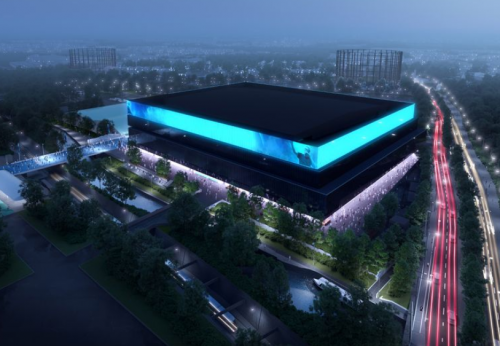 Plans to build the largest indoor arena in the UK have been given the go-ahead by Manchester City Council.
A 23,500-capacity venue is planned for land next to the Etihad Stadium, and promises to create 1,000 jobs at the arena and 3,350 construction jobs.
The American group behind the development, Oak View Group, describes itself as "a positive disruption to business as usual in the sports and live entertainment industry".
Its plans had been opposed by Manchester Arena operators ASM Global but there were no votes against the plans at the Council's planning committee meeting.
OVG chief executive Tim Leiweke said: "We're delighted that Manchester City Council has given our proposals the go-ahead, and we can't wait to get started – bringing a £350m private investment, creating thousands of jobs, and delivering one of the world's best arenas to this amazing city."
ASM Global had been joined in its objection by some of the city's entertainment, retail, hotel, property, and hospitality businesses, including Manchester Arndale, Aviva Investors, DTZ Investors, on behalf of Printworks and King Street, Living Ventures, owners of Australasia and Grand Pacific, and founders of iconic Manchester venues such as The Oast House and The Alchemist, Manchester Hospitality Network and Prestbury Investments.
In a statement, ASM Global said: "We are, of course, wholly disappointed in today's decision, which we feel completely negates the concerns of both ourselves and many key city centre stakeholders. These concerns are backed by compelling evidence that shows there is simply no market for a second major arena in Manchester.
"We are considering our position, and will review all options to ensure the future of Manchester Arena, and our city centre economy, is secured, despite the pressures posed by the approval of this application."