Deals round-up: Zanos; Mobysoft; Knight Corporate Finance; MaxContact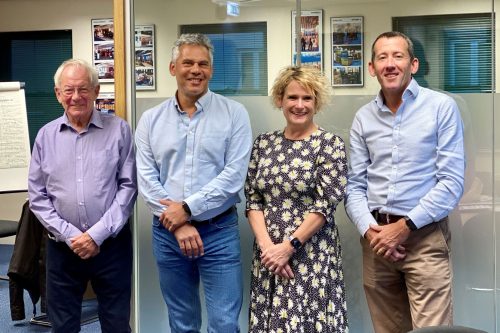 Knutsford based Zanos, which specialises in sourcing and supplying essential oils and chemicals, has been acquired, for an undisclosed sum, by Stort Chemicals, based in Bishops Stortford, Hertfordshire.
Zanos was established in 2000 by Julian Sarkar and has a five-strong team based in Knutsford as well as storage facilities across Europe.
Paul Tyrer, partner in the corporate team at law firm SAS Daniels, advised Julian on the deal.
The business distributes, supplies and sources speciality chemicals, aroma chemicals and ingredients and vitamins.
Stort Chemicals is one of the leading independent speciality chemical distributors to the coatings and fragrance and flavours industries.
Julian Sarkar, said: "I'm delighted to have sold Zanos to such a well-respected and ambitious business.
"It's a closely knit industry and I've known Stort for many years. They share our ethos and values so I'm confident the business and the team at Zanos are in very safe hands."
Paul Tyrer said: "Despite the challenges presented by COVID and Brexit, deals are still being done in the region.
"This sale sees two family-owned businesses combine decades of experience and expertise.
"Over the last 20 years Julian has built up a fantastic business with huge potential and the time was right for him to sell. Stort Chemicals has the scale to be able to take the business forward and achieve its full growth potential."
Richard Gilkes, managing director of Stort Chemicals, said: "With its strong reputation and 20 years of involvement in the speciality chemicals and natural ingredients market, Zanos is the perfect addition to the Stort Chemicals portfolio in both the industrial and flavours and fragrance sectors.
"With this acquisition, Stort is laying the foundations to build on its 40 years of experience and enhance our expertise in chemical distribution into the 2020s and beyond."
Founding director and executive chairman, Kendrick Gilkes, said: "I first met Julian in 1987 when he was working for Henkel and I had recently started Stort Chemicals. We have been both friends and colleagues since then. I am confident our acquisition will be a great success."
Zanos will continue to work from its Knutsford headquarters for at least the next 6-12 months. Julian Sarkar will be working closely as part of the Stort team in the role of consultant for a minimum of two years to ensure a smooth transition.
Tees Law advised Stort Chemicals on the deal.
::
Business adviser GCA Altium acted as exclusive financial advisor to the shareholders of Mobysoft, the provider of predictive analytics software to the UK social housing market, on its investment from ECI, a growth-focused private equity firm.
Founded in 2003 by Derek Steele, Mobysoft is based in Manchester.
Its flagship product, RentSense, is a Software as a Service (SaaS) based predictive analytics tool which helps social housing landlords manage arrears collection more efficiently.
Using a range of data, RentSense's algorithms flag potential issues to social housing officers, saving time, improving efficiency in rent collection, and reducing arrears by tens of millions of pounds a year.
The software is used by more than 140 social landlords, representing around 32% of the sector in the UK.
The funding will be used to further accelerate the company's growth and product development in the social housing sector and Livingbridge, which first invested in Mobysoft in 2017, has also reinvested in the business.
The investment by ECI will help Mobysoft develop other predictive analytical solutions for social housing providers while also further optimising landlords' returns with RentSense.
Alexander Karle, Mobysoft chief executive, said: "We are delighted to partner with ECI to deliver future growth for the business and further support social housing providers and their tenants.
"For Mobysoft and our customers, this partnership means that we will accelerate investment into new products and services while continuing to strengthen our existing products.
"ECI has a strong track record supporting fast-growing software businesses and we are excited about the opportunity ahead. We'd also like to thank Livingbridge for their partnership over the last three years and look forward to their continued support."
GCA Altium acted as exclusive financial advisor to the shareholders of Mobysoft in connection with this transaction, having previously advised the business on securing investment from Livingbridge in 2017, and then again on a refinancing in 2019.
Adrian Reed, managing director at GCA Altium, said: "It was a pleasure to once again work with the Mobysoft shareholders. This is a fantastic story and it was clear when we first began speaking with Derek many years ago that there was something very special about Mobysoft. I'm certain that Alex and the team, with ECI's support, will go on to achieve significant further success."
Derek Steele, founder and chief innovation officer at Mobysoft, said: "It has been a pleasure to work with GCA Altium once again. All the shareholders are delighted with this outcome and the GCA team have been integral to achieving this. Their advice and support were faultless throughout."
::
Knight Corporate Finance, the boutique adviser for the technology and telecoms industry based in Warrington, has completed its eighth deal in the past six months.
In its most recent transaction Knight advised the shareholders of Resource Telecom Group on its sale to Bowmark Capital, backed Focus Group.
Based in Glasgow, with an additional office in Edinburgh, Resource Telecom Group was founded by Graeme Edgar in 1997 and provides telecoms, IT and utilities to its SME customer base.
The strategic acquisition extends Focus Group's presence North of the border.
Knight has enjoyed a bumper six months, having advised on a broad range of deals across the ICT spectrum, including two deals that shook up the sector – Kerv merged three business with private equity backing to bring an exciting new player to disrupt the market.
More recently, Knight advised telecoms billing software business Union Street on its merger with Aurora to create a de-facto market leader in the channel billing market.
Adam Zoldan, director at Knight Corporate Finance, said: "With the exception of the first few weeks of lockdown, buyers, investors and funders have remained as hungry as ever for deals across the channel.
"The robust nature of ICT sector, generating high levels of recurring revenue, has resulted in strong competition and maintained valuations.
"Six of the eight transactions we delivered over lockdown involved a private equity sponsor, demonstrating the confidence in the channel from the investment community where we are seeing strong cash generation and growth prospects result in ICT assets being highly sought after."
Paul Billingham, director at Knight Corporate Finance, said: "With over 120 transactions now under our belt, we continue to work with entrepreneurs in the tech and telecoms sector to help them achieve their ambitions for their business. The ICT channel deserve huge praise for their dynamism and flexibility in keeping the UK open for business."
::
FPE Capital, the software and services-focused lower mid-market growth investor, has financed the management-led acquisition of MaxContact, a Manchester-based independent Contact Centre as a Service (CCaaS) platform.
This marks the seventh investment from FPE Fund II.
MaxContact joins fellow current SaaS investments Questionmark, Masstech and Kallik in FPE's portfolio.
This transaction marks FPE's second deal in Manchester this year, following portfolio company TNP's bolt-on of K3's Dynamics NAV/BC assets in May.
FPE sees Manchester and the North West as a key target market for further investment and is actively seeking opportunities to partner with software and services leaders in the region.
MaxContact is an independent challenger brand in the CCaaS market, with clients in the BPO, financial services and utilities verticals.
Chief executive Ben Booth and the wider management team have developed the MaxContact product in recent years and have each invested alongside FPE.
FPE's investment marks the first outside investment in the business and sees a full exit for the founder family shareholders.
Lars Pedersen, a serial SaaS executive and current CEO of fellow FPE investment, Questionmark, has joined the board as non-executive chairman.
David Barbour, managing partner at FPE, said: "FPE is delighted to have completed the growth investment into MaxContact.
"Our expertise is focused on investing in companies operating in large markets that are experiencing change, where we can help the management team to accelerate their growth rate.
"The case for brands to improve their customers' experience and scale their own operations by moving to a cloud-native solution such as MaxContact's is proven. We are delighted to be supporting Ben and the management team in capitalising on that trend in the coming years."
Ben Booth said: "We are delighted to have chosen FPE as our partner. Their experience in technology, and SaaS in particular, is a real differentiator and we are pleased to have them on board as we accelerate our product roadmap and invest in our go-to-market capabilities."
The FPE investment was led by Henry Sallitt, Dan Walker, Chris Kay and Harriet Hunt.
FPE was advised on the transaction by Stephenson Harwood (legal), Altman Vilandrie (commercial), Dow Schofield Watts (financial and tax), Intechnica (technical DD), Continuum Ventures (management) and Sales Blueprint (dales).
The management team was advised by Mazars and JMW.
David Hilton, deal advisory partner at Mazars, said: "Ben and the management team of MaxContact have built a really impressive business in the CCaaS market, and have helped to demonstrate that Manchester continues to be a leader in technological development and solutions.
"Aligned with FPE's specialist approach to tech investment, the business is well-set to continue its growing trend and firmly establish itself as a key player in its market."
The selling shareholders were advised by Gunnercooke and Pierce Corporate Finance.