Coronavirus business update: Latest news across the North West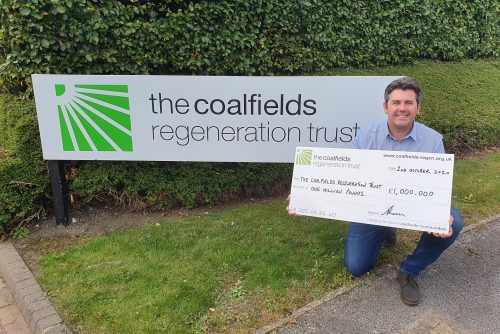 The Coalfields Regeneration Trust, the only organisation dedicated to supporting the UK's former mining towns and villages, has been awarded £1m of funding from the Government's Community Match Challenge Scheme.
Matching the award pound for pound, the Trust has created a £2m fund to be used to support its COVID-19 Recovery and Resilience Fund and its Coalfields Food Insecurity Fund.
A new Regional Impact Fund is also being created to provide higher value grant support for exemplar projects.
Over the lifespan of the fund, 200 small-to-medium voluntary, community and social enterprise organisations will benefit, helping them respond to emerging needs caused by COVID-19.
Andy Lock, head of operations (England) for the Trust, said: "When lockdown hit, we knew that our communities would once again be disproportionately impacted, bearing the brunt of the economic and social challenges.
"Forty two percent of coalfield neighbourhoods are in the most deprived 30% in Britain and still face significant social, economic and health challenges.
"Recognising that important and urgent support was desperately needed, we quickly established our COVID-19 Recovery and Resilience Fund and the Coalfields Food Insecurity Fund.
"While both have been a huge success in providing much-needed financial support, we simply haven't been able to meet demand.
"The Community Match Challenge Scheme from the Department for Digital, Culture, Media and Sport has presented a lifeline, not only will it help our support go further, but it will address the longer term challenges that our communities face in light of the ongoing pandemic."
The funds will be distributed through an application process and submissions will be welcomed from projects that support individuals from across the North West.
To date, the projects that the COVID-19 Recovery and Resilience Fund and the Coalfields Food Insecurity Fund have supported have been vast. They have helped those addressing mental health issues, tackling food poverty, supporting children, young people and the vulnerable, including those with disabilities and victims of domestic abuse.
In each instance funds have helped to strengthen these organisations by purchasing essential equipment and improving their capacity to deliver and to meet with growing demand for services.
Minister for Civil Society, Baroness Barran, said: "It's a privilege to be working with the Coalfields Regeneration Trust to double their fundraising efforts and get £2m to front-line charities that need it. I know this funding will make a huge difference, from supporting people's mental health to tackling food insecurity."
::
The resilience of a group of fast-growing Lancashire companies throughout the coronavirus crisis has been hailed as an 'inspiration' to the county's economic recovery by business leaders.
Working with Lancashire County Council's Two Zero Female programme, the seven businesses have avoided redundancies, been awarded Government contracts and secured growth funding to support their future expansion during recent months.
The fully-funded programme began in early 2020 and was delivered by Groundswell Innovation and Northern Power Women. It was originally dedicated to giving female leaders of fast-growing firms the tools to continue to scale-up quickly, but shifted its focus as Lancashire was hit by the effects of lockdown.
After receiving expert support and coaching to build short-term resilience and stay focused on their long-term future, all the companies are now considering external funding to support their future high growth and several have already secured finance since engaging with the programme.
Becky Toal is managing director of Chorley-based environmental consultancy, Crowberry Consulting, one of the firms to take part in the programme.
She said: "The programme encouraged us to scrutinise our growth ambitions for the coming years and develop a high-quality plan to reach them. It also helped us to fully understand the types of external funding that a scaling businesses can access, and the confidence and mindset to secure them."
Since taking part in the programme, Crowberry Consulting has been awarded a significant government contract in partnership with global consultancy Arup, consulting the UK Government to deliver a sustainable UN Climate Change Conference (COP26) in Glasgow next year by implementing ISO 20121 Sustainable Events Standard.
The company has also secured a £5,000 enterprise grant from Enterprise Nation to support its future growth ambitions through investment in online training platform Teachable, and now offers three ISO courses on this platform.
Another business which has benefited from Two Zero Female is Fresh Perspective Resourcing. After securing a £35,000 Northern Powerhouse Investment Fund (NPIF) loan using CBILS backing in April, the company has since secured another £35,000 CBILS loan.
The loans have helped the company to diversify through the crisis by offering online coaching for candidates, webinars during lockdown and will enable the company to push on with growing the team. Director Laura Leyland says this will position the business for sustainable growth over the coming years.
Amin Vepari, programme manager, Two Zero, said: "The resilience these companies have shown and their commitment to long-term growth plans, despite the huge short-term challenges, is an inspiration to all Lancashire businesses.
"Figures show that female-led businesses struggle to access growth funding opportunities and the fact all of these businesses are now actively assessing external funding options is a testament to the success of Groundswell Innovation, Northern Power Women and the Two Zero Female programme."
The businesses which benefited from the programme were: Fresh Perspective, Brilliant Trees Media, Crowberry Consulting, Education Business Partnership North West, Pie Mezzanae, Flavourfresh Salads, Hotfoot Design.
::
A Cheshire-based husband and wife have launched a family house plant business during lockdown, selling more than 150 plants in their first month to customers in and around Cheshire and South Manchester.
Kat and Paul Reynolds launched Three Little Leaves in August. The idea for the business grew when Kat spotted a gap in the market after searching for a number of house plants during lockdown and being unable to find them.
With Kat's experience in marketing and PR, and Paul's experience in banking, finance and business, the couple began to develop a supplier network and self-funded the initial investment into stock and collateral.
The business offers a wide selection of sustainably grown houseplants and a range of locally made plant pots, illustrations and gifts. The pair have built relationships with a number of independent artists and local businesses, stocking their work as part of their offering. All items are delivered within a 25-mile radius of their home in Lymm, with free delivery on orders over £20.
Kat said: "This is very much a family business, even our daughter has got involved in the social media and at a local market we attended – we want to get to know our customers and for them to know us to build a community. We don't want to be a faceless entity, we want our personality to come through in every aspect of the business, which is why we hand write the care guides and do all the packaging and deliveries ourselves."
Paul said: "There is a lot of research to suggest the benefits of having plants in the workspace, from reducing stress levels, absences and sickness to improving air quality, increasing productivity, creativity and having a general positive impact on colleagues' mental wellbeing.
"As part of our growth strategy, we're hoping to develop relationships within the SME and corporate market and offer a bespoke service to cater for their requirements, big or small."