£15m care home moves closer to completion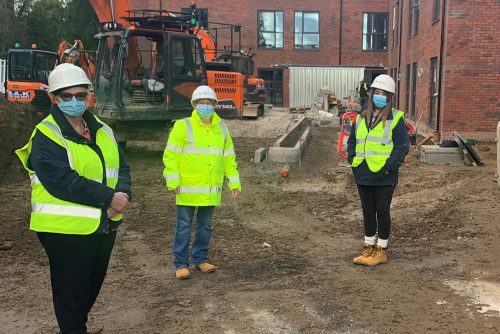 Work continues apace on a 4,000 sq m state-of-the-art £15m care home in Cheadle, which is now just weeks away from completion.
Build is well under way at the 'new generation' 68-bed care facility on Stockport Road, just a short walk from the village centre, which is expected to create 90 jobs for the area.
The external brickwork and roof tiling are complete, meaning the building is now watertight.
The impressive glass balcony is in, and the 30-plus contractors and tradesmen on site are working hard on the interior to ensure the development remains ahead of schedule and ready for its planned opening next month.
To be known as Cheadle Manor, the care facility is the latest for New Care, one of the UK's fastest growing development-led care home operators and part of Altrincham-based construction group McGoff.
When complete, it will cater for the aspiring needs of residents from Cheadle and the surrounding areas providing the highest standards of person-centred care and an exceptional clinical offering, including residential, nursing and specialist dementia care services, in a safe and comfortable environment.
A number of advanced care services will be provided including additional acoustic monitoring and silent call bells.
Each of the well-appointed and restful bedrooms will feature a private en-suite wet room, while the home itself will offer several stylish communal lounges, elegant dining rooms, spa assisted bathrooms and beautifully landscaped gardens.
The care facility will also boast a hair salon and nail bar, and with its own dedicated hospitality team, it will provide high end hotel-style services that ensure continued quality of life and enjoyment for residents, including fine dining, concierge services and a busy and varied programme of activities and events.
Ensuring a welcoming home-from-home environment for all residents, the care home will benefit from a high specification finish and will be decorated by a professional interior designer who will create a stylish, yet comfortable, practical and safe space.
New Care chief executive, Chris McGoff, said: "It's less than six weeks until we open Cheadle Manor in Cheadle and I am delighted with the progress that is being made on site. Build is advancing into the final stages and the team is already working on the interior so we're well on track to complete before the end of this year."
He added: "New Care remains committed to improving standards of care across the UK and Cheadle Manor is an expertly-designed, purpose-built care facility that will provide first class care services in a stylish setting within walking distance of a busy village centre.
"With an identified and well-documented need for new care facilities in the Stockport area, we are fully confident that Cheadle Manor will be a much welcomed addition to the local area."