Wigan Athletic still awaiting approval from EFL for takeover deal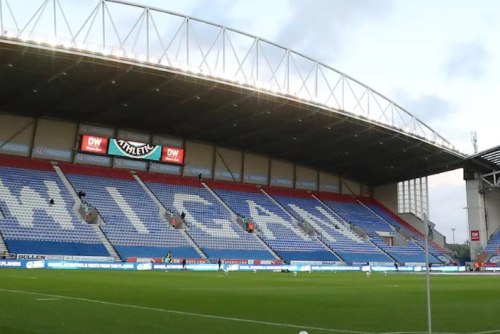 Wigan Athletic FC is still awaiting the English Football League (EFL) to rubber stamp the club's takeover.
In an update for fans of the League One side today, the joint administrators issued a statement regarding the current position in the proposed takeover of the club, following its placing into administration on July 1, less than one month after Hong Kong-based Next Leader Fund had taken ownership.
The joint administrators from Begbies Traynor – Paul Stanley, Gerald Krasner and Dean Watson – have secured a buyer, but they still await approval from the EFL.
The statement said: "We have not as yet had a final decision from the EFL regarding the transfer of the Football Share.
"Both the bidders and ourselves, together with our legal team, have had regular and ongoing discussions with the EFL regarding their requirements.
"The exclusivity agreement with the bidders, which runs out on 11th November, has been extended for a further period to try and ensure that we reach a satisfactory conclusion.
"At this stage, we cannot say when that will be, as matters rest with the EFL."
It concluded: "Whilst we fully understand the fans' frustration and the effect generally on the club, we must adhere to the procedures set down if we are to be successful."
The joint administrators also confirmed today that the sale of the Sharpy's restaurant site next to the ground completed this week.
In response, an EFL spokesperson said: "The EFL has remained in regular dialogue with the administrators at Wigan Athletic in respect of the proposed takeover, which would see the club exit administration and new company AFC Wigan Athletic Limited established.
"Following the recent announcement by the Wigan Athletic Supporters' Club in regard to their decision to withdraw their offer of investment in that company and consideration of all relevant matters by the EFL board, the EFL executive advised the administrators of a number of outstanding issues that required a resolution before this matter could progress.
"This situation is ongoing and whilst we are unable to provide a definitive timeline for its conclusion, the EFL remains committed to securing a long-term sustainable future for Wigan Athletic as soon as is practically possible and will continue to work practively with the administrators to achieve this aim."
On September 30, the joint administrators announced that an unnamed Spanish bidder had agreed a deal to buy Wigan Athletic.
Shortly afterwards, TheBusinessDesk.com exclusively revealed that the Spanish businessman on the verge of taking over the club is José Miguel Garrido Cristo.
Garrido Cristo has previously led two Spanish clubs, Albacete and Castellón, and has spent the last 18 months with small stakes, indirect involvement and takeover speculation linking him to several more.
But Wigan Athletic will be the first involvement in English football for the London-based businessman.