Spending Review outlines largest fall in output for 300 years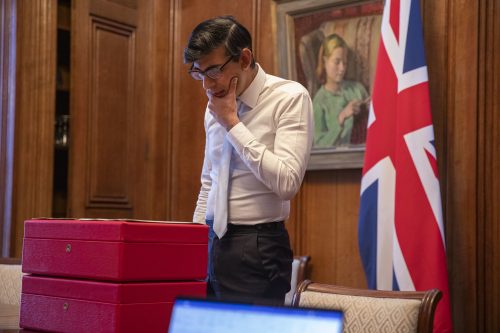 The UK economy will shrink by 11.3% this year – the largest fall in output for 300 years – Chancellor Rishi Sunak said on Wednesday afternoon in his Spending Review.
Sunak said the Covid-19 will leave "long-term scarring" and that the economy won't return to pre-pandemic levels until Q4 of 2022. By 2025, said Sunak, the economy will be 5% smaller than first thought in the Spring Budget earlier this year.
The Chancellor also said that Government borrowing will reach almost £400bn this year – some 19% of GDP, the largest level of borrowing in peacetime.
Sunak said that a new "infrastructure bank" will be set up and headquartered in the north of England. It will finance major projects starting from next Spring.
A new £4bn levelling-up fund was also unveiled. Local areas will be able to apply for funding for major projects starting from next Spring. The projects, said Sunak, would have to have "real impact" and be delivered within the lifetime of his Government.
Graham Wright, an EY Tax Partner covering Government and Infrastructure, said: "The government says it is 'moving away from a fragmented landscape with multiple funding streams' but the regions will potentially once again find themselves bidding against each other for one pot of money under the chosen structure of the announced £4bn Levelling Up Fund.
"Managed by three government departments and with projects needing approval from the local MP the approach seems at odds with a broader objective of devolving power and funding decisions."
Elsewhere, Sunak said the Conservative manifesto pledge to spend 0.7% of GDP on overseas aid will be temporarily scrapped. It will be cut to 0.5%.
Some one million nurses, doctors and others in NHS will get a pay rise, while others in the public sector will be faced with a pay freeze. Another 2.1 million public sector workers who earn below the median wage of £24,000 will be guaranteed a pay rise of at least £250 next year.
The National Living Wage will rise to £8.91 a hour and there will be a Minimum Wage increase, said the Chancellor.
He added: "This Spending Review delivers on the priority of the British people. Our immediate priority is to protect people's lives and livelihoods. Our health emergency is not yet over and our economic emergency has only just begun."
Barry White, chief executive of Transport for the North, said: "The Government pledged an infrastructure revolution, and it's really promising to see some progress on that coming to fruition over the next year.
"Commitments to creating a UK Infrastructure Bank to be headquartered in the North; spending on rail upgrades and major roads; as well as confirmation of an electric vehicle cash injection, all signal progress in helping build back better and greener. That's alongside an increase in departmental and capital spending.
"The £4bn Levelling Up Fund is encouraging – Transport for the North has already put forward many shovel-ready transport projects that could be fast-tracked to create jobs in the short-term and economic growth in the long-term.
"However, how those projects are appraised and decided will be crucial. We need to avoid a situation where communities are stuck in a bidding cycle of competition for investment, with decisions still being made by Whitehall rather than locally."
Chris Oglesby, chief excutive of property group Bruntwood, said: "The rewriting of the 'Green Book' spending rules is long overdue good news.
"The current formula fuels a self-fulfilling cycle of infrastructure investment in London and the South East.
"The need for long-term, visionary spending in the areas that need it most has only been heightened by the pandemic, which has had a disproportionate impact on historically-underfunded regions like the Midlands and the North.
"The launch of a UK infrastructure bank is another idea that's been talked up for years but now finally coming to fruition, although, in truth, Brexit has made it a necessity as we have to fill the void in project funding previously provided by the EU.
"But if it has teeth and deep pockets then there is the potential for it improve on the UK's plodding rate of infrastructure development.
"More money for the UK's regions is welcome but won't be as effective or deployed as rapidly as we need it to be, unless accompanied by greater powers for our civic leaders.
And he added: "We are worried by recent government comments on devolution and the ongoing delays to the devolution whitepaper. Levelling up, to be truly meaningful, has got to be more than about money but control, too. Brexit first taught us this lesson – the pandemic has hammered it home."
Paul Cherpeau, chief executive of Liverpool Chamber of Commerce, reacted to the Chancellor's statement saying: "There are no quick fixes to the damage that COVID has wreaked on the economy but the Chancellor's pledge to protect jobs, businesses and livelihoods is central to our recovery and we welcome this additional investment.
"Underpinning our longer term economic growth, however, must be a commitment to making sure that we have the skills and training in place to take advantage of these opportunities, even more so in a post-Brexit economy, to allow us to compete fairly and successfully.
"Without that support these announcements will have a limited impact on the longer term prosperity of our city region."
Nigel Wilcock, executive director at the Warrington-based Institute of Economic Development, said: "The funding review is disappointing in one regard, irrespective of the financial black hole. The time has come for a different and radical compact between central and local government.
"Small scale bail out funds for local government are too small to make a difference – but also completely miss the point.
"Covid has shown that local government is essential in delivering services for communities and we need a blank sheet of paper approach in devising the funding mechanisms and terms of reference between our capable local councils and a Whitehall that has long been fearful of losing its control."
Angela Cross, BDO partner and head of tax in the North West, said: "When we surveyed business leaders earlier this month, 47% of mid-sized businesses in the North West felt that COVID-19 will further widen the UK's North/south economic gap. Business owners have identified a need for infrastructure investment across the UK with a focus on shovel-ready, high-impact projects that meet the specific needs of each region.
"Today, the Chancellor made encouraging announcements with the launch of a £4bn Levelling up Fund which will take a place-based approach and directly fund regional projects up to £20m based on assessing local impact. As well as the potential long-term productivity benefits, this could have positive results for the wider North West supply chain if local partners are engaged.
"The prospect of the National Infrastructure Bank being headquartered in the North is also a positive indicator that there's a shift in the centre of gravity and the Government is investing in rethinking the regions. The question remains as to whether today's updates will go far enough to convince the 47% of businesses concerned about the widening economic gap."
Martyn Kendrick, regional director for the North West at Lloyds Bank Commercial Banking, said: "The Chancellor's National Infrastructure Strategy comes at a time when efforts to rebalance the economy and bring greater prosperity to the North is a real priority.
"It's positive to see the Government putting money behind its commitment to level-up the region.
"It's been a particularly difficult year for many parts of the North West, but these investments, coupled with the hope of an imminent COVID-19 vaccine, should provide a welcome boost to businesses ahead of 2021."
Sean Keyes, managing director of civil & structural engineering firm, Sutcliffe, which has offices in Liverpool, Manchester, North Wales and London, said: "I absolutely welcome today's commitment from the Government.
"The way big spending projects have traditionally been assessed has been a longstanding issue in this country that has facilitated a North-South divide.
"I have always said that the social value of these projects should be taken into more consideration – not just monetary. Then, and only then, will we see the areas that need these projects the most get a bigger share of the pie."
Meanwhile, Adrian Young, tax partner at accounting and business advisory firm Hurst, said: "The Chancellor was clear from the outset that the UK is facing some difficult times, referring to economic and fiscal emergencies, and the extraordinary measures to deal with them.
"Interestingly, there was no mention of how the spending is going to be paid for, perhaps in keeping with the Government's wider message that 'now is not the right time' to be worrying too much about the detail."
Stephen Miles, partner in UK development at commercial real estate firm Cushman & Wakefield, said: "Although questions will inevitably circulate as to how this will all be paid for, as well as the usual cliché about the 'devil being in the detail', the Spending Review proposals appear to be very positive as regards facilitating recovery and growth of our urban areas.
"The creation of a £4bn levelling up fund for 'local infrastructure' projects is probably the headline grabber and this will, doubtlessly, offer investment opportunities for much needed repurposing initiatives.
"It is also hoped that the accompanying refresh of the Treasury's Greenbook will make it easier to justify investment in such projects, moving away from the emphasis of 'land value uplift' which disadvantaged many Northern towns and cities in recent investment programmes.
"The proposal for a new UK Infrastructure Bank headquartered in the North of England will, surely, have all the Northern cities positioning themselves to secure what could be an important anchor tenant as part of CBD regeneration schemes."
Carl Ennis, Manchester-based chief executive of Siemens UK and chairman of Net Zero North West, said: "The Chancellor has begun to move the dial on the levelling up agenda today with a new national infrastructure bank to be headquartered in The North, levelling up fund, and commitment to rewrite the Green Book which will help tackle the entrenched North-South divide in investment decisions.
"On the green industrial revolution, the £12bn investment pledge is a welcome step forward, but it is crucial that the Government now quickly follows up the Spending Review and National Infrastructure Strategy publication with the delayed Energy White Paper so we can get under the bonnet of its vision.
"The scale of the net zero ambition is crystal clear, but industry requires more flesh on the bones and long-term policy certainty if we are to secure the level of private investment that the Prime Minister and Chancellor have targeted over the next decade to drive this agenda.
"As the region with the largest concentration of advanced manufacturing and chemical production in the UK, the North West has hit the ground running with our decarbonisation projects and is leading the way.
"A detailed decarbonisation blueprint from government will provide the region with the springboard to do what we do best – innovate, invest, create high value jobs, and build the industries of the future."