100-year-old pie wholesaler secures five-figure NPIF loan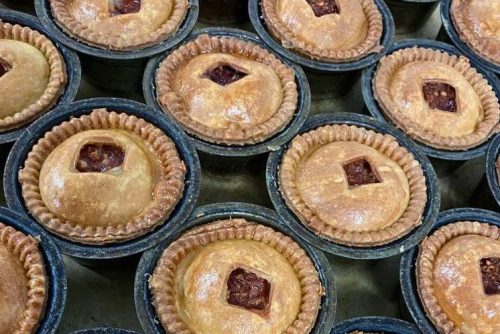 Barrow-based pie production company, Stable's Pies, has received a £70,000 CBILS-backed loan following its recent change in management.
The loan is from NPIF-BFS and MSIF Microfinance, delivered by specialist social impact lender GC Business Finance & MSIF on behalf of the Northern Powerhouse Investment Fund (NPIF).
Backed by the Coronavirus Business Interruption Loan Scheme (CBILS), the NPIF loan has enabled new owners Callum and Gina Robertson to create a new company which purchased the assets and equipment of the 100-year-old business, securing the jobs of all six staff members that have been working throughout the pandemic.
The previous owner has stepped down to retire.
Founded in 1920 as a butcher's shop, Stable's Pies has since pivoted to manufacture and sell wholesale pies and pasties to businesses across Lancashire and Yorkshire.
As a former bakery manager with 10 years' experience in the industry, Callum saw a significant opportunity to build on the firm's heritage.
Unable to receive funding through his regular provider, Callum was introduced to GC Business Finance by a broker, and the social impact lender was able to provide the necessary funding within six weeks of application.
In addition to purchasing the equipment and safeguarding jobs, Callum and Gina have used the funds to create a new administrative support role for Gina, and switched to e-commerce by establishing a dedicated website to strengthen Stable's Pies' online presence.
Callum Robertson said: "Without the support from Dave and the team at GC Business Finance, we would not have been able to take this step to secure the future of the business. We are really looking forward to continuing to expand our customer base and improving our recipes for years to come."
GC Business Finance is an alternative provider for businesses unable to obtain finance through their regular bank.
It offers loans ranging from £500 to £500,000, and is committed to supporting North West-based SMEs, including providing NPIF loans backed by CBILS to those that have been adversely affected by COVID-19.
Dave Martin, senior loans manager at GC Business Finance, said: "Callum and Gina were ideal clients for us as they had a really clear idea of what they wanted to do.
"It was great to help the two of them, and to see Callum move forward in his career to becoming a business owner. It is also encouraging to see businesses continuing to thrive through this difficult time with help from the Northern Powerhouse Investment Fund and the Coronavirus Business Interruption Loan Scheme and I was pleased that GC Business Finance was able to provide funding for Stable's Pies when regular providers were unable to."
Sue Barnard at the British Business Bank, said: "This NPIF loan, backed by CBILS, demonstrates how vital funding to Northern businesses across the region can make a real and measurable difference, securing jobs and protecting a business's long-term future.
"Beyond expiry of the CBILS scheme at the end of January, NPIF will continue its important work across the North of England, helping to create a more equal and prosperous regional economy."
The Northern Powerhouse Investment Fund project is supported financially by the European Union using funding from the European Regional Development Fund (ERDF) as part of the European Structural and Investment Funds Growth Programme 2014-2020 and the European Investment Bank.