Development site has potential to support 500 jobs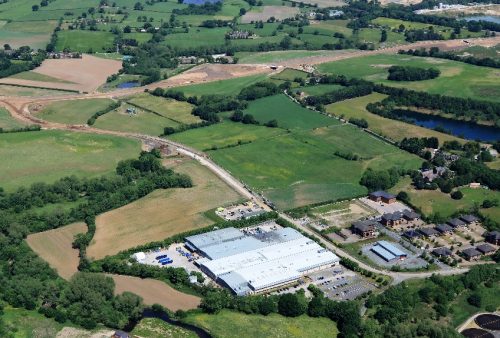 One of the largest single employment development sites in East Cheshire, which could lead to the creation of 500 jobs, has been brought to the market by land promoter Richborough Estates.
The 23-acre Viking Park is in a prime location on the edge of Congleton, just one mile north of the town centre and less than eight miles from junction 17 of the M6.
It will form an extension to the well-established Congleton Business Park and will be accessed via the new Congleton Link Road which is due to complete in Spring 2021.
Suitable for business, general industrial and storage or distribution uses, the site will be available to buy freehold as individual plots or as a whole.
Viking Park is the commercial element of a 53-acre mixed use community being planned by Richborough Estates that will include around 185 family homes, a park and wildlife corridors plus a neighbourhood retail centre.
It is part of the wider North Congleton Masterplan and has been allocated in the Cheshire East Local Plan, with Richborough Estates anticipating outline planning consent being granted early next year.
Nick Jones, regional director at Richborough Estates, said: "This is a very rare opportunity to acquire employment space in what will be a mixed-use environment in a highly desirable and sustainable location.
"We're delighted to be supporting Cheshire East Council's aim to create an urban extension comprising high-quality, employment-led growth, homes and community infrastructure.
"Viking Park alone will bring significant economic benefits through the creation of 500 jobs while also
building on the success of the neighbouring employment sites."
Viking Park is being jointly marketed by Savills and Legat Owen.
Matt Pochin, director at Legat Owen, said: "Viking Park will benefit from excellent connectivity to the regional transport networks. It will also offer a first-class environment for employers and staff with public green space, a gym and retailers including Boots, M&S Food and B&M Stores, all within walking distance."
Jonathan Atherton, director at Savills, said: "The masterplan for the commercial elements provides a perfect mix of unit sizes to meet the organic growth of businesses locally and the wider regional demand."
Occupiers at the neighbouring Congleton Business Park and Retail Park include B&M, M&S Food, Halfords, Laura Ashley, Boots, Gym etc, The Unique Group, Pan European Networks, Autoliv, V:Kit, Airbags International, Franklyn Financial Management, CDK Systems and TMC.