Property management service secures second key appointment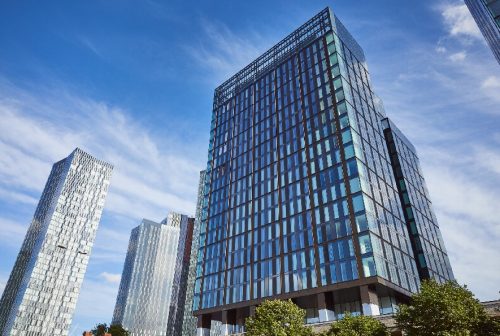 Premium residential lettings and management business Settio Property Experience has secured its second key appointment as recommended partner on a major development in Manchester.
The expanding firm has been chosen by international sales agent and investment specialist, Select Property Group, for lettings management at Victoria Residence, a scheme of 180 luxury apartments at Crown Street, the new skyscraper district on a major gateway to Manchester city centre.
Completed in October 2020, Victoria Residence was created through a strategic partnership by Renaker, Manchester's prominent property developer, and Select Property Group, a Manchester property expert.
Victoria Residence also provides co-working space and a residents' lounge, as well as access to two roof gardens overlooking central Manchester.
Buyers of more than 70 of the 180 apartments have already committed to using Settio as their sole lettings and management agent, with more expected to commit as viewings begin.
The appointment by Select Property Group follows Settio also being retained as sole recommended partner by developer Far East Consortium (FEC) for apartments and townhouses at its MeadowSide scheme, which, on completion, will provide a total of 756 properties, bordering Angel Meadow, the largest green space in central Manchester.
Adam Price, Select Property Group chief executive, said: "It was essential that we chose the right lettings partner for this development. Victoria Residence is one of the most exciting new projects to launch in Manchester in recent years.
"The level of finish and quality is sensational, and both myself and the teams at Renaker and Select Property Group are extremely proud of how Victoria Residence has taken shape.
"With this in mind, for both end-users and our global investors, an incredible building like this deserves the highest level of service when it comes to lettings management."
He added: "I have been very impressed by the team at Settio, and I have no doubt we have made the right decision in choosing them as a recommended lettings partner for Victoria Residence."
Sam Fitz-Hugh, co-founder and director of Settio Property Experience, said: "Select Property Group wanted to partner with an agency which would care for, and prioritise, long-term relationships with their investors.
"They are selling a strong pipeline of developments in Manchester and want to ensure their investors have access to a positive onward experience following completion, which is exactly what we built Settio to achieve.
"Our priorities and direction as a business fit nicely and we're delighted that Select Property Group value our experience in high volume new-build developments and sector-leading service levels.
"In what could be a tough period for the lettings market, it's vital that sales agents and developers work alongside experienced lettings teams to manage client expectations and ensure schemes are let and managed efficiently."
Unlike a traditional agent, Settio provides 'total peace of mind' to clients, such as Select Property Group, by offering an 'all inclusive' package of services from off-plan investment support through to future resale, all supported by the latest property technology.
While its retention by Select Property Group and FEC represent Settio's largest appointments as recommended partner on major residential schemes, the firm also manages a growing portfolio of residential property for developers and landlords throughout Manchester, with a pipeline of property under management expected to double in 2021.
Other schemes in central Manchester where Settio provides its lettings and management services include Deansgate Square, Axis Tower, Lightbox Media City, Local Blackfriars and Local Crescent.