Deal completed on Deeside waste energy plant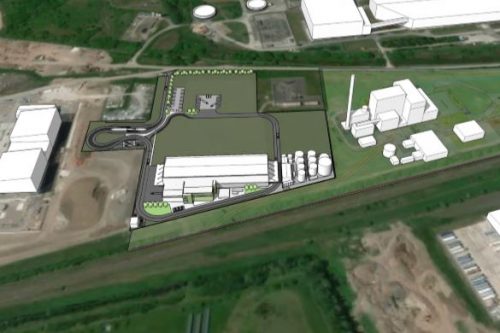 Bioscience energy company EQTEC has agreed a deal to buy full ownership of the proposed Deeside Refuse Derived Fuel project.
Ireland-based EQTEC has concluded the deal with Manchester-based Logic Developments which involves an initial payment of £2.31m, followed by a further £2m 12 months after the deal has been signed. A further £2.29m is due depending on certain conditions being met.
An additional development premium, or overage payment, of up to £5.4m is payable on securing of funding for a waste reception and anaerobic digestion plant on the site, as well as funding for an advanced gasification plant.
Plans were approved to build the waste management plant on land at Deeside Industrial Estate in the Flintshire Enterprise Zone, in August, 2018.
The plant, on the site of the former Gaz De France power station, is expected to handle up to 182,000 tonnes of rubbish a year.
At the time, Dave Green, of Logik, said: "The plant will bring more than £50m of investment to the North Wales area, creating substantial employment throughout the construction period and its subsequent ongoing operation."
Logik Developments includes former England and Lancashire cricketer Freddie Flintoff on its board.
EQTEC said it expects to act as the project developer on the programme.
EQTEC and Logik are progressing discussions about a potential collaboration agreement for the development of a portfolio of waste to energy projects that Logik is currently pursuing in the North of England and across the UK.
David Palumbo, EQTEC, chief executive, said: "We are pleased to have signed this SPA (share purchase agreement) to acquire the Project SPV for the Deeside RDF Project after completing our due diligence, making good progress on funding discussions and shortlisting EPC companies for the project.
"We estimate that, with the application of EQTEC's advanced gasification technology, the project would convert hundreds of thousands of tonnes per year of non-recyclable everyday household and commercial waste otherwise destined for landfill or incineration.
"In this way, EQTEC expects to be able to significantly improve both the economics and the environmental impact of this plant and many traditional waste-to-energy facilities, bringing employment to the local area and economic and environmental benefits to both the local community and large industrial energy users, whilst delivering attractive returns to EQTEC's shareholders."
Neil Spencer, director of Logik, said: "Logik secured planning on the proposed project site over 12 months ago and, together with EQTEC, we look forward to continuing to work closely with all local stakeholders to help ensure this project gets built and secures additional planning that will further enhance the benefits to the local community.
"We are very encouraged to be working with a team with the experience and credibility of EQTEC and remain optimistic of what we expect to achieve in Deeside and in further potential collaborations with EQTEC on a portfolio of waste-to-energy projects that Logik is currently progressing in the North of England and across the UK."
The scheme could generate enough energy to power 37,500 homes, and 27MW of thermal heat production.
The electricity and heat could be exported to the national grid and/or sold locally.
EQTEC said its preference would be to create private wire and heat networks using the surplus electricity and heat, as it is already aware of interest from a large industrial energy user in the area.