Plans for first major eco-friendly residential development unveiled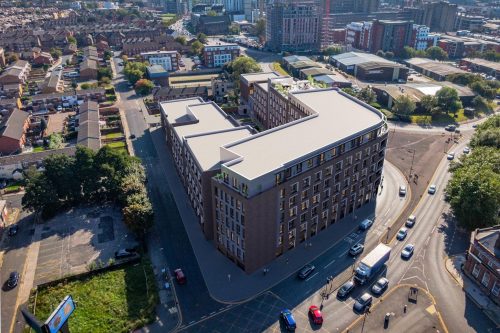 Nexus Residential has today (December 15) announced a new partnership with Legacie Developments which will see the companies redeveloping a site formerly known as 'The Rise' in Liverpool.
The site was originally planned as a £40m mixed use scheme before work came to a halt due to lack of financial backing.
It has now been acquired by Legacie and Nexus and together they have revealed a new vision for the Low Hill site which will be renamed 'Element The Quarter', in what will be a £40m investment.
It will be the first major eco-residential development in Liverpool and will comprise 450 studio, one- and two-bedroom apartments.
The eco-development will feature low-carbon smart technologies including energy-efficient LED lighting, shower save system, mechanical ventilation heat recovery and solar panels.
There will also be a rainwater recycling system, air sourced heat pump and a Central Building Management Server.
CGI images produced by Liverpool-based architects Falconer Chester Hall showcase how the eco-friendly scheme will look.
Legacie's construction arm, Legacie Contracts, has previously developed a number of eco-friendly buildings including Hilton Hotels comprising various sustainable systems. The company is bringing that expertise to this new site.
Legacie Developments is also working on Liverpool's forthcoming £90m Parliament Square development.
In 2019, Legacie stepped in to revive the stalled 'The Eight' development in Liverpool's Chinatown, which will complete next year.
Work on Element The Quarter will start in April next year and is expected to be completed by Summer 2023.
Julian Ramsden, director at Nexus Residential, said: "We are excited to announce plans for Element The Quarter, which is a joint venture between Nexus Residential and Legacie Developments.
"Together, we have successfully delivered on a number of other residential projects and are confident of delivering a quality residential development here that the entire city can be proud of.
"Element will be special because we are putting significant investment into creating Liverpool's first major eco-friendly residential development.
"It will provide quality new homes and regenerate a key area on one of the key gateways into the city centre. This is positive news for Liverpool and we're looking forward to getting on site early next year."