Online retailer increases forecasts and reports Agenda for Change progress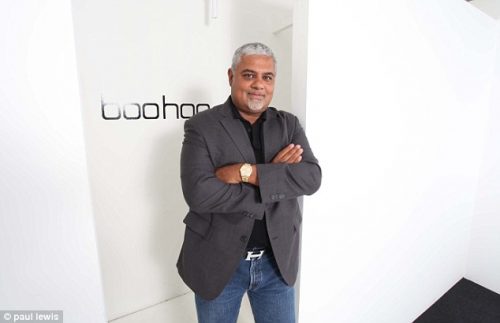 Online retail giant Boohoo today raised revenue forecasts after a strong Christmas trading period, and published its first report linked to its internal governance following reports linking the Manchester group to Leicester sweatshops.
In a trading update today covering the four months to December 31, 2020, Boohoo revealed a 40% jump in total group sales of £660.8m, up from £473.7m the previous year.
Following the strong peak trading performance, Boohoo said group revenue growth for the financial year to February 28, 2021, is expected to be 36% to 38%, ahead of its previous guidance of 28% to 32%.
It continues to expect to deliver an adjusted EBITDA margin for the year at around 10%, despite COVID-19-related headwinds for distribution costs, planned gross margin investment and accelerated discretionary customer acquisition spend.
Its medium-term guidance remains for 25% sales growth per annum and a 10% adjusted EBITDA margin, reflecting the board's confidence in the group's prospects as it continues to invest to support growth and raise standards across its supply chain, it said.
Boohoo said it is also close to finalising an extension of its UK warehousing capacity with a new site to open in April this year that will support the creation of up to 1,000 jobs in the first 12 months of operation.
The site is intended to be used by the Nasty Gal, Karen Millen, Coast, Oasis and Warehouse brands, with a transition expected over the course of the first half of the next financial year.
Last Summer Boohoo was rocked by an investigation that claimed it was using a Leicester sweatshop paying just £3.50p per hour to make cheap clothing during the coronavirus pandemic, leading to Home Secretary Priti Patel ordering a probe into the allegations, which wiped billions of pounds off the group's value.
In November last year it appointed legal heavyweight Sir Brian Leveson to provide independent oversight of the group's Agenda for Change programme to deliver long-lasting and meaningful change to the group's supply chain and its business practices.
Today, it said Sir Brian has published his first report into the affair which, it said, acknowledges the pace with which Boohoo is making towards effecting change, while noting that recommendations remain work in progress.
The group said it believes it is making "excellent progress" as it works to implement the review's recommendations.
These include strengthening governance and teams with key appointments such as Shaun McCabe's appointment to the board on November 17, 2020 as an independent non-executive director and chair of the group's audit committee and its newly-constituted risk committee, as well as significant investments into strengthening the group's internal responsible sourcing, compliance and sustainability teams.
Boohoo also appointed KPMG as consultants to advise and monitor the implementation of the Agenda for Change programme.
The group said today that it was significantly increasing oversight of its supply chain which has seen 64 suppliers removed from its UK supplier list, with further investigations ongoing.
And it said it is demonstrating best practice in action, with good progress being made on its state-of-the art manufacturing facility based in Leicester, expected to launch later this year, which will also provide a hub for community outreach.
Alternative ethical suppliers are being identified as the group reviews its supply chain across the UK and internationally, focused on setting a new industry-wide standard for ethical supply chains, and Boohoo said it will publish a UK tier one and tier two supplier list by the end of March, and a global supplier list by the end of September, which will both be updated every six months.
Group chief executive, Mahmud Kamani, said: "I'm pleased to publish Sir Brian Leveson's first report today.
"I'm immensely proud of the speed with which our team has worked to effect change during such a challenging period for the group, and it's encouraging to see our progress acknowledged in the report.
"We've added further independent experience to the board and its committees in the period, and I was delighted to welcome Shaun McCabe to the board in November.
"I'd like to take this opportunity to thank our team for their exceptional hard work over the last few months, and to reinforce our commitment to being a leader for positive change in UK textiles manufacturing. We have lots to do still, but an exciting year lies ahead for Boohoo and our multi-brand platform in 2021."
Chief executive, John Lyttle, said: "I'm delighted with the group's performance over the peak trading period.
"Our team worked exceptionally hard in 2020 as we navigated the many challenges, including the COVID-19 pandemic and the successful acquisition and integration of Oasis and Warehouse.
"Growth has been strong across our multi-brand platform and we have continued to grow our market share across all geographies. I'm pleased to be able to provide a further update on our Agenda for Change programme today, which demonstrates our ongoing commitment to transparency as we invest in our approach to sustainability and our supply chain for the benefit of all of the group's stakeholders."
He added: "The group is in an excellent position entering 2021, which we expect to be another year of progress towards our goal of leading the fashion e-commerce market globally."
Russ Mould, investment director at Manchester-based investment platform, AJ Bell, said: "Taken purely at face value the latest trading update from online retailer Boohoo looks good with full year revenue guidance increased after 40% growth in the third quarter, ahead of consensus forecasts.
"However, context is key, and sales growth has actually decelerated slightly from the first half of its financial year.
"Boohoo endured a mixed 2020 – on the one hand the pandemic saw it take share from struggling traditional high street names, some of which it snapped up like Oasis and Warehouse.
"It is forging ahead with plans to expand warehouse capacity in the UK and it has been mentioned as a possible bidder for other retail brands – notably those owned by the crumbling Arcadia empire such as TopShop and Dorothy Perkins.
"On the other hand its reputation was rocked by a supply chain scandal linked to factories in Leicester from which it sourced clothes.
"Addressing problems with its suppliers is almost certain to mean an increase in costs and there are other pressures on this side of the equation, too, particularly the impact of Brexit on its trade in mainland Europe.
"The decision to leave margin guidance unchanged, despite benefiting from a period which saw a proportionally lower level of returns as the prospect of queueing at the post office became less appealing due to COVID, is telling.
"The human and environmental impact of cheap, disposable fashion could increasingly jar with its youthful demographic for whom social and green issues are important.
"These issues are increasingly important to the market, too, and, despite making some changes to its board, Boohoo also faces shareholder pressure over corporate governance.
"Notably it lost a mainstream auditor in PwC, which quit over reputational fears, and appointed a much smaller accountancy firm, PKF Littlejohn, before Christmas. The company still has a lot more to do to fix these issues."