Approvals signalled for major city centre developments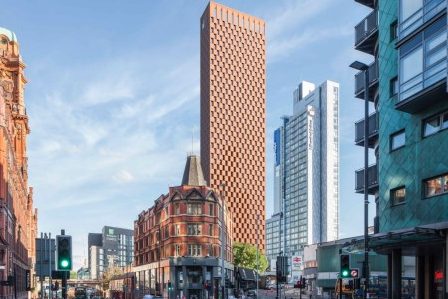 Manchester City Council is set to give the green light for four key schemes among proposals at its planning committee later this week after council officers signalled approval.
They are 'minded to approve subject to the signing of a legal agreement in relation to infrastructure improvements' plans for a £130m project originally submitted for planning in September 2018, formerly known as Student Tower.
The 55-storey skyscraper, in Hulme Street, will offer high-end student accommodation, comprising 853 units, as well as SME incubator space, as proposed by application GMS (Parking).
It will overlook Oxford Road Station and will be one of the tallest buildings in the city.
Another scheme recommended for approval is a 17-storey office block on Deansgate, built by property firm Kames.
The glass building would have more than 135,000 sq ft of office space and 5,000 sq ft for a ground floor restaurant or shop.
It will replace an existing 40,500 sq ft office building acquired by Kames last year for £11m.
Approval is also recommended for an office scheme on City Road, involving a 14-storey building and an 11-storey construction with ground floor commercial use, by Huddersfielf-based Commercial Development Projects.
The scheme is valued at around £130m and is in the First Street Development Framework.
And plans to add extra capacity to the Rylands Building, in Market Street, currently home to the Debenhams department store, are recommended for approval.
German investor AM Alpha wants to build a four-storey rooftop extension featuring 40,000 sq ft of offices, and a winter garden on the sixth floor.
AM Alpha acuired the building for £87m in 2017, and plans to create an offices and shopping arcade scheme at the city centre location.