North West Business Briefs: Palatine Private Equity; 3PL; Teledata; Tritonpeak; HMRC; University of Liverpool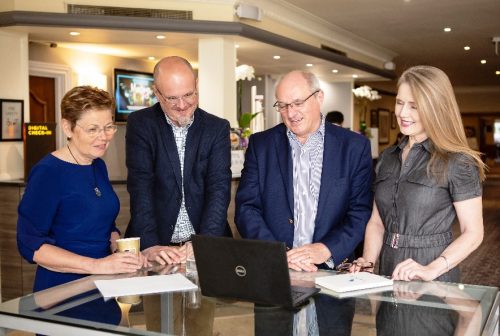 Manchester-based Palatine Private Equity has completed the seventh investment from its Impact Fund, with the acquisition of a significant minority stake in tranScrip, a fast-growing global business playing a key role in the innovation and commercialisation of new medicines, including treatments for COVID-19.
Based in the Thames Valley, tranScrip provides a wide range of specialist professional services to pharma companies, ranging from global players to dynamic, fast-
growing biotechnology companies, led by co-founders, managing partner Dr Flic Gabbay, who has more than 35 years' experience in the pharmaceutical sector, and deputy managing partner Dr Marcin Mankowski with more than 25 years in the industry.
Over the past 12 months tranScrip has focused heavily on COVID-19, where it leads and supports several innovative antiviral treatment programmes. Its teams have been involved in the conduct of novel studies with SNG001, an inhaled formulation of interferon, which has shown benefits in patients hospitalised due to COVID-19.
Palatine's £100m, returns-focused Impact Fund is dedicated to backing profitable businesses making a positive impact on the environment or society. Dr Gabbay said: "Palatine's creative and innovative approach to funding aligns closely with the business principles of tranScrip. Palatine's investment, combined with their strategic support, will help us to expand our unique services to reach more organisations with our innovative business model."
Commenting on transcip, Tristan Craddock, partner in Palatine's Impact Fund, said: "The work it is doing to help people live longer, healthier lives, make this a classic Impact investment and we are looking forward to working with Flic, Marcin and the team to grow the business, both organically and using our sector experience to assess buy-and build opportunities."
As part of the investment, Palatine has appointed experienced executive Paul McCluskey, the former CFO and CEO of private equity-backed clinical research company Concept Life Sciences, and CFO of Synexus Clinical Research, as non-executive chairman. Palatine was advised on the transaction by law firm Gateley, CIL Management Consultants, and BDO financial due diligence.
::
Wigan-based outsourced fulfilment and logistics specialist 3PL, enjoyed its busiest peak season on record, with shipments throughout the month of December alone exceeding 100,00 orders, representing a 42% uplift on the previous year.
The record-breaking December followed an equally demanding Black Friday event, with 3PL processing more than 30,000 orders in just one week alone during the online event of the year famed for huge discounts from aspirational brands and independent retailers.
Throughout the final month of the calendar year, 3PL processed more than 5,000 orders per day on multiple occasions. The busiest day of the year fell on December 11, when the fulfilment specialist processed more than 11,000 orders in just one day.
The combination of COVID-related high street closures and huge Black Friday discounts meant that online sales began to peak much earlier than previous years. The firm saw significant growth in the health and wellness, home textiles and fashion sectors and more than doubled its regular workforce to meet the seasonal spike in demand.
Managing director, Ian Walker, said: "As this was our first ever peak season in a pandemic we were faced with a largely unknown entity with regards to demand and resource planning. The sheer scale of throughput we handled by far exceeded even our most ambitious of forecasts."
::
Manchester cloud hosting and data centre operator Teledata has seen its cloud hosting customer base grow by 58% during 2020, contributing to a large proportion of the firm's overall 20% growth last year.
The company, which launched a new private cloud platform and a private virtual desktop cloud solution in early 2020 to complement its active-active cloud hosting platform, believes that this growth can be attributed in part to the shift to remote working, a byproduct of the COVID-19 pandemic.
Teledata director Matt Edgley said: "The pandemic has driven a large number of businesses to fastrack digital transformation to enable their teams to work productively from home. Most businesses had remote working in place prior to COVID-19, to some extent, but sending entire teams or workforces home to continue with business as usual remotely, can be quite a different matter.
"Companies found that they had to increase their cloud networks to support demand, tighten security measures and adapt to new ways of collaboration and communication to maintain both the productivity and flexibility required during the unprecedented times we have all experienced.
"This has highlighted not only the importance of scalable IT infrastructures, but the need for business agility. The businesses that were in a position to adapt fast, were generally the businesses that thrived."
::
Blinds and screen manufacturer Tritonpeak has rallied to the aid of the NHS by pivoting the use of a plastic retractable screen to improve patient safety and increase much needed ward capacity during the COVID-19 pandemic.
Greg Sunderland was previously a small blinds manufacturer until he hit upon use of his range of retractable plastic screens as room dividers and modified the construction to help the NHS to reduce the viral load of COVID-19 in wards.
His Wrexham-based Tritonpeak clear plastic screen concept is now enabling several NHS trusts in the North West to provide a 'barrier' between the bed spaces allowing hospitals to utilise all available bed spaces while reducing risk of COVID-19 infection.
Greg has manufactured and fitted more than 400 screens into a number of North West Trusts and is speaking to many others to enable them to reopen wards at almost full capacity again.
Trust estates and facilities matron at Southport and Ormskirk NHS Trust, Claire Beck, said: "From a patient experience perspective the screens provide the necessary barrier between patients' bed spaces whilst allowing visibility and protection. The screens also allow staff to fully observe patients at all times."
::
Self Assessment customers have been given a month's grace by HM Revenue and Customs to file their returns.
More than 8.9 million customers have already filed their tax return. HMRC is encouraging anyone who has not yet filed their tax return to do so by January 31.
But it confirmed that anyone who cannot file their return by the January 31 deadline will not receive a late filing penalty if they file online by February 28.
Taxpayers are still obliged to pay their bill by January 31, and interest will be charged from February 1, on any outstanding liabilities.
HMRC chief executive, Jim Harra, said: "We want to encourage as many people as possible to file their return on time, so we can calculate their tax bill and help them if they can't pay it straight away. But we recognise the immense pressure that many people are facing in these unprecedented times and it has become increasingly clear that some people will not be able to file their return by 31 January."
::
Scientists at the University of Liverpool, as part of a consortium involving local businesses, have been awarded three Innovate UK grants to develop new anti-viral technology that will limit the transmission of COVID-19 from touching contaminated surfaces in areas such as hospitals, train stations or restaurants and shops.
The consortium involves researchers from the University's Open Innovation Hub for Antimicrobial Surfaces alongside local industry and partners. It will use Innovate UK funding to create anti-viral surfaces that will mitigate the potential of the virus to spread from surfaces that people come into regular contact with.
COVID-19 has proven to be particularly resilient and can remain active on plastic and glass surfaces for several days, which poses a significant barrier to resuming public services, reopening hospitality and welcoming workers back to their offices.
The projects will target three main applications: Anti-viral coatings to create reusable face visors and goggles with high optical performance; a transparent anti-viral touch screen coating for ticket machines used widely in public transport and healthcare; and a point-of-sale cleansing system for the retail sector to rapidly disinfect card readers after every use.
The first two projects are in partnership with Gencoa and its supply chain, the Liverpool School of Tropical Medicine and will involve end-users Northern Rail and Alder Hey while the final project is being developed with Biaccon who are supported by several collaborators including BIRA.