Football agent latest to take space at The Landmark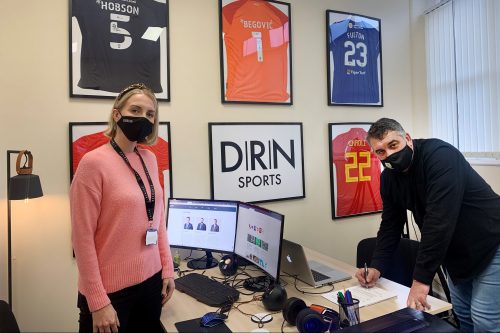 Burnley's The Landmark has signed an important deal with international football agents DRN Sports Management.
The new signing will see another prestigious organisation join The Landmark's thriving business community.
The Landmark is a Grade II-listed building on School Lane in Burnley town centre.
Formerly the home of Burnley Grammar School, the iconic gothic building has been tastefully restored to create a modern business hub and coworking space.
DRN founder Kiko Rodriguez, from Burnley, was once a footballer. His son, Jay Rodriguez, is currently a striker at Burnley FC.
Mr Rodriguez snr said: "Before COVID hit we were flying in players from all over the world and we needed a facility that represented our business. The Landmark has all the facilities a modern business would need.
"We've got plenty of hotels nearby and there are fantastic transport links to other parts of the country."
DRN Sports is the latest in a string of top signings. Since last October, The Landmark has experienced 400% growth. Last November saw one of the region's most important law firms, Forbes Solicitors, set up an office there.
Liz Wilkinson, general manager at The Landmark, said: "Having a prestigious organisation like DRN Sports Management set up at The Landmark is another great signing It's great news for us, for Burnley, and for the North West.
"I'd like to welcome Kiko Rodriguez and DRN Sports Management to our Business Club. I'm sure they'll have a great future as part of our community."