North West Business Briefs: Lovell; Mitchell Charlesworth; Huawei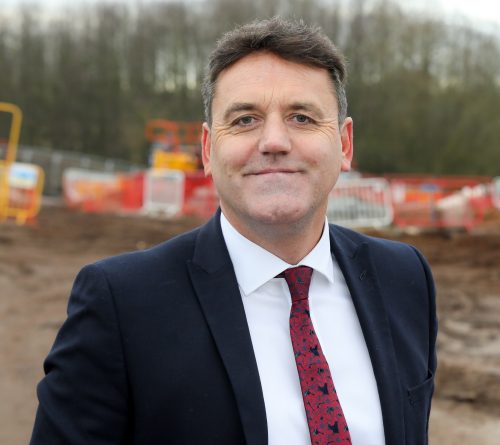 Warrington-based housing provider Your Housing Group has selected the North West region of Lovell Partnerships to join its four-year framework and act as a key delivery partner in realising its ambitious vision of building 600 homes per year.
Lovell Partnerships, which has a Manchester office, is one of two partners appointed by Your Housing Group to deliver new-build properties through a framework agreement with an estimated value of £200m. The Lovell Partnerships team came out top during the tender process.
Richard Jones, director of growth for Your Housing Group, said: "Following a thorough procurement exercise we are excited to be moving forward with Lovell Partnerships on our new 'development partner' framework, supporting our development programme for the next four years.
"It is another step forward in delivering our ambitious growth and construction plans to deliver affordable housing across the region, and this framework will enable us to work more strategically, efficiently and deliver the better outcomes."
Lee Sale, regional managing director at Lovell Partnerships North West, said: "We're delighted to have officially joined the Your Housing Group framework to support its drive to create much-needed homes in the region. This agreement also supports Lovell's core commitment to providing social value to the region's communities as well as realising the potential of unlocking land and regeneration sites.
"Our team is well positioned for this partnership having delivered over 1,500 new homes in East Manchester since 2002 including developments in Beswick and Openshaw, not to mention the 1,000-home regeneration scheme currently being completed at Miles Platting."
::
North West accountancy firm Mitchell Charlesworth has secured 45 new academy school clients.
The 45 academy schools are based across the North West and the Midlands. They include Liverpool-based Northern Schools Trust, which runs three academy schools, and Cheshire-based North West Academies Trust, which runs nine academy schools.
The firm has also been appointed by Concordia Multi Academy Trust, which runs four academy school across Wirral and Cheshire, and Endeavour Multi Academy Trust which runs four academies in the Midlands.
Philip Griffiths, a partner in the academies team at Mitchell Charlesworth, said: "To have added so many new clients during these challenging times is testament to the strength and expertise of the academies team. As budgets come under more and more pressure, our extensive experience of advising educational and not-for-profit organisations will deliver substantial and sustainable financial benefits for our clients."
The firm has recently bolstered its specialist team of academy experts with the appointment of partner Alex Makinson, who has significant experience in advising academy schools and academy trusts. Alex Makinson said: "It's a pleasure to have joined such a progressive and successful firm. Clearly, the firm has a specialism in academy schools and my own expertise had added to the wealth of knowledge and experience Mitchell Charlesworth has to offer academy trusts."
::
Five schools across the Greater Manchester area are being given more than £60,000-worth of computer equipment by phones group Huawei, which has an office in MediaCityUK, so pupils can join online classes from home.
Huawei is donating 250 pupil packs to children who have been identified by the Greater Manchester Tech Fund as being most in need of home schooling technology. Each pack contains a Huawei MatePad T3 10 tablet, a Huawei 4G modem and a sim card pre-loaded with data, courtesy of Huawei's partners at Three UK. These packs will ensure pupils have both the hardware and connectivity required for remote learning.
The schools receiving 50 Huawei pupil packs are Longdendale High School in Hyde, Sharples School in Bolton, The Derby High School in Bury, Burnage Academy for Boys in Manchester, and Byrchall High School in Wigan.
Karl Harrison, head teacher of Burnage Academy for Boys said: "We serve communities in the most deprived areas of the inner city and some of our parents do not have the means to be able to provide the devices needed at present for their children. The fantastic generosity of Huawei will make an enormous difference to so many of our families and give our boys the opportunity to access remote learning in the pandemic."
Diane Modahl, lead, Greater Manchester Tech Fund, said: "We set up the Greater Manchester Tech Fund to support our most vulnerable young people to prevent them being marginalised and at a disadvantage from their peers. I'd like to say a huge thank you to everyone at Huawei for their generous donation to the GM Tech Fund. Huawei's donation will help digitally-excluded young people with the technology and connectivity needed to continue their learning at home while schools and colleges remain closed."