Everton's stadium plans go to extra time as Secretary of State requests extension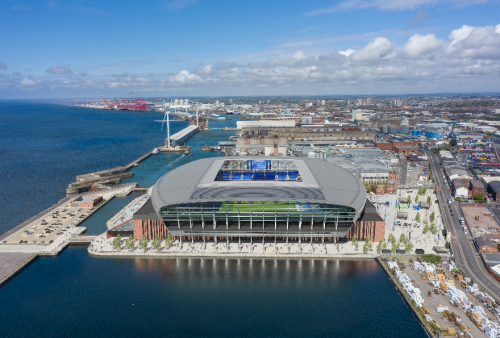 The Government has requested more time to consider the planning proposal for Everton's new Bramley-Moore Dock stadium.
Liverpool City Councillors heard the club's proposals for its £505m new ground at a special planning committee meeting on February 23.
It was passed unanimously, as was the legacy plan for the Blues' current Goodison Park home.
As a matter of course the scheme was then passed on for consideration by the Secretary of State, given the size of the development.
This normally takes 21 days, but Housing Secretary, Robert Jenrick, has now requested an extension.
A spokesperson for Liverpool City Council said: "This instruction has been accepted in accordance with national planning law."
During the planning committee councillors spoke warmly of the proposals. Closing the meeting, chair Cllr O'Brien, thanked the committee for its time and patience, adding: "I hope that's going to be taken into account when this matter is going to be passed to the Secretary of State, who may or may not decide to call it in.
"But I think the very extensive debate and really excellent groundwork that has been done by our own planning officers and Everton Football Club, who I think have really demonstrated that they are a power for good in our community, is all going to be taken into account."
Mr Jenrick, could decide to call in the proposed 52,888-seater stadium.
Despite its clear passage through local planning, and overwhelming support as part of wide-ranging public consultation, there have been objections from heritage groups.
Heritage England and the Victorian Society have spoken against the scheme, including the in-filling of the dock area, although Everton said the design allows for this to be restored should they move in the future.
UNESCO is already at loggerheads with the council over development of the waterfront area which forms part of its World Heritage status.
Should Mr Jenrick call in the scheme it would delay it by several months while it was considered by a planning inquiry, which could, ultimately, reject the proposals.
However, during the planning committee meeting, councillors constantly reiterated that the benefits the development could bring would far outweigh any damage to heritage assets.
Everton say the plans will help create 15,000 local jobs and attract 1.4 million visitors each year.
And, ahead of the vote in the three-hour long planning hearing, Liverpool City Council planning officer, Peter Jones, outlined the Grade II-listed elements of the site, but told councillors: "Heritage should not be treated as an embargo on development."