Contractor appoints engineering specialist to eco-friendly NOMA scheme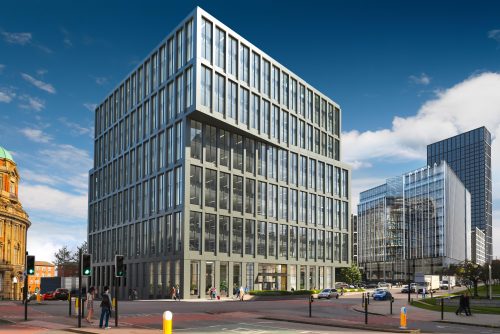 Engineering specialist, SES Engineering Services, been appointed by main contractor, Bowmer + Kirkland, to deliver a multimillion-pound building services design and installation contract on 4 Angel Square, an exciting speculative development in Manchester city centre for developer MEPC.
Utilising its innovative in-house building physics capability to win this latest contract, SES, which is based in London but has a Manchester office, will deliver the full range of MEP services to the 22,000 sq m office block, which is located on the 20-acre mixed-use NOMA development.
4 Angel Square has been designed with sustainability at its core and is one of the city's first net zero operational carbon buildings, thanks to the building's design, coupled with the energy performance and smart building technologies that SES will incorporate into the MEP services' design and installation.
In addition to the 10 floors of high quality office accommodation, designed to exceed the standards set out in the British Council for Office Best Practice Specifications 2014, the building will also have reception facilities and retail space situated at ground floor level, undercroft parking for 56 cars and cycle storage spaces for up to 212 cycles, with building services plant strategically located at roof-top level. This will allow the developer to maximise available space for tenant occupation.
SES's involvement in 4 Angel Square marks a repeat opportunity to work with Bowmer + Kirkland and follows on from the pair's successful completion of student accommodation at 9 Circle Square, in the city centre.
Key to SES's delivery will be the contractor's continued deployment of building physics and the use of Prism, its offsite manufacturing facility, to manufacture modular services for repeatable floorplate schemes.
Paul Beaumont, SES's operations director North, said: "This is an exciting development for the city of Manchester and one which we are delighted to be working on with Bowmer + Kirkland and the rest of the project team.
"MEPC is a forward thinking developer driven by a desire to construct buildings that are highly sustainable and produce healthy workplaces for the mutual benefit of the occupiers and the wider community, as well as the environment.
"We will use our experience of delivering smart buildings, which provide tenants with the ability to perform all sorts of actions such as book meeting rooms and cycle and parking spaces, as well as control heating and lighting from their smartphones and tablets, to ensure the most up-to-date technology is installed.
"This will help us to deliver a building that meets with the client's aspirations for a net zero carbon operational building."
Bowmer + Kirkland's contract manager, Paul Neilson, said: "We are delighted to be working on behalf of MEPC on such a prestigious building.
"It is important to us that we appoint project partners, such as SES, that share our vision and innovative approach to ensure that we deliver great buildings that not only meet the needs of the developer, but are also extremely attractive to occupiers.
"Thanks to a joined up sustainable approach to the construction of 4 Angel Square, I am confident that the building will more than meet expectations."
Appointed at an early stage in the building's evolution, SES will undertake enabling works before arriving on site in late 2021.