Change of plan to create more apartments approved by city councillors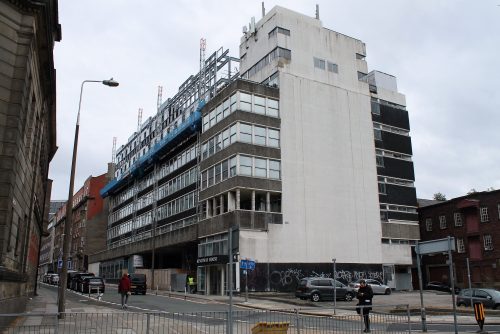 Liverpool City Council planning committee this morning (April 20), unanimously backed requests for a change of use within a residential scheme by developer Signature Living.
The Liverpool-based developer is converting former 1960s office block, Kingsway House, on Hatton Garden in the city centre, into 117 residential units and commercial space, having previously achieved planning approval.
This includes a two-storey rooftop extension on top of the six-storey building, to create extra residential space.
However, Signature Living appealed to city planners for permission to deviate from the original plans, and change the use of ground and mezzanine floors from former offices to 16 extra residential apartments, with office space.
They would comprise three studios, five one-bed apartments, seven two-bed apartments and one three bed apartment, including two accessible apartments.
At today's planning committee, Cllr Liz Makinson said: "In principal, the idea is a good one," but she raised concerns about a lack of parking space for the extra residential units, and what she saw as confined conditions in three of the one-bed apartments, which she said fell below national space standards.
The neighbouring Richmond Hotel had also raised concerns about noise during construction.
Speaking on behalf of the applicants, David Morse said there are cycle parking facilities included in the change of plans. And, while acknowledging the units in question "fall just short" of the national standards, he explained the ground floor conversion had presented the developer with difficulties.
In response, council case officer, Feargal McEvoy, told the committee he considered a balance had been struck by the developer, and was happy to recommend the change of use for approval.
The application was approved by all nine councillors.