Bank provides £44m loan for Bruntwood SciTech to expand its portfolio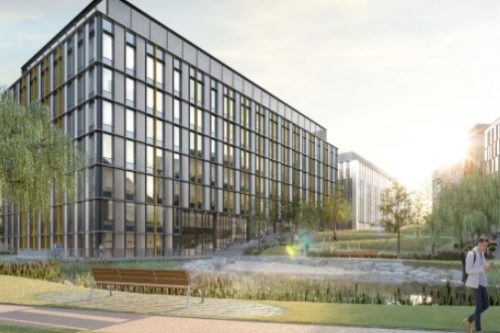 OakNorth Bank has provided a £44.4m loan to the science and tech sector property provider, Bruntwood SciTech.
Established in 2018 in a joint venture between Manchester-based property company Bruntwood and Legal & General, Bruntwood SciTech is dedicated to driving the growth of the UK science and technology sector.
With a portfolio valued at more than £526.8m, totalling in excess of 1.8m sq ft and home to around 500 science and tech businesses, the Bruntwood SciTech network includes nine sector-specialist campuses across Manchester, Leeds, Liverpool, Birmingham, Alderley Park – the UK's largest single-site life science campus, and most recently Melbourn Science Park in the heart of the 'golden triangle'.
The capital from Manchester-based OakNorth Bank will be used to support the development of vital new office and lab space for the West Midlands at two locations in the region: Innovation Birmingham, the region's digital tech campus situated in the heart of the city's Knowledge Quarter, and Birmingham Health Innovation Campus, co-located with the city's universities and NHS hospital trusts which is set to become a world leading healthcare technologies campus.
Kate Lawlor, Bruntwood SciTech chief executive, said: "2020 was an unprecedented year, none more so than for our science and tech sector.
"We witnessed first hand the importance of UK businesses working at the forefront of life sciences and tech and the impact they had on the country as they pivoted at pace and at scale in the fight against the pandemic.
"As the UK looks to retain its place on the global stage, it is vital that we have the infrastructure, facilities, skills and support that businesses in the sector need, helping the UK to build back better economically and sustainably."
She added: "This is why we're hugely grateful to have OakNorth Bank's support to develop our two Birmingham campuses.
"Their experience gained from working with some of the leading property developers really shone through during the entire lending process, allowing us time to invest in areas where our own expertise and passion can make the most impact."
Chris Swarbrick, senior debt finance director at OakNorth Bank, said: "We're delighted to be supporting a business that's championing the UK's science and technology sector by providing them with the specialist, high quality workspaces and wraparound support they need.
"With the Government's Industrial Strategy and 'levelling up' agenda focusing heavily on the transformative capabilities of the UK science and technology sector, we expect space, particularly in Birmingham, to be in high demand."