Wirral Waters prepares for launch of game changing housing community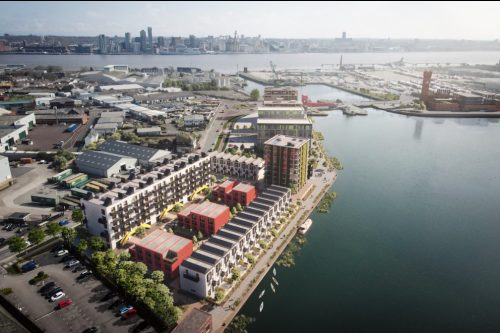 Work is picking up at pace at the Wirral Waters housing joint venture comprising House by Urban Splash and Peel L&P.
The huge waterfront site is preparing for delivery of new modular and panelised structures which will start the creation of the Northbank project on the East Float part of the docklands.
When complete, East Float will bring 340 homes to Peel L&P's Wirral Waters.
A newly-released image shows the distinctive red Row House homes, a new take on the Victorian terrace, which comes in three sizes and layouts.
Row House is surrounded by the award-winning Town House homes – properties which occupy a prime position overlooking the water – and the Mansion House apartments. The first homes will be launched at an event in the summer.
The homes are the latest reveal at Wirral Waters where a range of projects are on site at the Four Bridges and Northbank neighbourhoods.
Richard Mawdlsey, director of development for Peel L&P's Wirral Waters, said: "Working in this joint venture with House by Urban Splash we will transform East Float into a contemporary waterside community for anyone looking to make Wirral Waters their home.
"Together with the new public realm, that includes new pocket parks and dockside walkways, these innovative new homes from Urban Splash will help create a new exciting, diverse and healthy community."
Peel L&P is delivering the East Float community within the Northbank neighbourhood in a 50/50 joint venture with House by Urban Splash to create a vibrant new waterside offering.
Simon Humphreys, of House by Urban Splash, said: "We're bringing Town Houses, apartments and the bold and innovative new housing typology in Row House – and we're excited to premiere it in Merseyside.
"Urban Splash was founded in Merseyside, creating hundreds of thousands of sq ft of workspace as well as city centre apartments in Liverpool – 28 years on we're immensely proud to be back in the region and bringing a stunning new development to the area."
Like the House by Urban Splash Town House and Mansion House homes, Row House has been designed by Liverpool-based architects shedkm.
Buyers will have a wide range of options to make their home their own – including the option of a rooftop terrace.
Row House represents a modern mews house, or 'Urban Cottage', bringing a more compact terrace form to the portfolio at an affordable price range, meaning more people can get on the housing ladder with a home customised to meet their individual lifestyle needs.
Each home is characterised by a central, oversized, floor-to-ceiling window, which firmly delivers on the House by Urban Splash promise, to deliver design-led, bright open spaces for living.
East Float boasts quiet pedestrianised streets, additional green space for residents with large communal gardens – in addition to private outdoor space, gardens or terraces – and all located in a prime waterside location alongside a working dock.
House by Urban Splash creates innovative, architect-designed homes using modern methods of construction; it is owned by Manchester-based property developer Urban Splash in partnership with Sekisui House, Japan's largest housebuilder, and Homes England, the government's housing agency. Other shareholders include architect and TV presenter George Clarke, and We Buy Any Car founder and tech entrepreneur Noel McKee.
The company's mission is to help customers, partners and communities 'Live Well by Design'.
This commitment to design, wellbeing, choice and sustainability sees the company working with leading architects to design homes and neighbourhoods that are exemplars not replicas, places that work for people and that they can make their own.
House by Urban Splash has been pioneering this since 2012, when the first modular Town House was introduced to the market in Manchester.
The company has since continued to invest in research and development, with the majority of its homes now manufactured in the House Factory in Alfreton, in the East Midlands.
Around 120 staff work at the factory, creating bespoke modular homes which are then transported to site to be lifted by crane into place. Each house is generally around 15 tonnes and is dropped on to existing foundations which already have all essential services – plumbing and electrics – installed and ready to just 'plug in'.
The Town House brand is a customisable two- or three-storey home with layouts determined by the customer. Town House has sold out at sites in Manchester, Salford and North Shields, and is now on sale – or soon launching – at Port Loop in Birmingham, New Islington in Manchester, Wirral Waters in Merseyside, and Inholm Northstowe in Cambridgeshire.
Mansion House is an apartment block created using modern methods of construction, offering multiple layout options to customers. it is currently on sale at New Islington in Manchester, with future developments planned at Wirral Waters and other sites.
More core House products will be launched this year, including Row House.
Wirral Waters is a 500-acre site comprising former dockland which Peel L&P inherited following the acquisition of the Mersey Docks and Harbour Company in 2005.
Peel L&P has launched a 30-year £4.5bn strategy which will see Wirral Waters become one of the largest regeneration projects in the UK.
It will transform the derelict site into a sustainable location for local and international businesses, creating more than 20,000 permanent jobs for the Liverpool City Region, as well as offering new housing opportunities.
The Wirral Waters project is supported by central government and was designated Enterprise Zone status in 2011 – one of the first four Enterprise Zones in the UK and known as the Mersey Waters Enterprise Zone.
It comprises a two-and-a-half-mile area for regeneration, stretching from the Mersey to Bidston.
Richard Mawdlsey said it presents an ideal opportunity for Peel L&P and its partners to "fix the economy and diversify the economy" for an area that has been in decline for decades.
Peel L&P has obtained planning permission for a total of 13,000 homes as part of Wirral Waters, offering a variety of homes for sale, or rent.
The Northbank area of the regeneration is expected to be completed by 2025, and will involve investment of at least £220m in the 20-acre site which will contain 1,100 new homes.
Nearby, steelwork is continuing on The Hythe, the first speculative office scheme developed in Birkenhead for decades. It will be able to provide six bespoke suites for tenants, or could be a base for a single occupier, offering 25,000 sq ft net.
Mr Mawsdley said: "Following the pandemic, organisations are looking to downsize, but take better quality accommodation, so this will play out quite well in a post-COVID landsdape."
He said there is already lots of interest from prospective tenants for The Hythe.
Another major project close to Northbank is an historic hydraulic tower which has been derelict for 50 years, but will be transformed into a Maritime Knowledge Hub as part of a £23m investment. Work is expected to begin later this year.