Trinity is perfect home for London photographic studio's expansion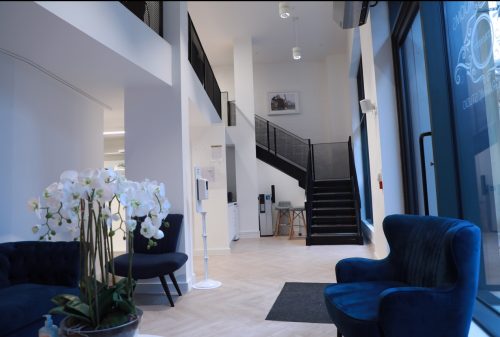 A London-based photography company has taken the ground floor of Helical Plc's Trinity building in Manchester.
Bluerooms Studios had occupied temporary space in the city before deciding its permanent home in Manchester would be Trinity, in John Dalton Street.
Bluerooms provides state-of-the-art, tailor-made photography and portfolio services to aspiring models and modelling agencies, as well as shoots for families and groups.
Studio manager, Jessica K, said: "We chose Trinity as it was the perfect size and location for our studio.
"We previously had two separate studios in Manchester and moving to Trinity has made it possible for us to combine the studios, having our own space to design and better ability to organise our time."
Trinity was acquired by Helical Plc in 2017 and underwent a £6m transformation, which finished in 2019.
Extensive remodelling of the building created an additional 10,000 sq ft of workspace, as well as the creation of two larger retail units.
The first unit was let to 92°, an independent coffee roaster, which opened up shop earlier this year.
The second unit will house Bluerooms' Manchester studio, taking a total of 2,879 sq ft.
Nicola Harrington, director at Sixteen Real Estate, said: "We are thrilled to let the final ground floor unit of Trinity. It's great to see businesses like Bluerooms expanding outside of London and investing in Manchester city centre, and to do this deal whilst still under COVID restrictions speaks volumes for the location and city centre recovery."
William Parry, senior property executive at Helical Plc, said: "Bluerooms is a perfect fit for Trinity offering a quality bespoke service.
"The company aligns well with recently opened 92° to enhance the retail offering of John Dalton Street. It is fantastic to be coming out of lockdown with both retail spaces occupied.
"Trinity is becoming a hub of activity as central Manchester comes back to life."