Top team appointed to deliver infrastructure works on £51m Victoria North scheme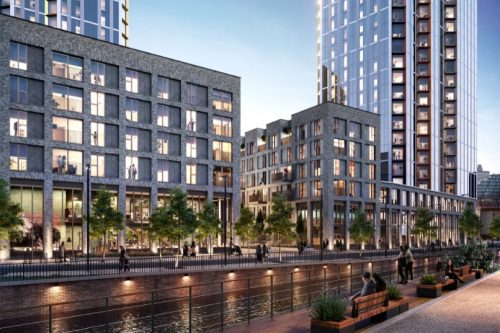 X

Register for free to receive latest news stories direct to your inbox
Register
A multi-disciplinary consulting and contracting team has been assembled to support the delivery of key infrastructure works that will unlock the early residential development potential in the Victoria North regeneration area, Manchester's largest ever regeneration project.
Last year, a joint bid between Manchester City Council and its joint venture partner Far East Consortium (FEC), successfully secured £51.6m from the Government's Housing Infrastructure Fund (HIF).
The funding will be used to address a series of up-front infrastructure requirements to facilitate the delivery of more than 5,500 new homes in the next 10-15 years – 1,000 of which will be for affordable rent and sale – along with a new (circa 5ha) public City River Park.
The newly appointed team – with BAM Nuttall as lead design and build contractor, and Arup as lead designer – will work closely with the council and Far East Consortium's development and masterplanning team to deliver the development vision for Red Bank and New Town neighbourhoods.
The full team to deliver the HIF programme is: Main design and build contractor – BAM Nuttall; lead designer – Arup (working with BAM); flood defence works contractor – Volkerstevin; landscape architect – Planit IE; project delivery consultant – Turner and Townsend; lead technical advisor – Pell Frischmann; planning consultant – Avison Young.
The HIF infrastructure scheme will support a programme of infrastructure investment and deliver a series of up front, strategic infrastructure requirement nd address a range of site constraints that will hinder future development.
The key elements of the HIF scheme include:
Investment in a new City River Park along the Irk River Valley, creating a destination green space that celebrates the river and provides new, open space for residents
Facilitating access to development sites by connecting them to the existing highway network, along with general road upgrades
Securing and clearing undeveloped brownfield land, including the removal of contaminated land and invasive plant species to ready sites for development
Connect development sites to utilities (electricity, water and surface water drainage), including new high voltage electricity cabling and substations
Delivering flood defence works to reduce the risk and extent of flood zones
Social impact was an important element of the procurement exercise, which requires contractors to deliver social benefit outcomes in local communities, particularly the areas impacted by the delivery of the HIF programme.
A carbon management plan is also being developed to support the delivery of the programme to limit the carbon footprint of construction and use by the development. The project will adopt PAS2080, the first global standard for managing infrastructure carbon, to reduce carbon and costs through intelligent design, construction and use.
The detailed design process for the HIF infrastructure works is now under way and an initial planning application is expected in spring 2022.
The HIF investment represents part of the early phase works of the Strategic Regeneration Framework for Victoria North, which will deliver up to 15,000 new homes while rejuvenating brownfield and under-utilised land over the next 15 years.
Sir Richard Leese, leader of Manchester City Council, said: "The impact of this programme of work cannot be underestimated, and without this funding the potential of the Victoria North regeneration programme could not be realised.
"This early phase of the scheme alone will support the delivery of more than 5,500 new homes – many of them for affordable rent and sale – along with a new City River Park. This is nothing short of transformational, bringing life and purpose to a long overlooked part of our city, while celebrating the Irk Valley properly, possibly for the first ever time."
Gareth Farrier, BAM Nuttall's divisional director, Scotland and Northern England, said: "BAM Nuttall is proud to be involved in this collaboration with Manchester City Council and their stakeholders, alongside our design partner Arup. This opportunity allows us to combine our expertise at the very early stages of the project to help maximise the impact of the Victoria North Strategic Regeneration Framework.
"Our extensive experience spans delivery of infrastructure enabling works and the development of award winning attractive public spaces to benefit communities, including Kings Cross, Nine Elms and London's 2012 Olympic Park. We look forward to unlocking the full potential of the Manchester Northern Gateway with our partners, as we prepare the ground for one of the largest regeneration projects in the UK."
Mike Wilton, Manchester office leader for Arup, and chair of the Manchester Climate Change Partnership, said: "Arup are very proud of our work with Manchester City Council and FEC in establishing the regeneration plans for Victoria North – and helping to secure Homes England Funding.
"Over the next three years, in partnership with BAM Nuttall, we will deliver a high performing and sustainable development in Victoria North, making it a place that local people want to live, work and play in. I am personally excited to be part of creating new green spaces, walking and cycling routes, and energy networks that will support Manchester's journey to become a net zero carbon city by 2038."
Hilary Brett-Parr, project director at FEC, said: "Our vision for Victoria North is to create aspirational and inclusive neighbourhoods that deliver green riverside living in the city.
"The HIF works will put the foundations in place for us to bring the early phases of residential development forward at pace. We look forward to collaborating with MCC's delivery team, alongside our to-be-announced strategic masterplanning team for Red Bank, as we continue to invest in the future of the city centre and local communities."