Residential fund invests £25m into modular homes for rent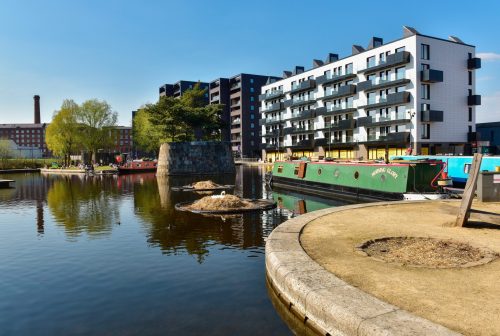 The Urban Splash Residential Fund (USR) has announced a £25.8m deal acquiring sustainable new homes created using Modern Methods of Construction (MMC), to add to its growing rental portfolio.
The Manchester-based fund has also signed a Memorandum of Understanding (MoU) with House by Urban Splash meaning it has first look over a pipeline of £800m homes currently being created by the modern housebuilder.
Among the new properties acquired are £11.6m of houses and apartments at New Islington – a £300m redevelopment project being undertaken by House by Urban Splash in Manchester.
The fund is also looking at opportunities to explore a new rental model at Port Loop, a waterside community being created by the same developer in Birmingham.
The acquisitions will take the fund's total portfolio to 240 homes across the country.
The business has doubled in size every two years, with a clear investment and fundraising strategy. Currently it has committed equity of circa £40m, with a portfolio generating a gross yield of 7.8% and net yield of 5.5%, the fund currently has no debt.
Fund manager, Akeel Malik, said: "We are delighted to have expanded our portfolio once more, with a high quality range of homes in growing urban communities.
"We are acutely aware of what investors – and ultimately renters – want from modern homes, and we have great confidence in the calibre of House by Urban Splash properties which are cutting edge, sustainable, and appealing to so many different residents."
House by Urban Splash demerged from Urban Splash in 2019 in one of the industry's biggest details which attracted investment of £90m from the world's biggest housebuilder, Sekisui House, and Homes England.
Since the deal, the business has continued to grow, creating its sustainable new homes using MMC – with each being built in the House by Urban Splash factory in the East Midlands.
The House by Urban Splash forward pipeline now stands at approximately £800m of properties – something the fund will have first access to thanks to the newly signed MoU.
House by Urban Splash CEO, Simon Gawthorpe, said: "We are delighted to complete this deal – part of our long-term strategy to provide houses for sale, as well as homes for affordable and market rent to create great mixed communities.
"We are looking forward to working with USR on future sites, including the new town of Northstowe in Cambridgeshire, Grappenhall Woods in Warrington, and the ongoing regeneration of New Islington and Port Loop."
Another priority for the fund is to invest in homes with green credentials, something it has achieved with these homes. Among them is a core of House by Urban Splash Mansion House apartments, a cutting edge new building created using sustainable cross laminated timber (CLT).
Akeel Malik added: "Our portfolio is the perfect proposition for investors, with great green credentials, bar-raising design, and the appeal of the broader neighbourhood – areas which have been transformed into some of the best places in the UK to live, work and play. We are delighted to invest in these communities, with assets which will further strengthen our nationwide portfolio."
USR provides investors with the opportunity to invest alongside the award winning developer to build a branded, institutional-quality portfolio of UK private rented sector (PRS) properties. Its chair, John Forbes, said: "I have been delighted with the rapid progress that USR has made and I have enjoyed working with the fund's management team and House by Urban Splash to develop this into a market leading residential fund.
"The initial seed portfolio has now grown to £40m, with annual returns to date consistently exceeding our 10% target.
"We are in active discussions with institutional investors and our aim is to establish the fund as a permanent capital vehicle, scaling the portfolio to £1bn+ and being one of the most successful residential funds in the UK."