Albert Square Chop House is closing but will reopen as new gastro pub after site is acquired by London operator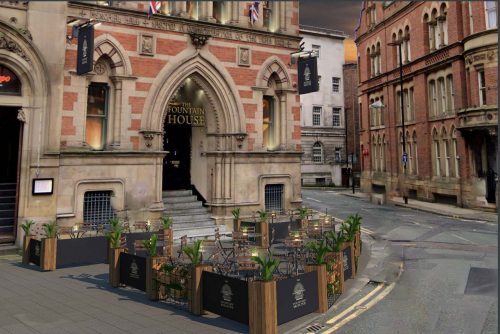 Manchester gastro pub Albert Square Chop House is closing this summer and will be taken over by a London pub operator.
The Metropolitan Pub Company, a Green King pub retailer, is expanding its gastro pub brand and has acquired The Memorial Hall site in Albert Square, Manchester which it will close over the summer while it invests in the 155-year-old grade 2 listed building.
It will relaunch as The Fountain House in September and the venue will become the London-based pub company's first site in the north of England.
Fountain House will initially open three of its five storeys to customers – with the lower ground floor for premium gastro-pub dining, "a charming pub experience" on the ground floor and private dining and function space for weddings and meetings on the first floor.
Michael Horan, managing director of Metropolitan Pub Company, said: "We are really excited to bring our first pub to Manchester. The Memorial Hall site is perfect as we look to offer our premium Gastro pub delights to customers in the heart of the city.
"We are hoping that the current Albert Square Chop House employees will be staying with us at The Fountain House, where we will spend the summer investing in their training and will look to develop their careers for the future.
"We can't wait to open our doors to offer customers our premium wine selection and craft beers, alongside fresh, seasonal and innovative premium gastro pub food, including seafood, meat, vegan and vegetarian."
The Chop House brand, which operated three historic sites in the city centre, is retaining the original two businesses – Mr Thomas' and Sam's Chop Houses established by chef Thomas Studd in the 1860s.
International real estate advisor Savills advised the vendor on the sale.  Whitestone Retail & Leisure advised Metropolitan Pub Company.
David Frankland at DWF acted for Metropolitan Pub Company and Jamie Lloyd at Nexus acted for The Albert Square Inn Limited.