Everton takes the keys to Bramley-Moore Dock site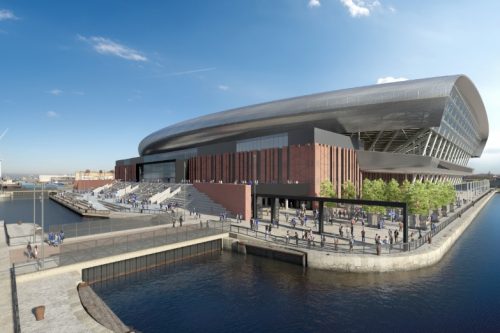 Everton FC has taken possession of the Bramley-Moore Dock site where it will build its £505m new stadium.
In an update to fans the club said it will soon start enabling works on the waterfront plot, and urged fans not to try and access the area. Stadium development director, Colin Chong, said: "There is – and will continue to be – a lot of heavy goods vehicles arriving delivering plant equipment and supplies. There will be no public access through the gates at Bramley-Moore Dock and the health and safety of everyone on-site is a priority.
"In the coming weeks we will be installing a web camera allowing you to see live images of what is happening at the site. In addition to the webcam we will also soon be launching a new project website which will house all our latest news and which will act as the portal for any questions you may have for us."
He said the next phase of the development will be the start of enabling works to create the 52,888-seat ground, installing extensive staff welfare facilities as the project is likely to be the biggest single-site private sector development in the country, with as many as 12,000 people working throughout the build phase.
He added: "While the infilling of the dock is still some weeks away, we have been repairing the dock wall which will be preserved underneath our new stadium. We have also carried out several surveys beneath the water in the dock, including an unexploded ordinance survey and I'm sure you'll be delighted to hear that so far there is nothing in there that concerns us.
"Our next steps for the dock are to ensure we carefully remove and rehome any wildlife and other organisms in the water before we begin infilling the dock with sand from the Mersey estuary in the autumn."
Mr Chong said the club aims to formally break ground on the eastern quayside in the early part of August.
The city's waterfront recently had its World Heritage Status removed by Unesco, with the stadium construction cited as one of the possible reasons, but Mr Chong said: "There has been a lot of talk about heritage this week, but we have been clear throughout our planning that respecting and enhancing heritage has always been one of our key principles.
"Our commitment to bringing the dock's heritage features to life has not changed and we will be investing more than £55m to preserve, restore and celebrate the heritage assets at Bramley-Moore Dock."
And he added: "I am proud of our achievements to date and grateful to the board and Mr Moshiri (owner) for their continued commitment and investment in our club's future. It is an honour to be leading a dedicated project team of Everton staff who, like me, are delighted to receive the keys for the site and, alongside Laing O'Rourke, begin the process of building a stadium Evertonians will call 'home' for generations to come."