Recommerce group pleased with maiden interim performance on AIM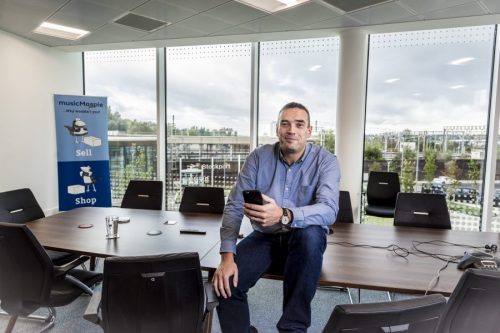 Stockport-based recommerce business, musicMagpie, said it was pleased with its six month results, following its flotation on AIM in April this year.
Revenues for the six months to May 31, 2021, were £72.8m, compared with £71.1m in 2020. UK revenue was up 6.6% to £58.1m driven by increasing consumer adoption of circular economy models along with a growing consumer trend to buy goods and services from brands with strong ESG credentials.
The business recorded a pre-tax loss of £17.730m, against a pre-tax profit of £2.573m previously, but explained this was after taking account of £22.9m of costs, compared with £2m the previous year, associated with equity-settled share-based payments of £17.4m (H1 20: £0.2m), depreciation of property, plant and equipment of £0.7m (H1 20: £0.7m), amortisation of intangible assets of £0.7m (H1 20: £0.6m), and other non-underlying items including IPO costs totalling £4.1m (H1 20: £0.5m). Of these costs, £18.8m (H1 20: £1.5m) were non-cash items and £21.5m were non-recurring items.
Adjusted profit before tax was £4m, up from £3.3m.
The business held net cash of £6.4m at the end of the reporting period, compared with a net debt of £9.6m a year ago.
During the period the business said there was strong early progress from the group's innovative new smartphone rental subscription service, launched in October 2020 with more than 7,500 subscriptions as at May 31, 2021.
This has led to the group substituting firm sale revenues totalling £2.3m for the period in return for the £0.3m of subscription revenue earned, a net £2.0m, as customers have opted for rental over outright purchase of phones.
As a result, consumer technology revenue growth increased by only 0.8% but there is now the potential to earn higher recurring revenues and EBITDA over the life of a device as opposed to a one-off sale.
The business also launched the new SMARTDrop Kiosk concept in November. More than 1,250 smartphones had been traded as at May 31, 2021, paying out £0.3m instantly to consumers. And following a successful trial, an expanded roll-out is now planned for Asda stores across the country, with a view to ensuring 90% of the population in England will live within a 15 minute drive of a SMARTDrop Kiosk.
US trade-in partnerships are also in place with Macworld and Red Pocket Mobile, creating a potential combined customer reach of nine million US citizens as they promote the decluttr trade-in programmes to their extensive membership.
There was also a significant strengthening of the board with the appointments of Martin Hellawell as non-executive chairman, Dave Wilson as a non-executive director and chair of the audit committee, and Alison Littley as a non-executive director, senior independent director and chair of the remuneration committee.
The business highlighted its ethics with the creation of the 'Mount Recyclemore' sculpture at the recent G7 summit to focus on the growing global problem of e-waste. It has now relocated for the summer to the plaza at Stockport Exchange outside the group's head office.
Following the progress made in H1, the Board is pleased with the continued momentum across its core consumer technology business and key strategic initiatives: smartphone rentals, SMARTDrop Kiosks and corporate recycling.
Second half trading continues in line with management's expectations for the full year and the board remains confident that the business is well positioned for future profit growth and that 2021 adjusted EBITDA will be in line with expectations.
Steve Oliver, chief executive and co-founder, said: "This has been a landmark period for musicMagpie, and we are very pleased with the performance of the business as it has adapted quickly to life as a public company.
"We are seeing strong and growing demand for our unique circular economy model, as consumers continue to realise the benefits of buying and renting refurbished consumer technology products.
"In addition, there is a growing awareness of the rising problem of e-waste, as illustrated by the fantastic reaction to our 'Mount Recyclemore' sculpture at the recent G7 summit.
"We are now seeing more people than ever before looking to recycle their old gadgets whilst freeing up cash and decluttering their lives in the process.
"These trends, combined with the launch of our exciting new mobile phone rental subscription service, mean that we continue to have a high degree of confidence in the future prospects of musicMagpie."