Car dealership group breaks ground on £9m Oldham development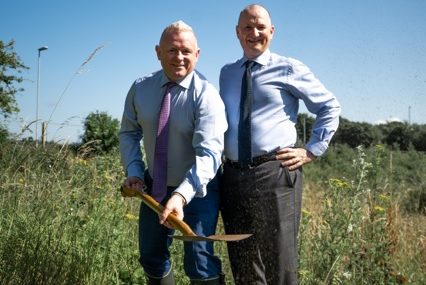 X

Register for free to receive latest news stories direct to your inbox
Register
Crewe-based car dealership group, Swansway, has broken ground on its latest development, a £9m Volkswagen showroom in Oldham.
The group acquired the Chadderton Way site in October 2020, where 25 jobs will be created, initially.
Swansway, the official car dealer for 12 car brands in 23 locations across North West England and Wales, has also retained the services of Rochdale-based Pulmann Associates Architects for the scheme.
The two have collaborated on a range of developments in a period spanning more than 42 years.
In 1978 Pulmann was providing architectural services to Esso Petroleum, in the oil industry, and part of the portfolio included the construction of petrol stations for third parties, including one for Radcliffe Road Garage Group, owned and operated by Michael Smyth, now chairman of the Swansway Group.
His vision was that petrol filling stations were going to be an integral part of any community, providing much more than just fuel. In helping make this vision a reality, Michael found a meeting of minds in Pulmann Associates, and an enduring, mutually beneficial collaboration was born.
In the years that have followed, Pulmann has supported Swansway Group on almost every building project that has been undertaken, from ongoing repairs and improvements, to the construction of brand new facilities, such as the Stafford Land Rover and Swansway Jaguar Crewe retailers.
Peter Czajkowskyj, Oldham-born spokesperson for Pulmann Associates, said: "We have always welcomed the relationship with Swansway. They have a standard level above the expected and they always provide the right amount of redevelopment and finance to support their ambitions.
"When Swansway commence a project we know it is going to be dynamic and completed with real polish, which is great for everyone involved."
He adde: "The latest Swansway project, the proposed redevelopment of the Chadderton Way site in Oldham to a brand new Volkswagen Commercial Vehicles and passenger cars destination, is very special to me, as someone who lives in Oldham.
"This project will complete the Gateway Road area with a really pleasing mix of retail, commercial and residential buildings, which is a superb formula for creating a modern, thriving community."
David Smyth, Swansway Group director, said: "It's always a great pleasure to work with Pulmann Associates as they really understand our intentions to only deliver the very best, whenever we undertake a new project.
"And over the years they have been a great resource for us, in helping us maximise the potential of our portfolio of property investments. Integrity and reliability underpins everything they do, which makes them very rewarding to work with."
He added: "This latest project in Oldham is very exciting as it is a prime location and we hope that we will be able to realise our plans to develop it to the very highest standard.
"Our expectation is that this will be a very welcome addition to the Oldham community, bringing both jobs and customers to the local area. And as a family business, we are very proud to be helping Oldham on its journey to realising its full potential."