City region takes delivery of first new train – but introduction still delayed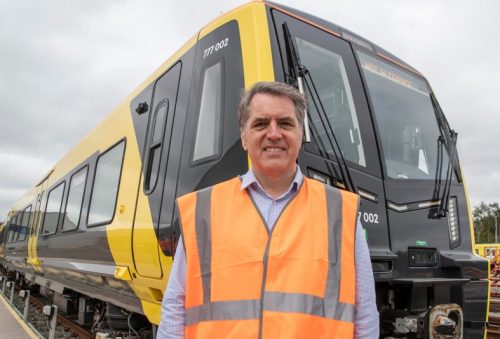 The first of Merseyrail's new fleet of trains has been handed over by Swiss manufacturer Stadler – but there is still no indication of when the new £460m fleet will enter public service.
Members of the public will be invited to view the train next month, but that is the closest they will get, with still no date for the introduction of the fleet which should have been rolled-out, belatedly, last year.
Platforms throughout the Merseryail network were lengthened and raised to accommodate the new trains, but problems still remained in 2019, as revealed by TheBusinessDesk.com, with longer peak-hour trains overlapping the signalling system at some stations.
Then, last year, transport authority Merseytravel blamed the COVID-19 outbreak for delays to the new fleet. However, even as late as September 2020, transport chiefs had failed to agree a deal with train drivers' union Aslef for their members to start training on the new rolling stock.
However, Liverpool Metro Mayor Steve Rotheram has announced the official handover of the first of 53 new trains for the Liverpool City Region, which will own the new fleet.
To celebrate the handover, the Mayor is inviting people to step on board and see for themselves how journeys will look in the future, when the train goes on public display next month.
The new fleet will include pioneering sliding step technology, providing step free access for all, on board Wi-Fi, improved passenger information screens, and more space for wheelchairs, bicycles and prams.
The fleet is a key part of the Mayor's plans for a London-style transport network that seeks to make it as quick, easy, and reliable for people to travel around the region by taking greater local control of public transport and linking different modes of transport together.
Steve Rotheram said: "These new trains are a near half a billion-pound investment in our region's transport network and will transform the way people get around in our region. They're a major part of my vision for a London-style transport system that will make getting around our region quick, cheap and reliable.
"They will be the greenest and most accessible trains in the country and, best of all they're owned by us. We've designed them around the needs of local residents, who I'm sure will all absolutely love them."
Over the coming months, Stadler will hand more trains to Liverpool Combined Authority, ahead of introduction into passenger service.
Matthias Hämmerle, commercial project manager at Stadler, said: "We are very pleased to have reached this highly symbolic moment in the programme, with one train officially transferring ownership from Stadler to the Liverpool City Region.
"These trains have been custom-made for the area and take into account not only the characteristics of the network itself, with its pronounced curves, tunnels and Victorian infrastructure, but the requirements and priorities of local people, as well.
"Over the last few years, we've worked closely with our client and other key stakeholders to come up with a train that really works for the Liverpool City Region. It's this collaborative approach that's enabled Stadler to produce a fleet that we are confident will go down well with passengers and serve the area for decades to come."
The combined authority said details regarding the phased introduction of the trains into passenger service are yet to be confirmed and more information regarding the roll-out will be made available as soon as it has been agreed.