COVID-19 testing firm in global expansion, and partners with Uni's Pandemic Institute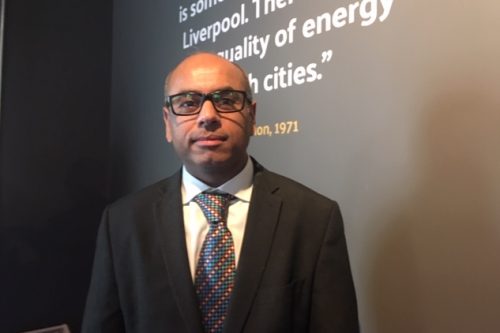 Liverpool COVID-19 testing firm DAM Health is targeting further global expansion, and is partnering with a new Pandemic Institute to be launched by the University of Liverpool.
Based in Mossley Hill, DAM is headed by Prof Frank Joseph, a diabetese specialist who still works in general practice three days a week.
Last month it embarked on an expansion drive in Mexico, where it now operates 16 testing clinics, along with 26 clinics in Spain. In the UK the firm operates 45 clinics and four laboratories.
But, in a company presentation by Prof Joseph in Liverpool's Royal Liver Building this morning (September 9), he outlined ambitious plans for growth, including further expansion across the globe, in particular in Bulgaria, Kenya, Malta, France, Portugal, Columbia, Pakistan and India.
Prof Joseph's roots are in India and the company has donated PPE (personal protective equipment) and COVID-19 testing kits to children and adults there following the summer surge across the country.
Prof Joseph also revealed that the University of Liverpool is soon to launch a Pandemic Institute, which DAM Health is collaborating with.
He said the institute will, specifically, be looking at the area of newer COVID-19 variants, as well as vaccine development.
He added: "We have set up a bursary for their students, because we want to keep the talent in Liverpool.
"This could be the first pandemic of many to come – you have to do the science."
Prof Joseph is also setting out strategies beyond COVID-19, with plans to provide testing for a range of conditions to identify problems early, such as cancer.
He said: "COVID will be here for a while. But with the infrastructure we have built, we don't want it just to be about COVID. We also have an interest in general health and wellbeing, including cancer screening. We want to catch cancers early."
DAM Health only provides in-person tests at its clinics, rather than a postal service.
So far, the company has provided tests for more than 250,000 people, with results provided within three to six hours at most.
But Prof Joseph also emphasised that, while testing will be for the purposes of travel, for business or personal reasons, the company is also aware that clients also need tests to prove their health status for many other reasons. He said: "There are millions of people who are well, and want to carry on with life and you have to get the balance right."
The company has forged a range of partnerships with many companies and employers, including Scottish Rugby, Glasgow Rangers FC and Crystal Palace FC.
Last week it announced a project with Manchester-based tech educators and innovators Credersi to create the world's first virtual reality COVID-19 lab training syllabus.
The collaboration will fund the construction of a virtual and augmented reality platform in which to train the lab technicians of the future.
DAM Health employs more than 250 staff in the North West, and a total of in excess of 600, including international locations. Its career path enables swift progression for staff, with some who began working in the firm's call centre now working as chemists and virologists.
Cllr Barry Kushner, Liverpool Labour councillor for Norris Green, said he is keen to work with DAM Health to explore more employment opportunities for his ward.
Speaking at the event, he said: "As a growing business they are creating lots of jobs and we want to support local people into work.
"Young people under the age of 24 have been badly affected by the situation and this would be a really good career for someone."
Meanwhile, Manchester biotech company Yourgene Health has been awarded a £34.1m contract by the Department of Health & Social Care for the provision of laboratory capacity to the NHS Test and Trace Programme for COVID-19 testing.
The AIM-listed company announced the contract win on August 19, but the award notice has only now been published, detailing the full value of the contract which is the first to come from the National Microbiology Framework Lot wins announced earlier this year by Yourgene using its high throughput automated COVID-19 services testing laboratory in Citylabs 1.0, Manchester.
Also, pharmaceutical manufacturer Wockhardt is planning to recruit another 100 people as part of its ongoing response to the pandemic.
Wockhardt has a large UK factory in Wrexham and has been described as "the company helping to vaccinate Britain".
The Indian pharma company manufactures the AstraZeneca COVID-19 vaccine at the former CP Pharmaceuticals site.
Its UK managing director, Ravi Limaye, speaking at the Manchester-India Business Summit, said: "We are going to be investing more, creating new capacity. This pandemic is probably here to stay for some time – we have to be realistic about it, that this is not going away for at least three or four years.
"We realise that our present capacity may not be enough to meet the demand. We have increased our employment in the last year by 150 people, to 550 people, and very soon we will be adding another 100 people."