Lancashire's growing tech scene has contributed millions to economy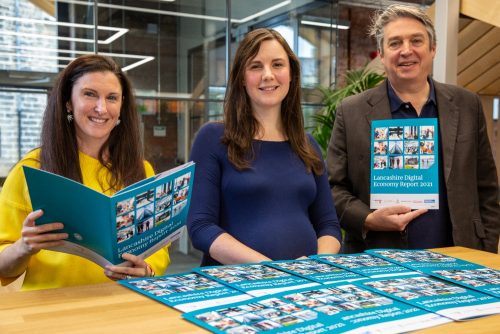 X

Register for free to receive latest news stories direct to your inbox
Register
Lancashire's tech and digital sector has contributed more than £1bn to the region's economy.
That's according to a new report published this week showcasing Lancashire's major strengths and its significant growth potential within the digital and technology sectors.
Produced by Lancashire County Council, and supported by the Lancashire Enterprise Partnership, the report, entitled Lancashire's Digital Economy, was launched as part of the Lancashire Innovation Festival.
The report also revealed more than 4,000 jobs were created by the county's digital and technology businesses and the number of digital and technology professionals employed across the sector grew by more than 30,000.
Lancashire's technology economy has also grown by 28% over the last five years, and that it is expected to grow three times faster than the county's overall economic growth between now and 2028.
The study also looks at specific sectors such as telecoms and computing (Lancashire's two largest tech sectors) and reveals that wireless communications has increased by 30% in the last five years while the computing sector grew by 20%.
Other areas covered by the report include the high-quality digital connectivity which underpins the county's technology sector.
This includes the continuing roll-out of full-fibre broadband and thousands of new gigabit connections being installed.
It further points to the huge opportunities offered by Lancashire's coastal gateway to the North Atlantic Loop; a high-capacity, ultra-low latency subsea network which connects the county directly to North America and Europe.
Having access to this network (which has the capability to carry more than 30% of the world's internet traffic) could give the region a competitive edge in global, mass data markets such as Esports, social gaming, and large-scale Data Centres.
The research also found that the county's four universities produce over 1,000 graduates a year with computing, engineering and technology qualifications.
It goes on to say that many of these graduates are 'industry ready' and highly employable, having benefitted from access to the county's numerous university-based R&D hubs where students, academics and local businesses work closely together on real-life industrial projects.
In addition, the report drills down into specific business types and industry clusters which are driving the Lancashire's digital and tech economic growth.
This includes looking at the county's development of world-class cyber security provision (much of it being led by research at Lancaster University) which is critical to many key Lancashire sectors including defence, aerospace, and nuclear energy.
As more manufacturers adopt new 'Industry 4.0' production methods such as robotics, 3D-printing, predictive maintenance and data analytics – and other sectors move towards more cloud-based systems and platforms – the report further reveals there is a rising demand for a new generation of high capacity and highly secure wireless, 5G and private networks.
It further adds that this is where Lancashire's extensive strengths and expertise within the telecoms industry – and major assets such as the 5G Factory of the Future at the Samlesbury Enterprise Zone – gives the county significant advantages.
Lancashire County Council's Innovation and Digital Lead Maya Ellis, said: "This report demonstrates that in addition to having a significant tech-based economy, the county has all the elements needed to grow as a major centre of world-class digital innovation and commercialisation.
"We have major industrial sectors already based here who need advanced digital services, proprietary applications and robust cyber security to stay competitive, all of which they can access without having to go outside the county.
"This is complemented by an agile and responsive supply chain supporting  dynamic and emerging markets such as 5G, Digital Heath, AgriTech, MarineTech, Future Mobility, Digital Retail and CleanTech.
"In addition, it highlights the rich ecosystem of support available for technology businesses, the many dedicated workspaces we have, and the incredible opportunities offered by our Enterprise Zones and facilities like AMRC North West.
"Such in-demand technology capabilities, combined with our excellent business-led R&D hubs, the collaborative centres of excellence at our universities, our industry-ready pipeline of graduate talent, and our experienced, highly-skilled digital workforce, all adds up to a very compelling offer to any investor, employer or start-up looking to establish a tech-focused business in an unbeatable location."