Sci-Tech Daresbury campus companies flourish in face of COVID-19 adversity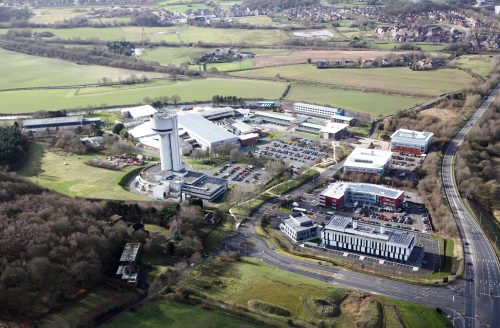 Collaboration, innovation, and the ability to scale up quickly have enabled companies at Sci-Tech Daresbury to grow and prosper, even in the face of the worldwide pandemic.
Sci-Tech Daresbury's annual campus survey has revealed that 79% of campus companies worked with another organisation on site in 2020, generating more than £12m of sales or cost savings throughout the year – the highest collaboration levels to date in the 15-year history of the campus.
The report showed that many of the collaborations taking place on the Sci-Tech Daresbury site played an important role in supporting the global effort against COVID-19. The campus survey found that despite the challenges of the year, Sci-Tech Daresbury's companies experienced sales growth of 14% during 2020, often due to their products and services being created in response to the demands of the pandemic.
The findings are evidence of Sci-Tech Daresbury's continuing success in creating a supportive environment that fosters and enables companies to achieve their ambitions and stimulate growth, it said.
This approach has helped Sci-Tech Daresbury businesses to become extra resilient when pitted against recent, unprecedented circumstances. Survey statistics show that, despite the impact of the pandemic, job creation levels at Sci-Tech Daresbury were at the same levels in 2020 as the previous year, and significant recruitment needs are forecast for 2021 and beyond.
One example of a campus-based company that has benefitted from Sci-Tech Daresbury's supportive ecosystem is ORCHA, a healthcare app reviewer. ORCHA built a COVID-19 App Library to ensure easy access to quality digital health information and resources at home.
The internationally unique app service saw huge demand from both governments and private organisations, which utilised its products to support individual citizens during the uncertainties of 2020, and with an eye on incorporating them into new healthcare models in the post-coronavirus age.
As a result, the firm, which has been based at Sci-Tech Daresbury since 2015, instigated a recruitment drive for more than 100 staff, plus key board members, to enable expansion in 11 countries.
ORCHA's chief executive, Liz Ashall-Payne, said: "ORCHA is proud to be playing such a pivotal role in this most important of sectors from our home in the Liverpool City Region, especially given the extremely pressing need for reliable, high quality healthcare apps at present."
The Sci-Tech Daresbury team is now focused on stimulating further job creation for companies on the campus and combatting skills shortages.
The survey shows that this approach has already paid dividends – even throughout the pandemic – with just 33% of campus companies reporting skills challenges, compared with the national figure of 56%.
This is partly down to the success of Sci-Tech Daresbury's talent and skills strategy, RADAR, which is committed to supporting the delivery of 10,000 high value jobs at Sci-Tech Daresbury over the next 20 years.
RADAR has supported a doubling of companies recruiting university student interns in the past three years and a 40% increase in research and development collaborations in the past year alone. As a result of this increase, more than half of firms on the campus engaged with universities during 2020.
As well as experiencing workforce expansion during 2020, several companies also moved to bigger Sci-Tech Daresbury premises amid the pandemic, reflecting the 'home for life' ethos that sees existing campus companies scale up on site to larger offices and laboratories to meet their growth ambitions. A total of 28 new firms arrived on site in 2020, with several of the site's buildings approaching capacity.
Sci-Tech Daresbury is addressing this increased need for space with work nearing completion on Project Violet, a new £17.8m three-building development, which will offer a total of 42,000 sq ft for science and technology-focused businesses. It has also submitted an outline planning application for an additional development – Project Ultra-Violet – which will roughly double the space available for the high growth, high tech companies based at the campus.
Another forthcoming addition to the site will be the new Hartree National Centre for Digital Innovation (HNCDI), supported by £210m funding from the Government and an in-kind contribution of £38m from IBM Research, which has had a presence at the Science and Technology Facilities Council's (STFC's) Hartree Centre at Sci-Tech Daresbury since 2012 and made the centre its UK base in 2016.
Based at the Hartree Centre, part of STFC's Daresbury Laboratory, the HNCDI will, over the next five years, bring together world leading expertise in artificial intelligence (AI), high performance computing, data analytics, cloud technologies and quantum computing to accelerate discovery and develop innovative solutions to real world industry challenges in key areas such as materials development, environmental sustainability and manufacturing.
The first of its kind in Europe, the centre will help businesses drive productivity and accelerate growth and job creation through the use of advanced digital technologies.
David Parr, chief executive of Halton Borough Council and Sci-Tech Daresbury board director, said: "Sci-Tech Daresbury is home to a number of world leading science and technology organisations from both the public and private sector who are working hand in hand to drive innovation on an almost unprecedented scale. This is precisely what our economy needs in order to emerge in a position of strength following the COVID-19 crisis."
Steve Rotherham, Metro Mayor of Liverpool City Region, said: "Our region is very lucky to have Sci-Tech Daresbury. It is home to some world leading businesses and research organisations who are doing some incredible work in the fields of science, innovation, and technology, and in helping to create entirely new industries, too.
"We recognised the importance of the campus even before the pandemic struck, with an £8.4m investment from the combined authority to help Sci-Tech Daresbury continue to expand and improve. And I think we've really seen that investment bearing fruit."
Paul Vernon, executive director of business and innovation at STFC and Sci-Tech Daresbury board director, said: "Together, through our combined expertise, we will help businesses drive productivity and accelerate growth and job creation through the use of advanced digital technologies.
"As we strengthen our commitment to breaking down barriers to technologies such as AI and quantum computing, we are enabling industry to reduce risk and carry out invaluable research with long term, tangible benefits to our economy and society."
John Downes, group chief executive of property group Langtree and chair of Sci-Tech Daresbury, said: "We see it as our responsibility to create the necessary infrastructure for both UK and global firms at the cutting edge of science and technology to realise their potential.
"2020 and 2021 have been strenuous times for us all, but when I look at what our companies have achieved during the most arduous professional period any of us have ever faced, I am inspired and excited.
"While the North West suffered disproportionately during the pandemic, the ecosystem we have built – from our campus to our universities and partner agencies – means we are in a brilliant position to take charge of our own destiny in building back from the pandemic."