Healthcare firm reveals further investment into life sciences sector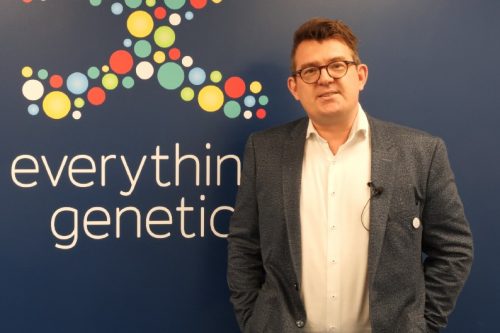 A Nantwich-based healthcare company has revealed further details on its recent expansion and investment, after diversifying into several life science sectors over the past 18 months.
The news follows a report by Savills, which reported £19.9bn of life science-related capital raised by companies headquartered in the UK in 2020 – a 23% increase on 2019.
With the life science sector playing a central role throughout the COVID-19 pandemic, Everything Genetic expanded its original remit of offering hereditary screening for complex diseases, to providing a full range of COVID testing kits for employers and individuals.
Across its cancer testing and COVID capabilities, the company has revealed it sold more than one million test kits over the past 18 months alone, which it says created in excess of 70 jobs in the local area, including new finance and IT directors.
With the sector's demand for COVID testing expected to wane, the company's founder, James Price, has announced a minority share investment in a novel genetics testing service – Antegenes – as the company seeks to realign with its pre-COVID mission of improving patient outcome by pioneering novel testing methods.
The company has also purchased a local IT firm, Value Stream Impact, which will bring vital resource in house to improve Everything Genetic's IT provision and the servicing of business clients.
The Antegenes tests can improve patient outcomes for those more genetically predisposed to certain cancers and other complex diseases.
The firm claims the saliva tests will "democratise" the use of the polygenic risk-based genetics testing for individuals, healthcare professionals and organisations, helping to deliver more cost-effective patient outcomes, while increasing the chances of preventing and surviving cancer.
The tests are used to determine the genetic risk and predisposition to four cancer risks, including breast cancer, prostate cancer, colon cancer, and skin melanoma, which the firm's trained clinicians arm individuals with tailored clinical recommendations and actionable insight personalised to their needs, to mitigate risks.
Earlier in the year, Everything Genetic announced a further investment into a diagnostics technology start-up, éclateral, which is set to create the 'next generation of lateral flow tests', set to 'hack and digitise' the $7bn global lateral flow diagnostics market upon release, later this year.
Everything Genetic's CEO, James Price, says the Antegenes investment, into polygenic risk testing technology, can vastly improve patient outcomes for those likely to develop cancers and could have a significant impact on mitigating the cost metastatic cancer has on society, which runs into the tens of billions.
He said: "We're driven by the belief that democratising access to screening and testing for all is a vital way to both deliver better patient outcomes and ease pressure on our health service.
"Genetic testing for cancer has, until now, been the preserve of an exclusive few, only available in private clinics with costs running into the thousands, but this new investment into the Antegenes service will deliver a cost-effective way to bring down the cost of this novel tech."
He added: "With cancer waiting lists at an all-time high due to the backlog created during the pandemic, the use of screening technology such as polygenic risk testing will really help to alleviate the pressure."
James Mackay, medical director at EGL explains cancer is a disease heavily influenced by genetics: "Although it's long been understood that genetics plays a part in predisposition to the cancer, this technology gives proven data to demonstrate just how significant a role an individual's genes might play in the likelihood of them developing cancer.
"And the earlier we can spot that and take preventative measures, the better. Cancer outcomes are exponentially improved if we can enact lifestyle changes or take clinical treatment sooner.
"The data from the tests provide three actionable data points for patients, including: Absolute risk of developing the specific cancer over the next decade, general population comparison against people the same age, and relative comparison of your risk versus that of the general population.
"We provide pre- and post-test clinical support to ensure patients are fully aware of the implications of the results and what they can do to optimise their health, once they've received their data. For example, for breast cancer results above 1.5-fold risk against the general population, we'd advise a screening programme from the age of 35 and for colorectal cancer above 2.0-fold risk, we'd recommend regular bowel screening for those over 35."
He added: "This technology truly has the potential to turn the old trope of prevention being better than the cure on its head, in identifying predisposition to certain conditions even before prevention.
"It demonstrates an exciting step in the advancement of life sciences and we really can't wait to see how the technology impacts individual patients' outcomes across the UK."
Everything Genetic's Antegenes service is based on peer-reviewed international research and has been assessed and validated using anonymised population data from the Estonian Biobank and UK Biobank.
Peeter Padrik, CEO of Antegenes, said: "We're really excited to be launching the test service in the UK with our partner Everything Genetic.
"It represents a proven and clinically robust technique used to assess genetic predisposition to cancer, providing accurate and individualised risk scores of developing cancers over the next 10 years, compared to the general population in the same age group.
"Most importantly, our technology enables us to save lives by reducing cancer mortality and morbidity."