Property round-up: Berkeley Shaw; Colliers; Aspen Woolf; Christie Finance; FourSynergy Group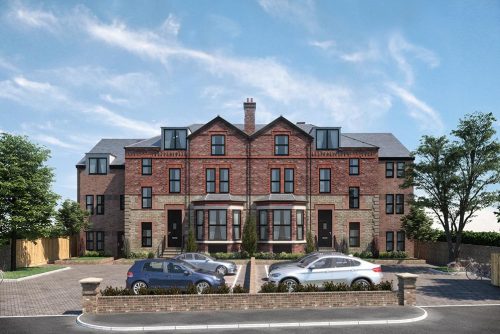 Berkeley Shaw has sold out all 12 luxury apartments at the Merchants Court development on College Avenue in Crosby, on behalf of Accelerate Property Developments.
The long established property specialists announced that all 12 properties were sold to a mixture of owner-occupiers and buy-to-let investors.
KM Real Estate, a subsidiary of Berkeley Shaw, will manage the property once all residents have moved in, scheduled before the end of this year.
The development comprises 12 one- and two-bedroom luxury properties, carefully constructed to convert the original Victorian building with a newly built extension.
The expansion sensitively complements the area by providing luxury communal gardens as well as state of the art resident facilities including a communal gymnasium, storage facilities and private off road parking.
Berkeley Shaw managing director, John Baybut, said: "We're delighted to announce the sale of all properties at the Merchants Court development, this is a fantastic project which has attracted significant attention ever since we brought it to market.
"Thomas and the rest of the team at Accelerate Property Developments have an excellent track record when it comes to the delivery of residential property developments, we're proud to support them with this."
::
Longmead Capital has appointed the Colliers Property Management team on Piccadilly Place in Manchester, a 320,000 sq ft office scheme.
The team has been appointed as sole property managers following the acquisition of the property by Longmead Capital and Revcap from Ares management in July.
Comprised of Three and Four Piccadilly Place, the space is let to tenants including Barclays Bank, Arup, the NHS and flexible office space provider Orega.
Andrew Ostroumoff, director at Longmead Capital, said: "We are excited to be working with Colliers again, who we know will bring us the energy and know how to help realise our vision for Piccadilly Place. Their focus on customer experience and technology expertise alongside strong property management credentials is what made them stand out from their competitors."
Julia Ruddock,director in the property management team at Colliers, said: "Located a stone's throw from Manchester Piccadilly and with significant public realm, there is ample opportunity to create a real buzz for our occupiers and the general public at Piccadilly Place.
"It is fantastic to have been appointed on such a significant and exciting part of the Manchester landscape and we are looking forward to working alongside the Longmead team to create a real sense of community, while adding value for our clients."
::
Property investment firm, Aspen Woolf, has announced that Mariners Wharf, the new luxury apartment complex set to be built at Salford Quays and open in 2024, is now open for reservations to future residents.
The new 158 luxury apartment complex will offer "picturesque views of the Salford waterfront, complete with a rooftop garden" and the apartments will be an ideal home for those looking to live close to Manchester city centre, Salford Quays, and the vibrant MediaCity.
Mariners Wharf is the new buy-to-let development to be situated along the Salford Quayside, which has become a dream location for young professionals. The apartments will be a short walk from hundreds of restaurants, shops, bars, and public transport options in and out of Manchester.
The apartments will be in walking distance to the iconic MediaCity, the quayside development park home to the Quayside Lifestyle Retail Outlet, Imperial War Museum North, BBC, and ITV Studios, the Lowry Theatre and Gallery and a wide range of waterside activities.
Mariners Wharf will offer private rooftop garden for residents, an on-site gym, concierge service, secure cycle storage, and car parking facilities, including electric charging points.
Developer, Fortis Group, says many of the uniquely-styled features of the one-, two- and three-bed apartments available at Mariners Wharf are being designed in response to the new post-pandemic world. After a year locked inside, many people are now looking for property with outside space and features that offer the ultimate luxury when working from home. It says Mariners Wharf could prove an outstanding opportunity for buy-to-let investors. Property prices in Salford are expected to enjoy a 30.5% increase in the next four years.
Russell Midgley, director at Aspen Woolf, said: "Mariners Wharf offers one of the last true quayside opportunities in Salford. Property at this growing iconic Manchester location is becoming harder to find. Greater Manchester has become one of the hottest property markets in the UK, experiencing a staggering 47.6% increase in price value over the last five years alone."
::
Specialist finance broker, Christie Finance, has supported SOGBOG Limited to acquire the leasehold interest of Folk, a popular bar and venue hire business in the affluent South Manchester suburb of West Didsbury.
SOGBOG is represented by a group of four directors, who are first-time buyers, comprising Adam and Rachel Turner and Sarah and Andrew Jane.
Adam and Rachel are both partners of City Insulation Group. Rachel is an experienced director and HR adviser. Sarah is an office manager, and Andrew is well known in the hospitality sector and has worked within some of the top bars and venues in the North, with the most recent being Alberts Schloss.
All four have developed impressive management backgrounds throughout their careers before their involvements with SOGBOG, and now the group has decided to acquire the leasehold interest in Folk, which is understood to be one of Didsbury's 'go to' venues for the area's hospitality offering.
Folk occupies a prominent and highly visible location on Burton Road, a bustling street in Didsbury lined with independent bars and restaurants.
The venue comprises a large L-shaped open-lounge and a handmade wooden bar, along with a mix of free standing tables and a large seating terrace with heating and a retractable awning.
The directors now plan to continue the venue's strong trade while there are also plans to reinvigorate menus, creating both a family-friendly offering in the day and a more sophisticated offering for the evenings.
As the group moves forward with the business, Andrew will serve as the venue's general manager, while the other directors will support the sustainability and development of the business's current trade.
Rachel Turner said: "Adam and I have lived in West Didsbury for a number of years. We were told from a local business owner about Folk being up for sale and then we approached two of our best friends, Andy and Sarah, about buying it.
"With Andy working in the hospitality sector for 22 years, we felt that it made perfect sense to purchase the business all together, which has been a pipe dream for us all. We're really excited to launch our new menus, with our winter menu coming first for Christmas, and we also have plans to extend the Folk family to another neighbourhood, so watch this space."
Lawrence Roberts, finance consultant at Christie Finance, brokered a deal for the group and said: "I am delighted to have supported Adam, Rachel, Andrew and Sarah with the leasehold purchase of Folk Didsbury. As soon as I spoke to them about their plans and ambitions for the bar, it was evident that they were the perfect buyers to move the business forward.
"The hospitality sector continues to be a difficult sector to fund, however, with the expertise and business acumen that the buyers presented, this deal was a case of finding the right solution that worked for them."
::
Salford-based FourSynergy Group is behind a drive to help improve housing provision for the most disadvantaged in society.
In 2020 just under 1.9 million individuals were supported through adult social care services in England and 290,000 of them were adults of working age. It is estimated that around 85% of them were living in community and supported accommodation. Research (PSSRU, 2018) has estimated that by 2040 there will be growth of 55% in these numbers and a requirement of 150,000 new homes for working age adults.
FourSynergy Group is a collaboration of organisations that have joined together to address this need. They bring cross-sector knowledge and experience under a single group structure to address the sometimes competing needs of stakeholders when new specialist social housing is delivered.
At the centre of every new housing scheme is an individual who needs a home where they can live with support from specialist organisations, a home where they can be encouraged to live as independently as they can. FourSynergy brings together the four pillars of investment, property development, housing provision and the delivery of care into a congruent and sustainable organisation.
Impact Investment Management helps institutions to invest in the specialist supported housing sector. Fairhome Property Group is a sector-leading development and construction company focused on the delivery of supported and specialised housing across the UK. It provides innovative, in-house development solutions. Valorum Care Group is a national provider of person-centred high quality care to approximately 1,000 individuals across the UK. Change Housing enables registered providers operating in the specialist and supported housing sectors to deliver growth that is robust, financially viable and organisations are well governed.
Alyssa Rhymes, COO of FourSynergy Group, said "FourSynergy Group is aware that the current UK model for the delivery of social care and housing has faced significant challenges for a number of years. Everyone deserves a home that fits their needs, and we are united in making this a reality."
She added: "FourSynergy is looking to find ways to increase the amount of specialist support living over the long term in the UK by bringing together care providers, housing associations, property developers and investors and will also focus on ESG and social impact."
The group employs more than 2,500 people throughout the UK and supports in excess of 3,000 individuals within the communities it serves. It has created more than 6,000 homes through the deployment of around £800m of institutional investment.