Manufacturer blames rising costs as forecasted losses soar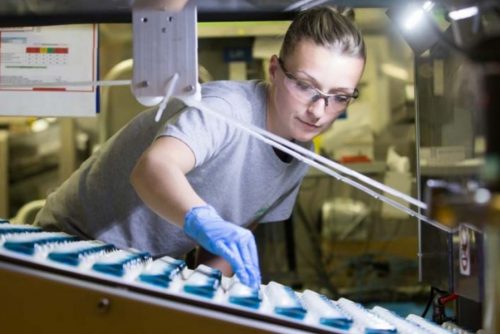 Cleaning products group McBride has revealed rising costs will result in its half-year losses being up to 70% higher than it expected just two months ago.
It has told investors that it is now forecasting pre-tax losses of £14m-£17m for the second half of 2021.
In October it had estimated losses of "up to £10m", which contributed to a fall in its share price which has dropped by one-third since August.
Shares in the Manchester-based group fell a further eight per cent when the market opened this morning, taking its market value below £100m.
McBride has sought to secure substantial price increases from its customers to mitigate the impact of its own rising costs, which it said are affecting the whole industry.
It said: "Our early increases in late summer have now been outpaced by further rises in input costs and hence further pricing action has been under way more recently."
At this stage, the wide range of outcomes is a result of pricing delays with a small number of customers and the resultant implications which could impact short term volumes.
However, the group said said it continues to enjoy a strong liquidity position, with £80m cash at hand, and it is currently in "supportive and constructive" discussions with its bankers regarding its December covenants.
McBride explained that since it last updated investors in October, raw material and packaging costs have continued to experience very significant inflationary pressures with availability continuing to impact its supply chain efficiency.
In addition, the shortage of haulage capacity and even higher fuel costs have not abated and have continued to substantially inflate distribution costs.
Russ Mould, investment director at Manchester investment platform AJ Bell, said: "It is usually a bad sign when a company flags that profits will be more weighted toward the second-half than usual and it often implies that management has the prayer mat out and is hoping something helpful will turn up.
"In McBride's case, something has turned up, but it is more trouble, in the form of more inflationary cost pressures, not more help.
"The manufacturer of own-brand cleaning liquids, powders and aerosols is now flagging a greater-than-expected first-half loss due to higher input costs, higher fuel costs and shortages of haulage capacity.
"McBride first warned on profits back in August, when it flagged that price increases would take time to come through and compensate for the margin-squeezing impact of rising costs.
"Management followed up in September by saying a £10m cost-cutting programme would help mitigate margin pressure in the year to June 2022, but in October chief executive Chris Smith warned of a £10m loss, on the basis of earnings before interest, taxes and amortisation (EBITA)."
He added: "At that point McBride noted it was pushing through a second round of 'substantial' price increases, in the mid-to-high teens percentage range. But the firm is now admitting even that is not proving to be enough, as costs are galloping ahead faster than the firm can get clients to pay higher prices.
"Although price rises will start to help from this month onwards, Mr Smith and his boardroom colleagues now expect McBride to lose between £14m and £17m on an EBITA basis in the six months to December 2021.
"Analysts had already been expecting a full-year loss on this basis of around £5m but McBride's second half really is going to have to go some to meet even those forecasts."
Mr Mould said: "There can be no clearer indication of the damage that inflation can do, and it is no wonder that central bankers are (finally) getting fidgety on the topic. Before the August warning, analysts had expected McBride to make £20m in pre-tax profit. They were still looking for £12m after that alert, only for October to see analysts take their estimates into the red.
"Nor is the inflationary spiral by any means over, given that McBride's second round of price increases will really start to take effect this month and next after a bit of a lag relative to input costs.
"McBride's difficulty in putting up prices quickly enough to compensate for higher input costs are a reminder to investors that pricing power is a key attribute for any firm to have, even if markets are currently being remarkably tolerant of, and generous to, companies which do not make profits and almost seem to lose more money they more customers they grab."
He added: "If inflation does take hold, promises of future profits after the current dash for market share and critical mass may well look less attractive. Investors may shy away from such profitless prosperity and, instead, focus on companies which can demonstrate their ability to protect margins and still generate profits and cash flow.
"McBride's role as a contract manufacturer, or at least a maker of own-label cleaning agents for retailers, means it does not have any pricing power from brands, as it has no brands of its own. Many of its customers are larger and have more muscle when it comes to pricing discussions. And there are other suppliers who can be used as a bargaining chip by customers for good measure.
"McBride, therefore, looks like a classic study for Porter's Five Forces, a framework that investors could do well to bear in mind if inflation really does take hold. The analysis, first outlined by Michael Porter in the Harvard Business Review in the 1970s, outlines the five threats to any company's competitive position and thus its ability to charge the prices it wants, and not just the prices customers are prepared to pay.
"They are the
fight for market share within a given industry
the threat posed by new, disruptive market entrants
the threat posed by product substitution
the bargaining power of raw material suppliers
the bargaining power of buyers
"For the moment, it looks like McBride is the meat in the sandwich between suppliers and buyers and its profits – and share price – are being squeezed accordingly."