First glimpse of East Float Dock Row House homes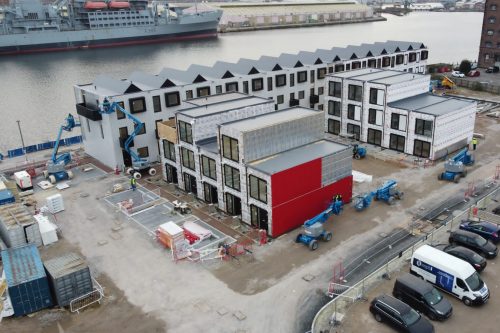 Modern housebuilder, House by Urban Splash, has provided the first look at its new Row House homes at East Float, a new neighbourhood at Wirral Waters in Merseyside.
The Manchester company has also announced that Help to Buy will also be available on selected Row House homes to help make them even more accessible for local buyers.
The brightly coloured new homes are a striking red addition to the local landscape – a hue that's been inspired by the cranes and bascule bridges of the nearby Birkenhead Dock system.
Liverpool-based architectural studio shedkm designed the homes and director Ian Killick said: "We've been inspired by local aesthetics here – hence why they are clad in bright red profiled metal.
"We also wanted to provide a contrast to the neighbouring Town House homes, whilst equally complementing both designs. The result is a colourful heart to the new East Float community that we're extremely proud of."
Help to Buy is a government-backed scheme that helps first time buyers in England onto the property ladder with just a five per cent deposit of the purchase price. On a two-bedroom Row House priced at £210,000, this works out at a £10,500 deposit.
Row House is available in three sizes: A two-bedroom, two-storey home; a three-bedroom, two-and-a-half storey home with a roof terrace; and the largest, a four-bedroom, three-storey home. Residents will also benefit from private terraces as well as spacious communal gardens for their use.
Ian added: "This brand new concept takes the idea of customer choice a step further than its Town House cousin. The size options are offered on an 'any house on any plot' principal. The result of this is a mixed height streetscape with roof terrace positions chosen for the best views and orientation – the skyline is both interesting and unique and is basked in a beautiful red hue now that the cladding has been installed."
The Row House homes have been precision manufactured using Modern Methods of Construction (MMC) at the House by Urban Splash factory in the East Midlands, before being delivered to the Wirral by road. It's a product that's been created following 30 years of experience of developing award winning homes and workspaces – something the company started doing in Liverpool in the early 1990s.
Other homes available include the three-storey Town House homes which are now on sale and offer open plan options of up to five bedrooms and home offices. There is a garden living option – a traditional layout with living spaces downstairs – or loft living – with bedrooms on the ground floor and open plan living areas upstairs.
Each of them boasts unrivalled views over the water, thanks to the neighbourhood's location facing East Float Dock, which is a stone's throw from the River Mersey.
House by Urban Splash is creating East Float at Wirral Waters in a joint venture partnership with Peel L&P.
Together they are creating a total of 350 homes using modern methods of construction. Prices start from £210,000 for a two-storey Row House home, while the Town House homes are priced from £345,000.