The challenger bank that wants to do business with a personal touch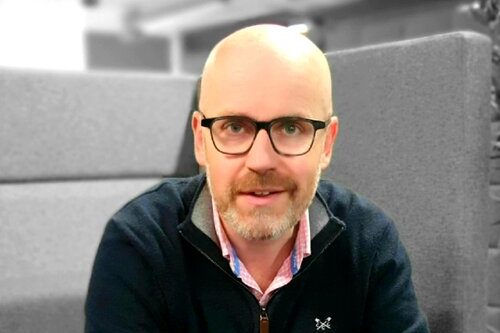 It's been a milestone week for Bank North, one of the challenger banks to hit the market in recent years, as it commences lending from its Manchester pod for the first time.
The lender might be a new entrant to the marketplace but it's already disrupting the current banking model.
Its goal is to help support the region's SMEs by doing business the old-fashioned way.
This means having a relationship with staff so that they can deliver tailored loan facilities up to ten times faster than the banking establishment.
"We want to make quick decisions while also maintaining that personal touch," says Jonathan Thompson, the founder and CEO of Bank North whose career in banking and finance spans more than two decades.
"My late father was a banker in the 70s and 80s and he knew all his customers. He would go out to meet his business customers in town and a deal would be agreed on a handshake because he already had a good understanding of the business and the people involved.
"One of the drivers of creating a new bank was to bring together the very latest in cloud native banking technology but with a human touch because that is clearly missing in the current banking establishment."
Bank North was founded as B North by a team with decades of experience in financial services, including launching and scaling challenger banks such as First Direct, Atom, METRO and Santander.
Alongside Thompson the board is made up of co-founder and CFO Dave Broadbent while Ron Emerson CBE, the founding chairman of the British Business Bank (BBB), is chair.
Bank North aims to disrupt the £154bn UK business lending market servicing SMEs looking to borrow between £500,000 to £5m.
Currently, majority of SME lending is via the big High Street banks which are often dealing with "outdated 'legacy' systems, rigid lending policies, and faceless, centralised processing centres."
"SMEs have to jump through hoops and face an impersonal 'computer says no' approach, and our experience shows that it can take more than four months before they get their cash, so their development plans may have to be put on hold," said Thompson.
Bank North uses some of the latest cloud-based technology, married with face-to-face relationship teams to really get to know borrowers and their businesses to provide lending solutions to fit their needs.
It is backed by investors including LHV Group, LHV Asset Management, Skipton Building Society, Greater Manchester Combined Authority (GMCA) and Channel 4 Ventures.
Last summer the lender secured a banking licence from the Bank of England as it looks to target Northern cities.
Its model will see it set up lending pods in major UK cities as the Bank expands its footprint. It currently has a lending pod at its head office in Manchester.
Thompson said: "The advantage of starting from scratch is that you can design a bank in your own vision using cloud native banking technology which has an architecture that is scalable and then we've put people back into the heart of the regional banking market.
"Within each pod is also an underwriter which means that we can do the whole delivery from start to finish within a regional context. It also allows for everyone to have rich conversations about how best to support a business. In a way that brings us back to the traditional model of banking where an individual would shake on a deal."
This week Bank North reached another milestone having commenced lending from its first regional pod in Manchester, hot on the heels of signing a debt facility with Insight Investment in December 2021.
The £1m loan has been used to refinance a South Manchester multi-tenanted industrial estate managed by David Samuel Properties.
Thompson said this was a "significant step" for Bank North.
"With this transaction, we have demonstrated our ability to deliver at pace, and also validated the potency of our regional model, working hand in glove with the regional specialists who came together to support this transaction."
Looking ahead, Thomson said now was the time to provide SMEs with "empathetic regional support" as they look to post-Covid recovery.
"SMEs are navigating a range of challenges; they're looking to the future to scale and take advantage of market opportunities and being able to talk to people is absolutely key," he said.
"Borrowing significant amounts of money is a big decision for a business, it's something where trust is really important. It's not a transaction that is typically done on a platform or on an app, it needs that personal relationship which we are providing."