Major housing schemes approved by city council planning committee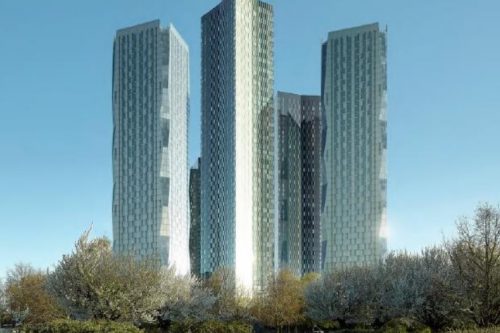 Three key Manchester housing schemes were approved by the city council's planning committee today (March 17).
Manchester property developer, Renaker, submitted plans for the development of two 51-storey residential towers providing 988 new homes, with a mix of one- two- and three-bedroom apartments, as part of the Great Jackson Street masterplan.
Located near Deansgate at the southern end of the city centre core, each proposed building boasts its own extensive residents' amenity space including co-working space, gym and lounges. Separate private underground car and cycle parking will also be included within a two- and three-storey basement.
Externally, each building will have a private residents' garden, accessed directly from the ground floor amenity space, along with extensive public realm.
It is anticipated the £370m scheme, the fifth by Renaker in central Manchester, will generate up to £500m in GVA.
Renaker appointed Simpson Haugh as architect on the development, with both towers having the same distinctive aesthetic, featuring chamfered edges incrementally increasing and decreasing every five storeys, creating a dynamic vertical movement up the tower.
Renaker has also ensured the towers' designs match the wider skyline and landscape of the masterplan area, while the position and orientation of the proposed towers create a strong relationship with Deansgate Square.
In recommending the application, planning officers said: "The development would not have a significant detrimental impact on the settings of nearby listed buildings or on the character and appearance of the nearby Castlefield Conservation Area.
"The development would have an acceptable impact on residential amenity and would regenerate a site that currently has a negative impact on the area, including improving the public realm and permeability within the area."
Despite concerns expressed by Cllr John Leech, Lib Dem councillor for Didsbury West, over lack of affordable housing, the scheme was approved by 10 votes, to one against and one abstention.
Another key scheme was submitted by developer Capital&Centric which proposed a 15-storey building to provide 107 apartments, comprising one- two- and three-bedroomed homes, as well as two ground floor commercial units.
The £28m scheme is located on land south of Chapeltown Street in the heart of Manchester city centre on a brownfield, previously developed site.
The developer is currently on site at the neighbouring Leonardo Hotel Piccadilly East on Adair Street – a new hotel and public square boasting a Jenga-block design set to open this spring.
Two letters of objection were received, saying the height of the proposed scheme is out of proportion with Chapeltown Street, and it is over-development of a very small piece of land which will add further pressure to the limited amenities such as parking and impede traffic movement on Chapeltown Street.
However, planning officers said the proposal would establish a sense of place, would be visually attractive, sympathetic to local character, and would optimise the use of the site.
The application was approved by nine votes in favour, to one against and one abstention.
And the committee also considered a scheme to create 461 apartments and ground floor commercial units in the Cheetham ward of Manchester, on the site of the old Boddingtons brewery.
Latimer Development, Clarion Housing Group's development arm, is behind the proposal which comprises two buildings, part 27-, 20-, and 17-storeys and part 11- and 10-storeys.
Up to 60% of the homes would be affordable – shared ownership and affordable rent – on the 0.5 hectare site which was a previously developed brownfield site used for parking.
The land is bounded by a Travelodge, surface parking, Manchester College, which is nearing completion, and Bury New Road.
It is in the Boddingtons Strategic Regeneration Framework and Great Ducie Street Strategic Regeneration Framework (SRF) areas, which support high density development as the city centre expands.
Planning permission was granted in 2018 for 556 apartments and 3,490 sq m of commercial at 'Old Brewery Gardens' on the eastern portion of the brewery site, in buildings ranging from 26 to 12 storeys, but the developer behind the £175m housing scheme went bust in June last year.
The scheme will support 1,800 jobs during its three-year construction timescale.
Councillors approved the application by nine votes to one abstention.